in Aerospace
Air Charter Scotland introduces its first Glasgow-based executive jet
British private jet operator and aircraft management company, Air Charter Scotland, is making available a Cessna Citation 525A (CJ2) business jet (G-NOCM) for charter out of Glasgow Airport, in a company first.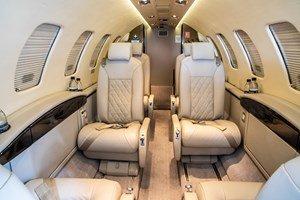 Image courtesy Air Charter Scotland

Newly painted by AeroCare and fitted with updated Dual Garmin GTN avionics, a refurbished six-seat interior and performance-enhancing Tamarack ATLASÒ winglets, the aircraft arrived at Air Charter Scotland's Signature Flight Support private terminal (FBO) this week.

"While we have had our offices at Glasgow for 20 years, we haven't had an aircraft positioned out of our home since 2008," acknowledged Air Charter Scotland COO Derek Thomson. "This is terrific timing for discerning private jet customers, many of them new to charter, responding to the restrictions, reduced scheduled service frequencies brought about by the pandemic. Light jets are the most popular charter aircraft in the UK right now and this one with its enhanced performance benefits will be a popular addition to our fleet," he said.

Steven Marshall, interim group head of aviation for AGS Airports Ltd, which owns and operates Aberdeen, Glasgow and Southampton airports commented: "The introduction of Air Charter Scotland's very first executive jet based at the company's spiritual home at Glasgow Airport is fantastic news.

"Chartered services have played an important role in providing connectivity for passengers, including key workers, who had to travel by air for essential purposes during the pandemic when scheduled service alternatives were greatly reduced.

At a time when our industry is facing huge challenges, it's heartening to see that one of our airport partners is not only expanding its operations, but is doing so with the introduction of a more fuel-efficient aircraft."

The CJ2's Tamarack Active winglets, accentuated with LED lighting, give the aircraft distinctive styling. They were installed for the aircraft's previous owner by JMI – Jet Maintenance International, Tamarack's Authorised European Installation Centre at its London Oxford Airport facility last summer. Active Winglets and transformative ATLASÒ technology gives a wing extension to 55 ft 10in and delivers up to 33% fuel savings, increased payload and range. A big benefit is its ability to climb above the weather quicker up to 45,000ft - and gives a smoother ride throughout. It also gives the aircraft better take-off and landing performance on shorter runways with an 800lbs MZFW increase.

"This the first one on a UK operator's certificate but there is growing demand for the Tamarack Active winglet installation in the Citation CJ series," said JMI's Director Ed Griffith. The established Cessna Citation MRO undertook a two-week maintenance check of the aircraft before its placement at Glasgow Airport.

Headquartered in Glasgow, with bases at London Luton, London Biggin Hill Airports and now Glasgow Airport, Air Charter Scotland will mark its 20th anniversary in June. It has a fully worldwide operation with the creation of Air Charter Scotland Europe in January 2021 and a new European AOC with an initial two aircraft – a Cessna Citation 525B based in Malta and a Bombardier Challenger 350 based in Nice.

Air Charter Scotland is a member of the British Business and General Aviation Association (BBGA) and The Air Charter Association (ACA) where Derek Thomson is a Board member.