in Security / Space
Arqit set for Nasdaq listing
UK based quantum encryption tech specialist Arqit Limited and Centricus Acquisition Corp., a special purpose acquisition company, have entered into a definitive agreement that would result in Arqit becoming a publicly listed company.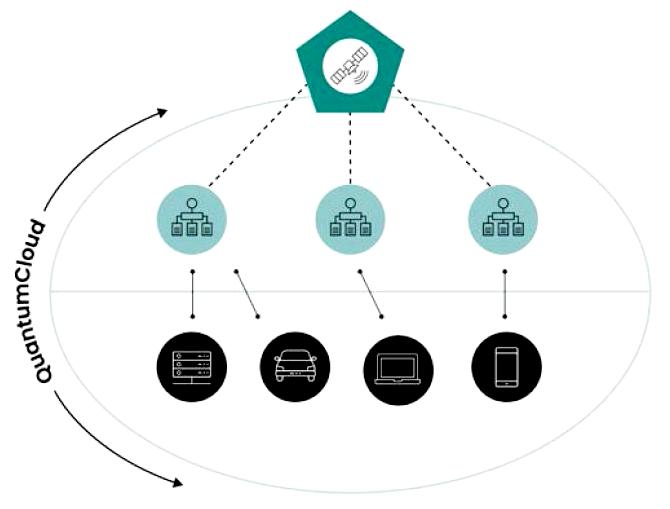 Image courtesy Arqit

Upon closing of the transaction, a newly formed Cayman holding company, Arqit Quantum Inc., will merge with Centricus, acquire Arqit and register its shares for listing on the Nasdaq Stock Market.

Arqit has pioneered a unique quantum encryption technology, QuantumCloud, which makes the communications links of any networked device secure against current and future forms of hacking – even an attack from a quantum computer.

Currently public key infrastructure (PKI) is used to encrypt most of the world's communications, however PKI was designed in the 1980s and is no longer fit for purpose in a hyperconnected world. Furthermore, within this decade quantum computers will likely be able to break PKI's encryption algorithms.

Symmetric encryption is a well understood encryption technology that is known to be more secure than PKI, including against quantum attack. However, to date there has been no secure way to distribute symmetric encryption keys at scale. Arqit has invented a way to create those keys at end points when they are needed, at scale, securely, at any kind of end point device and in groups of any size. Arqit's product, QuantumCloud, is symmetric encryption, reborn for the cloud.

QuantumCloud puts a small software agent at any end point device. This software creates an unlimited number of symmetric keys with partner devices. The process is very simple and fast. Currently Arqit's system uses source keys which are originated in data centres, however by 2023 it plans to launch two quantum satellites to assume that role. Those satellites will use a transformational new quantum protocol invented by Arqit which solve all of the known problems of satellite quantum key distribution. They will create a backbone of secure keys within data centres all over the world, and a quantum safe boundary protecting those data centres.

A customer/user can create an infinite number of symmetric key pairs, in groups as large as are needed. Keys are never 'delivered', so they cannot be intercepted. They are created at the end points and therefore can never be known by third parties. They can be used only once if necessary and replaced frequently. The service is sold and fulfilled on a self-service basis in the cloud making it an easily scalable business model.

Arqit believes its solution will provide a transformation in cyber security that provides a simple and elegant migration from existing encryption technology and will also protect against quantum attack.

Arqit's current customers include the UK Government, the European Space Agency, BT plc, and Sumitomo Corporation. In addition, many companies like Verizon, BP, Northrop Grumman and Iridium are currently testing the use of Arqit's technologies in different use cases.

It is estimated that the global addressable market for information security and risk management will be approximately $194 billion by the end of 2024, as government, military, cybersecurity, telecoms and financial services players move at speed to protect themselves and their customers from critical security breaches.

Manfredi Lefebvre d'Ovidio, Chairman of both Centricus and Heritage Group, which was the anchor investor in the PIPE transaction, said: "Arqit is a unique company, with disruptive deep technology that will ensure a safer environment for businesses and people. David and his team have built an extraordinary enterprise and we are delighted to support Arqit's development. Garth and the Centricus Acquisition Corp. team have done a remarkable job and we are extraordinarily pleased to be able to announce our partnership. I and my colleague Carlo Calabria have accepted David's invitation to remain on the board and to work tirelessly to bring all of our skills and relationships around the world to bear to help to hyperscale this business."

Centricus CEO Garth Ritchie said: "This transaction will give Arqit the ability to establish itself as a leader in the encryption space - the prospect of the threat from quantum computing will serve to accelerate the broad adoption of Arqit technology. This is a deep tech company which is many years ahead of the market. Arqit has protected its IP by remaining in stealth mode whilst filing over 1,000 claims on more than a dozen patent applications.

"It is thanks to funding from the British Government and its VC partners that Arqit is now ready to commercialise and scale its product suite; this will complement an already strong cohort of launch customers. The executive and advisory team are a 'transatlantic who's who' of relevant cybersecurity, space and military experience - this team also enjoys peerless access to relevant enterprise customers."

David Williams, Arqit CEO said: "The world needs simpler, stronger cyber security, and Arqit addresses that need. After four years of innovation in stealth mode by a world leading multi- disciplinary teams of scientists and engineers, we are ready to go to market. This technology is important and we need to take it to hyperscale as quickly as possible, because the problems we solve are problems for everyone. The capital from this transaction will enable us to develop critical relationships with existing and new customers and fully scale our platform as a service with a balance sheet which gives us speed, momentum and the resilience to deliver on our commitments to customers for the long term."

The transaction values the combined company at a pro forma enterprise value of approximately $1.0 billion, and is expected to provide up to $400 million of gross proceeds to Arqit from a combination of $345 million of cash held in Centricus' trust account (assuming minimal redemption from Centricus existing shareholders), and approximately $70 million from a fully committed PIPE. All existing shareholders and investors will continue to hold their equity ownership, and current Arqit shareholders will remain the majority owners of the combined company at closing.

James Bruegger, Chief Investment Officer at Seraphim Capital said: "Arqit's business combination transaction represents a huge moment for the UK spaceech ecosystem. With an impressive transaction, Arqit will be the first UK SpaceTech company to enter into a business combination transaction with a US publicly listed SPAC, in less than five years since its inception. Arqit is an excellent showcase for the UK's ability to produce world-leading companies in cutting edge areas such as quantum cybersecurity technology and Spacetech.

"Our research indicates that the SpaceTech industry has become one of the most sought-after markets for SPAC mergers. By the first quarter of 2021, 11 space-related companies have already announced their intention to undertake transactions with SPACs. The industry finds itself at a watershed moment, and the transformative potential of SpaceTech is now accepted within the investment community, with SPAC transactions as the main means of accelerating their ability to access the capital required to realise their visions.

"The announcement of Arqit's business combination transaction demonstrates that, notwithstanding the recent slowdown in the SPAC market, outstanding SpaceTech companies remain of high interest to public market investors. We believe that Space represents a $1 trillion investment opportunity with long-term growth potential and, as such, will continue to be attractive to private and public market investors alike.

"Having first backed Arqit in its seed round in 2018, Seraphim Capital has invested in every round since and are proud to have supported Arqit's journey to become one of the most exciting cybersecurity companies in the world."

In addition to financial investors, strategic investors Heritage Group, Virgin Orbit and Sumitomo Corporation have agreed to invest in the PIPE offering.

The proposed transaction was unanimously approved by Arqit's board of directors as well as Centricus' board of directors and is expected to be completed by the end of the third quarter of 2021.