in Aerospace / Security
Aviation cyber security market to grow by $38.08bn from 2022 to 2027
The aviation cyber security market size is set to grow by $38.08 billion between 2022 and 2027 and register a CAGR of 9.4%, according to Technavio's latest market research report estimates.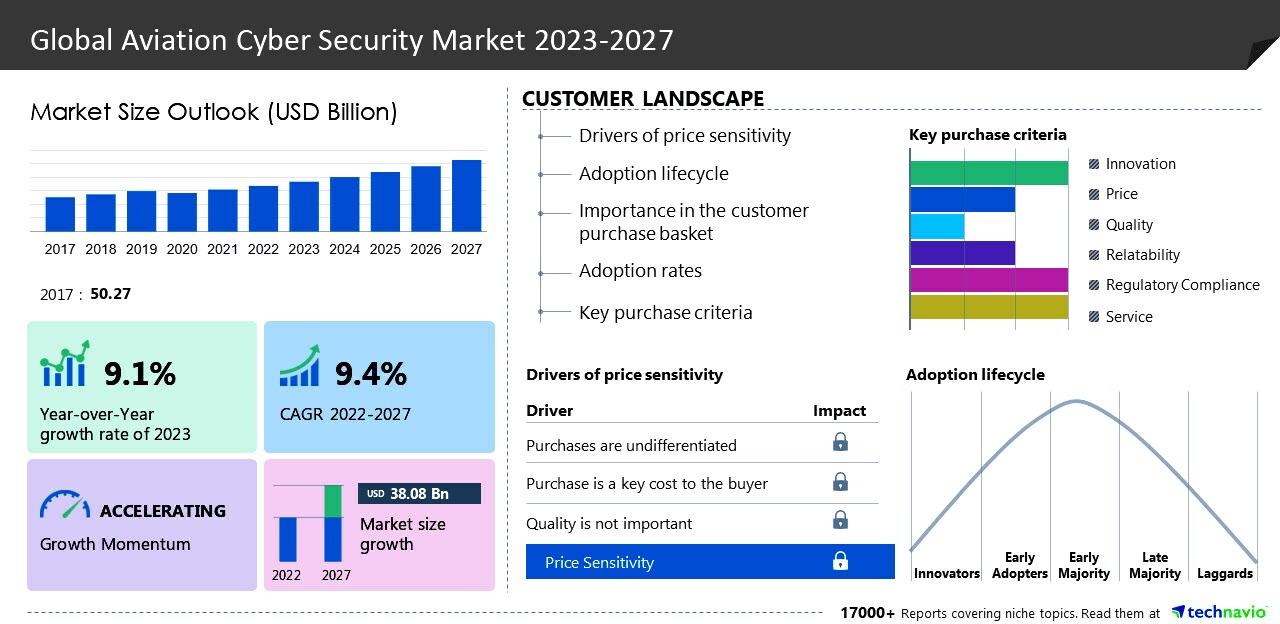 Above: Click here to access sample report.
Courtesy Technavio

With a focus on identifying dominant industry influencers, Technavio's reports present a detailed study by the way of synthesis and summation of data from multiple sources. This report - Global Aviation Cyber Security Market 2023-2027 - offers an up-to-date analysis regarding the current market scenario, the latest trends and drivers and the overall market environment.

The report is segmented by Type, Deployment and Geography. The network security segment will be significant during the forecast period. It refers to any activity structured to protect the usability and integrity of the data and network. The aviation industry prioritises to maintain safe, secure and resilient operations. It plays a major role in safeguarding sensitive data from cyber attacks and ensures that the network is usable and trustworthy.

The need for technological advancements to prevent the aviation sector from cyber attacks becomes critical because the aviation sector travels towards the autonomy of spaceflight and invests billions in developing aviation technologies. Accordingly, such factors boost the growth of the network security segment during the forecast period. Technavio offers in-depth market insights that assist global businesses in obtaining growth opportunities.

Aviation Cyber Security Market 2023-2027: Company Analysis and Scope
Some of the major vendors of the aviation cyber security market include Airbus SE, Astronautics Corporation of America, BAE Systems Plc, Booz Allen Hamilton Holding Corp., Cisco Systems Inc., Fortinet Inc., General Dynamics Corp., General Electric Co., Honeywell International Inc., International Business Machines Corp., Israel Aerospace Industries Ltd., L3Harris Technologies Inc., Lockheed Martin Corp., Northrop Grumman Corp., Palo Alto Networks Inc., Raytheon Technologies Corp., SITA, Thales Group and Unisys Corp.