in Aerospace / Events
Barnbrook Systems to team up with FAC at FIA 2022
Fareham based manufacturing firm Barnbrook Systems Ltd, is setting its sights on its 13th consecutive appearance at Farnborough International Airshow (FIA), teaming up with Farnborough Aerospace Consortium (FAC).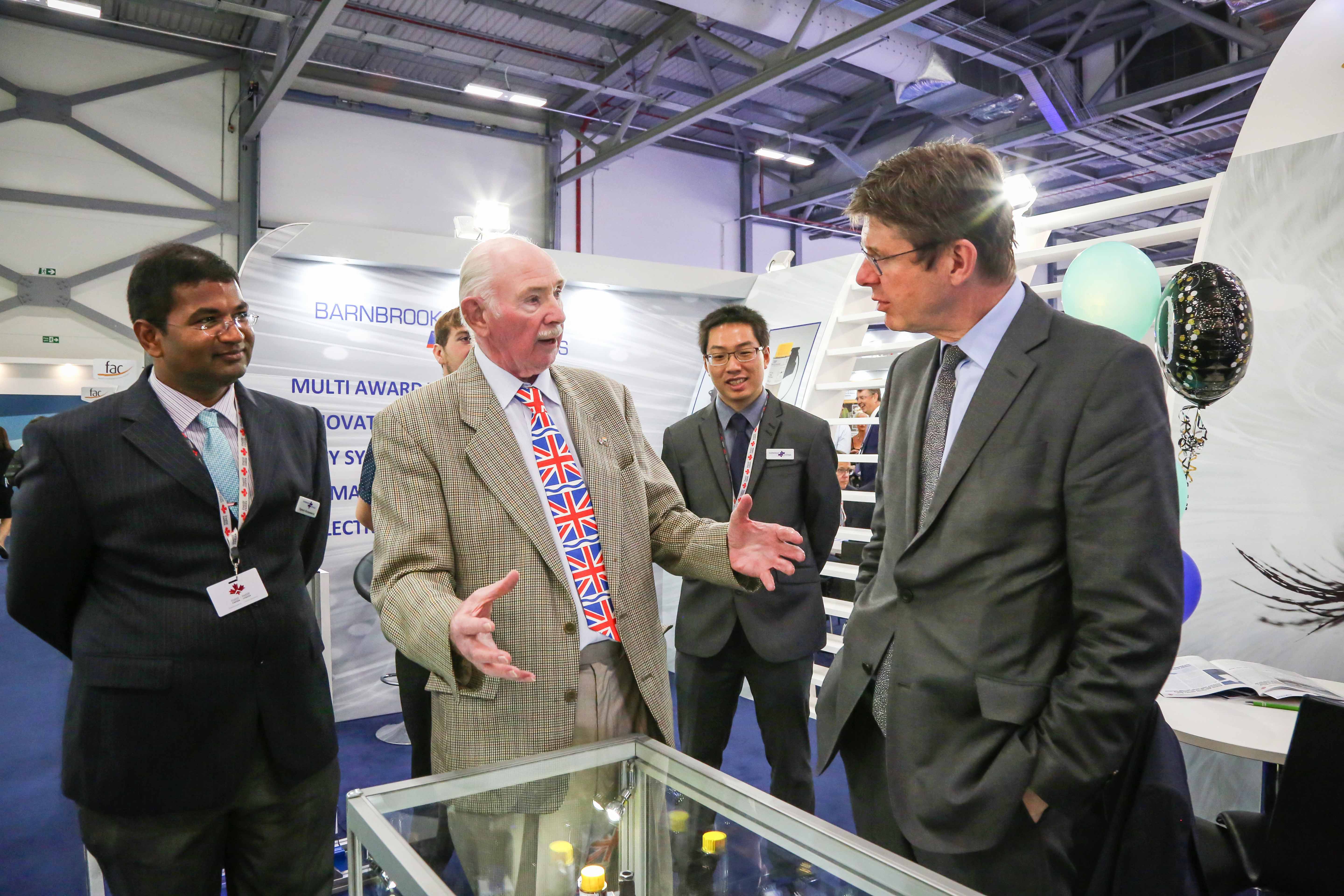 Above: Barnbrook Systems Ltd managing director Tony Barnett (centre) welcomes then Business Secretary Greg Clark to the company's stand at the 2018 Farnborough International Air Show watched by quality manager Vic Gunesekaran.
Courtesy Barnbrook Systems

The Hampshire-based business is preparing to attend the world-famous event in July when it is held for the first time in four years following its cancellation in 2020 due to Covid.

The firm will be among more than 1,500 exhibitors welcoming an expected 80,000 visitors to the five-day showcase for the aerospace, aviation and space industries on 18th-22nd July.

It will be attending with fellow members of the Farnborough Aerospace Consortium (FAC) on a prominently placed stand at the show, which is usually held every two years.

Tony Barnett, managing director of 45-strong Barnbrook Systems Ltd, said: "Farnborough International Air Show is always a highlight of our calendar.

"We have attended a dozen shows going back more than 20 years and are very much looking forward to this year's event."

Tony, who is a longstanding FAC board member, added: "Although aviation was among the sectors adversely affected by the Covid pandemic, the return of the show is a vote of confidence in the industry and I am sure it will be a great success."

Barnbrook Systems Ltd marked its 40th anniversary at the show in 2018 and signed a six-figure contract with aerospace giant Leonardo at the 2016 event. Mr Barnett also met then Prime Minister David Cameron in 2014.

Independent family firm Barnbrook Systems Ltd, which was founded in 1978, is a designer, developer and manufacturer of many types of electro-mechanical switching devices.

Based in Fareham Park Road, Fareham, it supplies aviation, aerospace, defence, maritime, rail and commercial industries worldwide with clients including multi-national firms, the MoD and UK companies.

Its products include its award-winning brake controller, fire suppression system actuators, helicopter refuelling switches and relays for submarines.

According to organisers, the 2018 Farnborough International Airshow resulted in deals worth $192m (£143m) being made. This year's show will focus on the future of the industry, sustainability, aerospace and defence thought leadership, space, future workforce and air travel.