in Defence / Events
Beach landing trials help develop future AI capabilities
A large-scale maritime and beach-landing exercise on the Hampshire coast has provided vital data to help develop cutting edge AI products for the Ministry of Defence.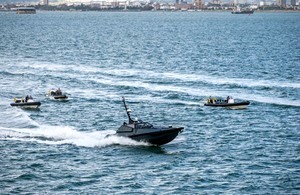 Above: Vessels take part in maritime and beach landing data collection exercise.
Courtes Dstl

A Defence Science and Technology Laboratory (Dstl) led exercise over five days involved 130 personnel, 13 vessels, multiple uncrewed air vehicles, a light aircraft and more than 50 cameras and sensors to record activity.

Contending with high winds up to 40 knots, landings saw personnel boarding and leaving vehicles in different ways to generate data representative of different behavioural traits.

In one scenario synchronised landings saw participants acting as a trained team such as a military unit. In another, participants exited the boats in a deliberately chaotic way, to provide a wider data sample of human movement.

The trial was a collaboration with 12 industry and international partners, supported by Royal Navy and British Army personnel and comes ahead of the UK government's AI Summit over the next few days. Investing in artificial intelligence is paramount to the continued modernisation of our Armed Forces and is a key priority for the UK government.

Minister for Defence Procurement, James Cartlidge, said: "Investing in new technology provides our Armed Forces with the tools they need to stay ahead of emerging threats and ensures our national security in an ever-evolving technological landscape.

"Innovative, data driven exercises like this demonstrate how AI can enhance our military capabilities, enabling us to respond more efficiently to the threats of today and tomorrow."

Data captured during the exercise included visual, infrared, sonar and radar as well as supporting 'metadata' including platform and sensor locations, weather, sea states and other contextual information.

The video, imagery and other data captured will be used to build further datasets to train AI algorithms to recognise objects, such as other vessels. Data generated by the trial will also enable the Ministry of Defence and industry partners to develop new AI products for Defence in an ethical, safe and responsible manner.

Carefully curated datasets are the bedrock to many AI capabilities and the sourcing and integrity of the data is crucial. The data gathered through trials such as this, will be used to validate the performance of future systems providing the operator with confidence in its abilities.

Charlie Maslen, Dstl's trial technical authority, said: "This was an ambitious and challenging trial which builds on the experience and expertise gained during the previous land-based exercise. Conducting a trial with sensors spanning three domains – land, sea and air – involving 12 separate industry partners was immensely complex. Added to which we were hampered on 2 days by 40 knot winds.

"Data generated by the trial will enable MoD and industry partners to develop new AI products for Defence, helping keep UK forces safe and delivering operational advantage. Being able to guarantee the integrity of the data underlines MoD's commitment to the ethical, safe and responsible use of AI."