in Aerospace
CAA strengthening aviation and aerospace ties in Northern Ireland
The UK Civil Aviation Authority (CAA) is meeting aviation and aerospace industry leaders in Northern Ireland this week to strengthen its ties and see the work being done on sustainability, delivering innovations and improving the passenger experience.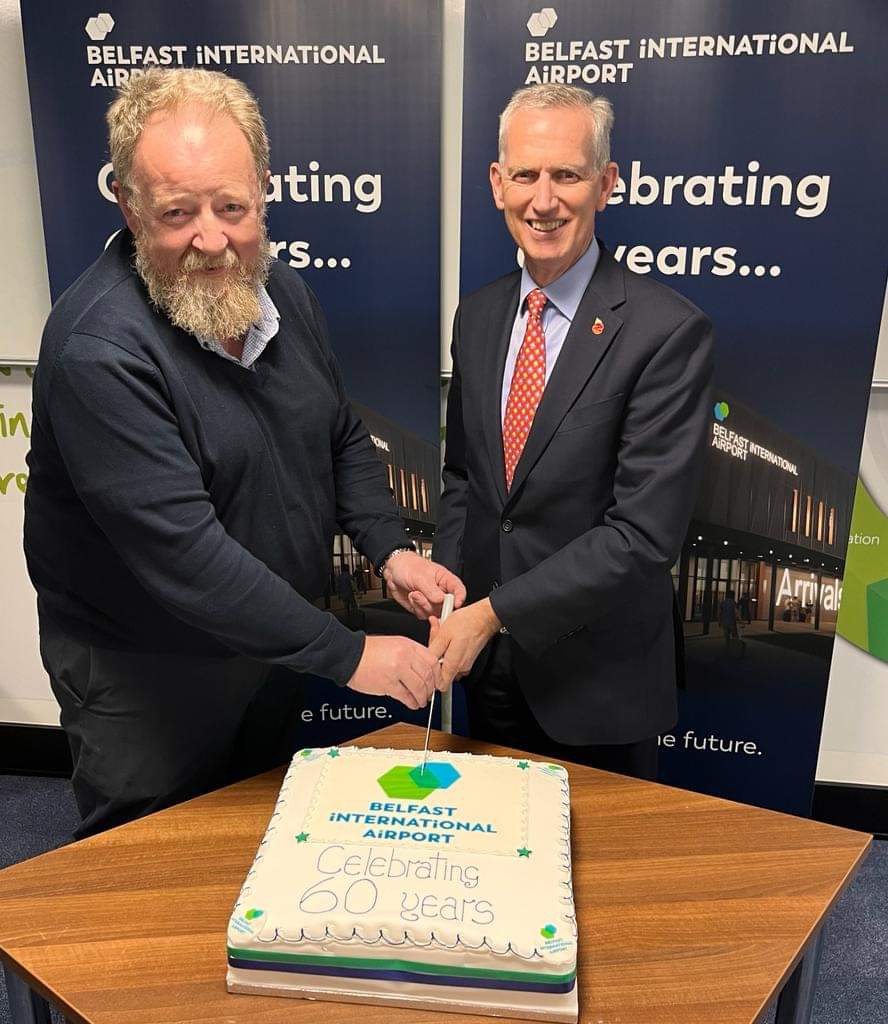 Above: (left to right) Belfast International Airport's Managing Director Graham Keddie with UK Civil Aviation Authority Chair, Sir Stephen Hillier, marking the airport's 60th anniversary.
Courtesy CAA

During the two-day visit, the regulator's Chair Sir Stephen Hillier, Chief Executive Rob Bishton, and Board members are visiting both Belfast International and Belfast City airports, Spirit AeroSystems, and meeting students and touring Queen's University Belfast's School of Mechanical and Aerospace Engineering. As part of the visit, a Civil Aviation Authority Board meeting is also being held.

This forms part of the UK Civil Aviation Authority's ongoing engagement with industry to understand the range of perspectives from the multiple areas it regulates and to help inform decision-making for the benefit of industry, consumers, and the public.

Sir Stephen Hillier, Chair of the UK Civil Aviation Authority said: "The UK's aviation and aerospace sector continues to grow and is moving towards a more sustainable future as we reduce emissions, use new technologies, and improve the passenger experience.

"As the regulator, we have a role in enabling innovation, so it is important we engage with our stakeholders in Northern Ireland and across the UK to witness the work being done to secure a safer, more innovative, and sustainable future for aviation both in the UK and internationally."

During the visit, Sir Stephen, Rob Bishton and Board members are celebrating the work of Belfast International Airport as part of its 60th anniversary and also visiting Belfast City Airport to better understand the processes and challenges faced by both airports.

The visit also provides an opportunity to tour the wing factory of the world's largest first-tier aerostructures manufacturer at Spirit AeroSystems, a historic site of the Short brothers' airplane production and where Airbus A220 wings are made today.

The Board are also touring Queen's University Belfast and School of Mechanical and Aerospace Engineering where they are discussing the future of flight with the university's project students and Post-Doctoral Research Associates.