in Aerospace
Cargo-partner expands footprint in UK
International transport and logistics provider, cargo-partner - which has teams based across Manchester, Basildon and Bradford - has recently opened its fourth UK office near London Heathrow Airport.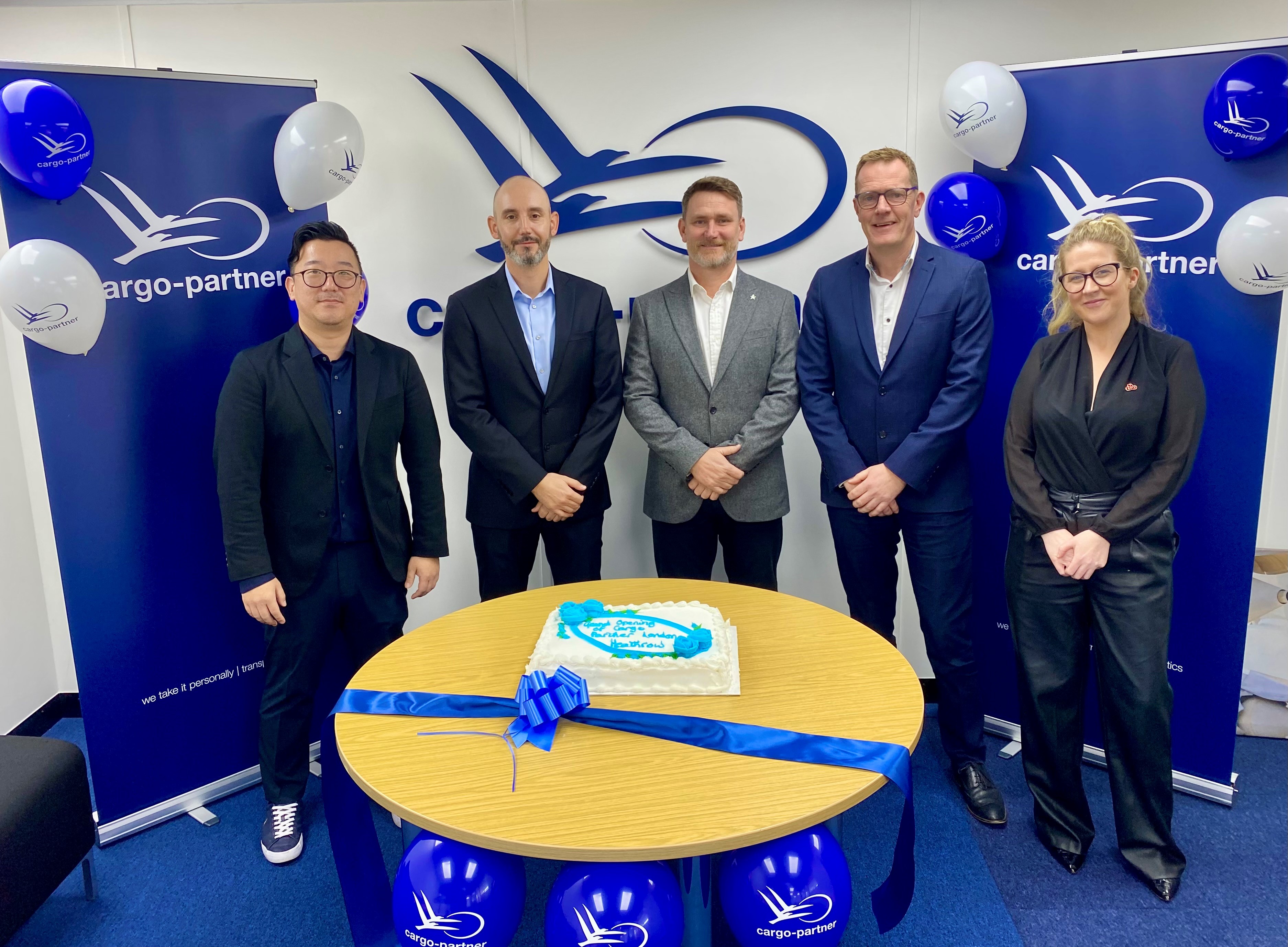 Above: (left to right) At the opning of the Heathrow office, Jiho Ham, Business Development Manager, Korean Trade, David Snoj, Regional Product Manager Air Cargo Western Europe, Jimi Copperwheat, Area Manager South (GB) / National Product Manager Air Cargo (GB), Neil Murray, Managing Director (GB) / Regional Managing Director Western Europe - North-West Cluster and Charlotte Royle, Manager Human Resources (GB).
Courtesy cargo-partner

The cargo-partner teams are situated in Manchester, Basildon, Bradford and now London, offering comprehensive air, sea and road transport solutions.

After embarking on a joint venture with Aztek International Freight Ltd in 2021, cargo-partner acquired the remaining shares of the UK-based company in 2022, bringing all expert teams together under the cargo-partner brand and continuing to increase UK operations.

Cargo-partner has now added an office in London in response to growing demand from local customers. Neil Murray, Managing Director of cargo-partner in the UK, explained: "It's been a fantastic year – we're continuing to invest in the team, launch new products and solutions across our vast portfolio, and this new London office sees us continue to deliver on our growth strategy, providing another great location for us to support our clients and partners.

"As the capital city of England and a major economic centre in Europe, London attracts a diverse range of industries and businesses. Our new office is ideally located next to London Heathrow Airport – one of the busiest airports in Europe – providing excellent connectivity and a network of transport options."

New London office location supports provision of all cargo-partner products
London is well connected by road, air, rail and sea, providing the idea location for supporting cargo-partner's customers and continuing to deliver comprehensive transport and logistics solutions to all industries.

The M25 and M4 corridors are two of the busiest motorway interchanges in the UK, providing gateway road connections to further ports and networks. Furthermore, sea freight services are accessible through nearby seaports at Harwich, Dover and Folkestone and extensive air cargo services are available from London Heathrow, Gatwick and Stansted.

Cargo-partner's new office is opposite London Heathrow Airport, which is the UK's largest airport by value and means 95% of the global economy is within reach by a direct flight.

Growing the cargo-partner London team
Over the last few months, the cargo-partner UK team has grown to 70 employees and the company continues to offer career opportunities from the new London base. The company has appointed Jimi Copperwheat as Area Manager South and National Product Manager Air Cargo, who will oversee operations from this office and is looking to fill several other new positions in the coming months.

Jimi Copperwheat joins the business with over 30 years' experience in the logistics and transport industry, bringing a wealth of expertise to these roles. Over the course of his career, he has held senior positions in air freight, commercial and operations and has recently transitioned to cargo-partner after serving in a similar capacity with another international logistics firm.
Strong presence in Europe

The Austrian-based logistics provider has traditionally had a very strong presence in Central and Eastern Europe and has recently substantially invested in expanding its footprint in Western Europe. The company has long established branch offices in Germany, Benelux, Sweden and Ireland but has more recently expanded its network into the UK, Italy and Spain, ensuring cargo-partner is now represented in the most important markets in the region.