in Space
ClearSpace selected by UK Space Agency to study removal of space debris
ClearSpace Today Ltd, an innovative start-up, has been selected by the UK Space Agency to define a space mission able to remove multiple defunct spacecraft from orbit, as part of the UK's ambitions to support safe and sustainable space operations.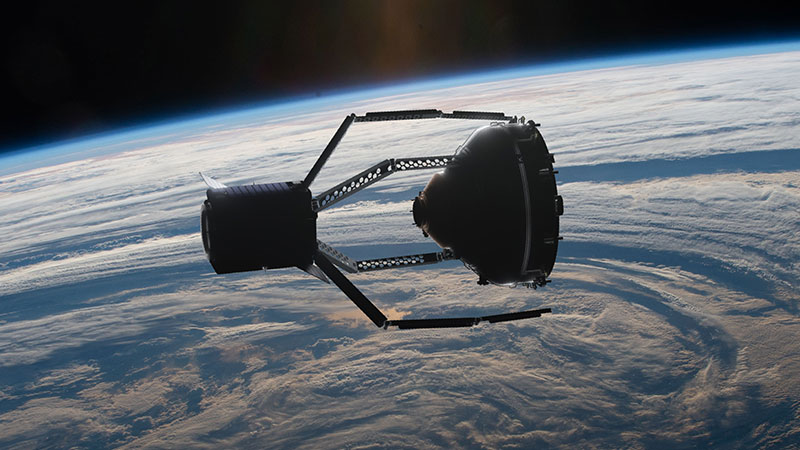 Image courtesy ClearSpace

The mission, which will be launched in 2025, will be the first ever spacecraft to deorbit two non-functional satellites consecutively, and will also demonstrate other novel technologies, such as spacecraft-to-spacecraft refuelling. With this initiative, the UK Space Agency is driving developments in two critical areas needed for commercially viable debris removal services: multi-removal missions and refuelling. This enables UK companies to become world-leaders in these foundational technologies and this study represents the first key step towards a cutting-edge debris removal mission that will be designed, manufactured, and operated from the UK.

Science Minister George Freeman said: "Growing reliance on satellites for a range of everyday utilities from SatNav to meteorology is making the space tech sector increasingly valuable to the UK economy. Our National Space Strategy sets out our vision for a thriving UK space sector that pushes the boundaries of innovation including a specific commitment to lead in clearing space debris."

"This project will support our leading role in cleaning up our orbit, which has been neglected for far too long, and will help keep satellites operating safely so they can continue to provide vital services such as communications and climate change monitoring."

ClearSpace's UK Lead Rory Holmes said: "ClearSpace is proud to have been selected by the UK Space Agency to lead this exciting activity. This initiative allows UK industry to obtain the first-mover advantage in this vitally important field. We are excited to work with leading UK space companies – SSTL, Deimos, Satellite Applications Catapult, and Alden Legal – to develop the technologies and missions needed to remove debris from orbit, making today's missions safer and preserving the space environment for future generations."

ClearSpace's CEO and co-founder Luc Piguet said: "Space debris is a challenge at a global scale - we need to build the capabilities now that will safeguard this precious environment. This opportunity from the UK Space Agency allows ClearSpace to partner with world-leading UK companies to accelerate the development of technologies needed to make the space economy sustainable."
Swiss start-up ClearSpace, with its mission to make the booming commercial space economy more sustainable, affordable and resilient, formed the UK subsidiary ClearSpace Today Ltd. earlier this year, as its first significant engineering presence outside of Switzerland. The new ClearSpace facility is part of the company's drive to deliver a wide range of in-orbit services, including orbital debris removal, in-orbit transport and satellite life extension.

Since its formation in 2018, ClearSpace has innovated rapidly and has an €86.2 million in-orbit service contract with the European Space Agency (ESA) to remove orbital debris. The formation of ClearSpace Today Ltd is allowing critical parts of that ClearSpace-1 Mission and other future commercial missions, to be developed in the UK.