in Aerospace
Collins Aerospace's Ascentia to be installed on Korean Air's 787 Fleet
Collins Aerospace has announced that Korean Air will use Collins Aerospace's Ascentia Prognostic and Health Management (PHM) solution on its growing Boeing 787 fleet.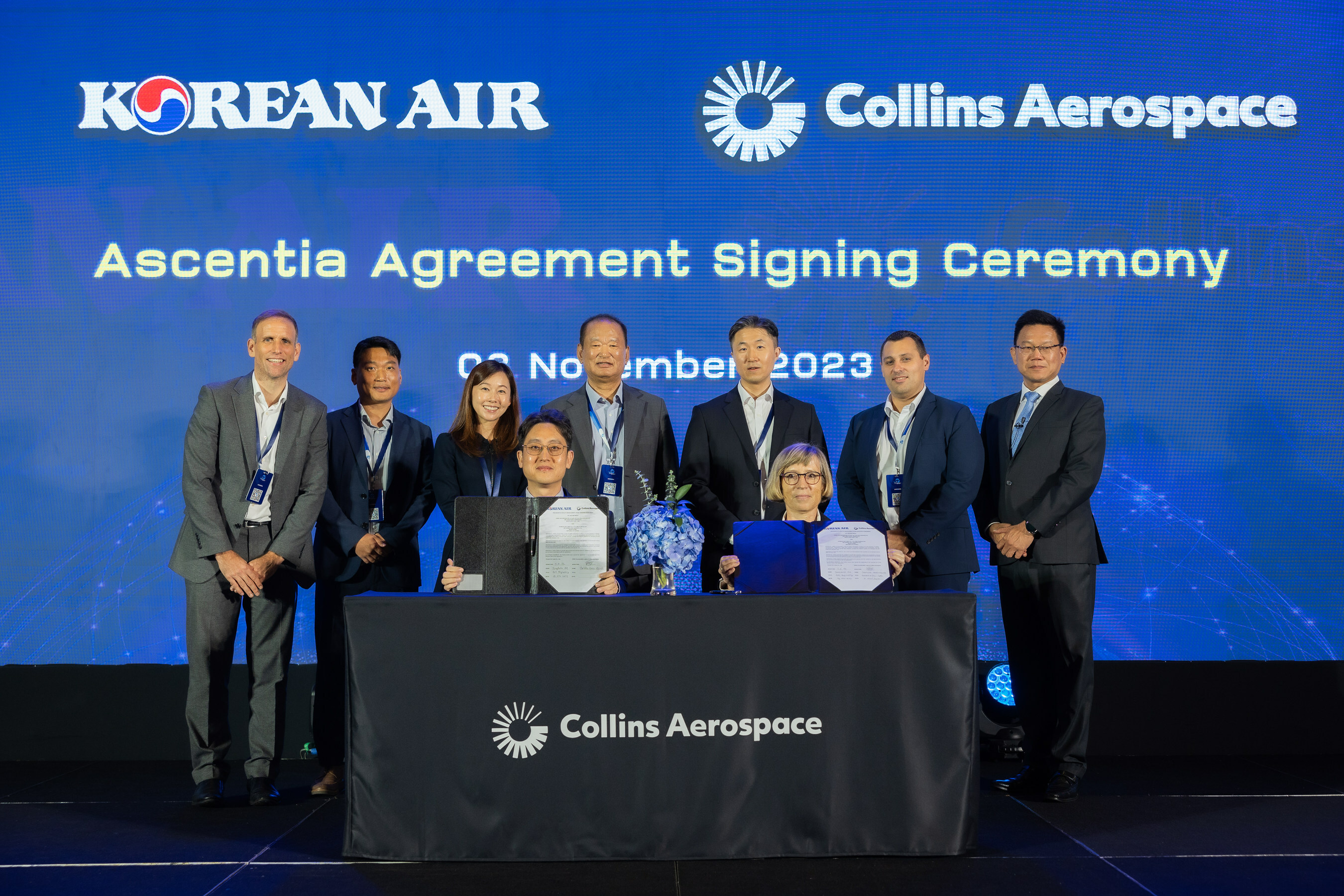 Above: Jonghoon Oh, Korean Air and Clotilde Enel-Rehel, Collins Aerospace, signed the agreement to equip Korean Air's Boeing 787 fleet with Ascentia on 8th November in Chiang Mai, Thailand.
Courtesy RTX

"Ascentia's ability to monitor the health of a wide variety of components on our Boeing 787 fleet will help us improve reliability by predicting potential issues before they occur," said Jonghoon Oh, General Manager - Predictive Maintenance Team, Korean Air. "By tailoring Ascentia to our specific requirements, it will further improve our predictive and preventative maintenance operations, giving our passengers an even more reliable travel experience."

The cloud-based solution uses advanced data analytics and machine learning algorithms to help airlines improve maintenance operations and increase aircraft reliability. Analysing flight data and maintenance records in real-time allows Ascentia to help predict potential maintenance issues and provide recommendations for corrective actions, improving aircraft availability and reducing unscheduled downtime.

"Ascentia is designed to help airlines improve their customers' experience," said Clotilde Enel-Rehel, executive director for Customer Programs at Collins Aerospace. "Our data-driven solution will provide Korean Air with predictive maintenance recommendations to optimise their schedule and improve their operational efficiency."

Collins Aerospace's Ascentia solution is currently in use by several major airlines around the world. Equipping Korean Air's Boeing 787 fleet with Ascentia represents a significant milestone as Collins Aerospace expands its presence in the Asia-Pacific region.