in Aerospace / Events
Dubai Airshow: Reaction Engines and CAeS expand collaboration on hydrogen fuel cell tech
Reaction Engines and Cranfield Aerospace Solutions (CAeS), have announced the signing of a Memorandum of Understanding (MoU) to expand their existing collaboration to explore additional aerospace applications for their zero-emission propulsion technology.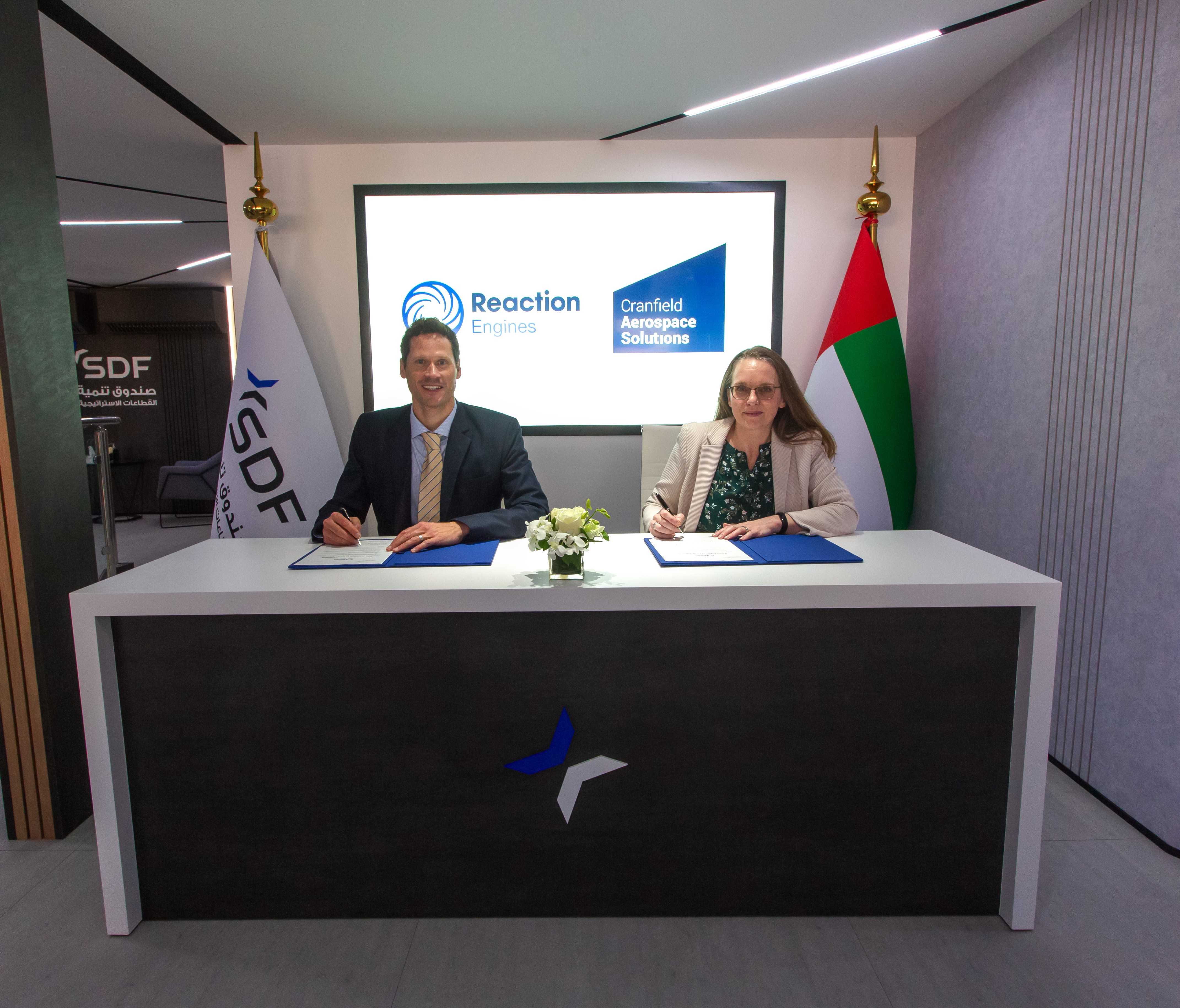 Image courtesy Reaction Engines

The MoU represents an expansion of both companies' efforts to develop applications for their hydrogen fuel cell-based powertrain design and system integration capabilities across diverse sustainable aerospace platforms. The agreement marks a significant step towards maximising the potential of their collective expertise and delivering practical sustainable aviation solutions across a range of applications.

The announcement builds upon the close partnership between both companies which began with the UK government's Aerospace Technology Institute (ATI)-funded Project Fresson in 2021, which focuses on the development of a zero-emissions, hydrogen fuel cell aircraft demonstrator. Both Reaction Engines and CAeS have also received strategic equity investments from the Strategic Development Fund (SDF) and are benefiting from SDF's active support in developing commercial applications for their technologies.

Tom Burvill, Director of Applied Technologies, Reaction Engines, said: "Reaction Engines is delighted to be expanding our collaboration with Cranfield Aerospace Solutions which marks a further step forward in the development of sustainable aviation propulsion applications for our world-leading thermal management technology. This agreement builds on the close working relationship the two companies have established on Project Fresson and this establishes a firm framework to develop new uses for our game-changing technology."

Jenny Kavanagh, Chief Strategy Officer, Cranfield Aerospace Solutions, said: "Since our initial collaboration began in 2021, the alliance between the two companies has flourished, with CAeS benefiting from Reaction Engine's advanced thermal management expertise, and Reaction Engines leveraging CAeS' comprehensive route to market for the technology enabled by our integration and certification capabilities. This latest agreement demonstrates the power of mutually beneficial collaboration and significantly expands our joint efforts to unlock new applications for our innovative hydrogen fuel cell technology."

The memorandum has been announced at the Dubai Airshow 2023, where both Reaction Engines and Cranfield Aerospace Solutions are exhibiting at the Strategic Development Fund pavilion.