in Aerospace / Defence / Security
ECS & TCI expand business ops with BlackTalon C-UAS contracts
Wappenham based Enterprise Control Systems Ltd (ECS) and TCI, under SPX Corporation's Communications Technology (CommTech) group, today announced a series of multimillion dollar contract awards for its jointly developed BlackTalon Counter Unmanned Air Systems (C-UAS) solution.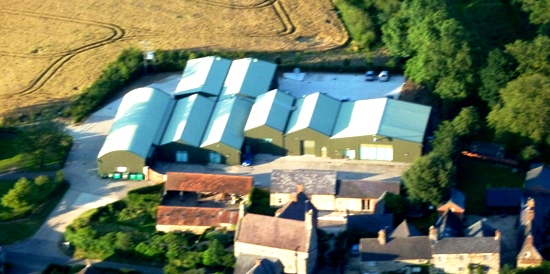 Above: The ECS Technology Park at Wappenham, Northamptonshire.
Courtesy ECS

This follows the recent launch of BlackTalon as the first joint capability offering in the C-UAS domain.

"At ECS + TCI Battlespace, we're proud to be delivering our BlackTalon solution to address evolving threats with Unmanned Air Systems. BlackTalon is a great example of how combining the capabilities of two world leaders in their field, Tactical Radio Frequency (RF) detection and location systems and RF inhibitors, can deliver real operational impact," said David Beckett of ECS + TCI Battlespace. "We're jointly providing customers with holistic and customer-tailored solutions for their theatre of use and the skills and capabilities of the operators, to optimise their effectiveness within an evolving Concept of Operations (CONOPS)."

The entry level solution, BlackTalon 1, provides Passive RF Detect, Track & Active RF Defeat, whilst the advanced C-UAS solution, BlackTalon 2, uses Passive & Active RF Detect, RF and EO Tracking & Active RF Defeat with a sophisticated C2 data fusion software, delivering a scalable response to the perceived drone threat.

Eric Kaled, CEO of CommTech adds: "The creation of the BlackTalon Counter UAS solution was a key driver behind the acquisition of ECS. The combination of ECS and TCI technologies provides credible, operationally proven solutions which address our customers' requirements and help them manage the security risks that the defence and security community faces. Our mission is to provide our customers with the ability to deliver a flexible and proportionate response to the threat presented in the dynamic global security environment. BlackTalon addresses the progressive and rapid developments that are continuing every day to alter UAS and the Counter-UAS technology space."

With this announcement ECS + TCI (CommTech) will continue to jointly address customers' evolving needs with the BlackTalon Counter UAS solution.