in Aerospace / Defence
EDM bolsters workforce
A move into new markets and a series of contract wins have paved the way for a raft of new roles at the Manchester-based supplier of advanced training simulators to the civil aviation and defence markets, EDM.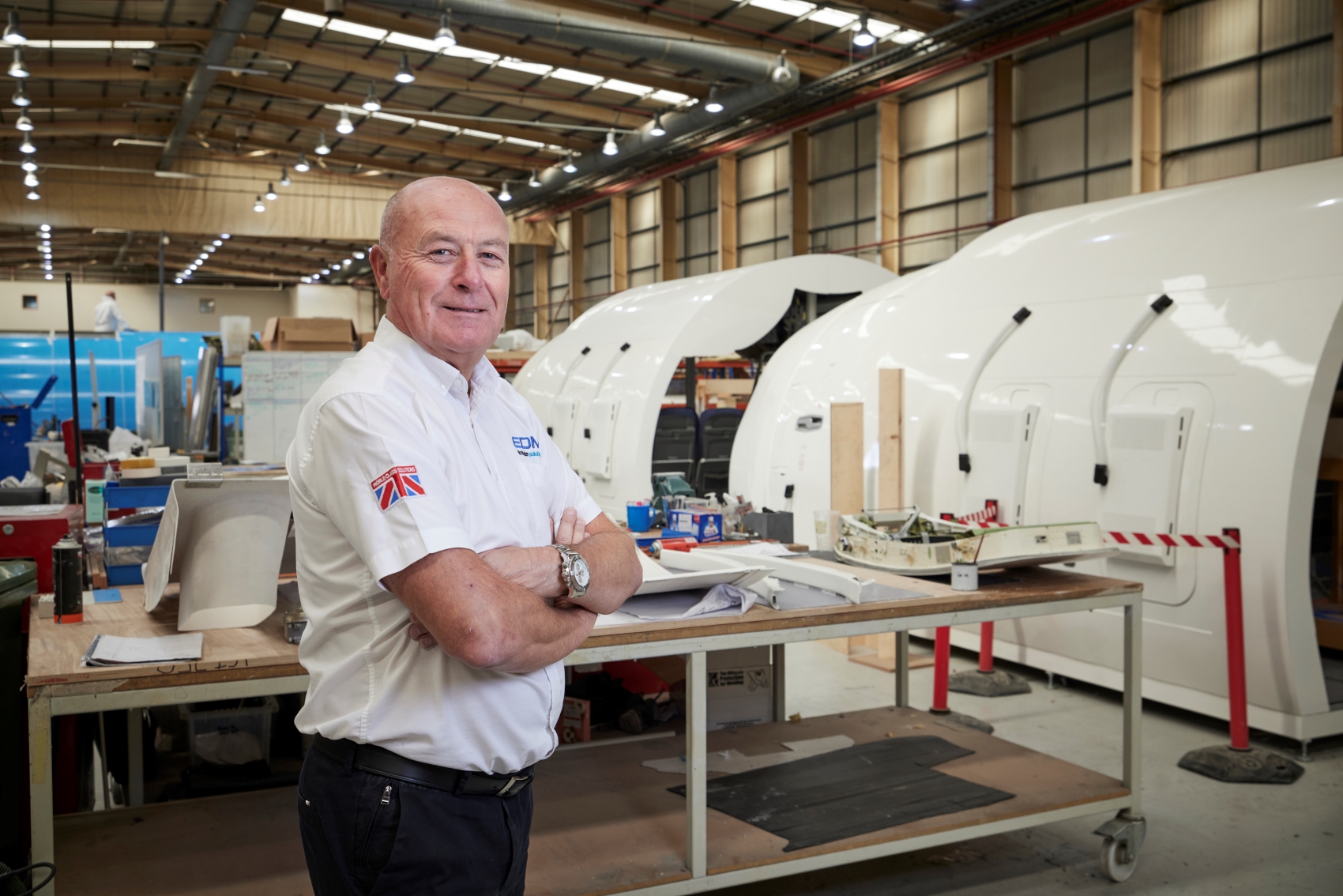 Image courtesy EDM.

The group has created 20 posts this year across its production, project planning, customer support and administrative teams. A number of these have been filled through internal promotions.

The new arrivals also include a cohort of apprentices, who began their four-year training programme last month.

EDM's recruitment programme means its workforce has increased to 134 this year.

Managing director Tony Bermingham (above) said he was confident that EDM would perform strongly over the next 12 months, and as a result could seek to recruit up to 40 engineers and other professionals to support client projects.

EDM is based at a 100,000sq ft site in Newton Heath, where it manufactures and assembles training simulators for clients in sectors including civil aviation, defence and rail. The company also has an aviation training academy at the complex.

Tony said the board undertook a strategic review following the pandemic and this has led to complementary acquisitions alongside the development of new products and a move into additional manufacturing sectors, such as aircraft parts, composites and steel fabrication.

He said: "All these additional revenue streams will provide opportunities for further job creation as the business continues to grow. We are confident that 2024 looks like being a busy year for EDM, and this could mean recruiting between 30 and 40 engineers and professionals to support ongoing projects."

EDM added to its portfolio in 2021 by acquiring RGF Support, a training and infrastructure support business operating at major UK airports, and earlier this year by acquiring SkyPeople, which provides training for airline cabin crew.

The group's latest apprentice cohort comprises teenagers Shay Brennan, Jake Shenton, Archie McKimm and Tom Kingsman.

Shay and Jake, who live in Oldham and New Moston, Manchester, respectively, have joined as apprentice electrical engineers. Archie, who is also from Oldham, has joined as an apprentice mechanical fitter and Tom, from Marple, Stockport, has joined as a machinist.

EDM received more than 100 applicants for its latest apprenticeship programme, which runs for four years in conjunction with training provider Rochdale Training.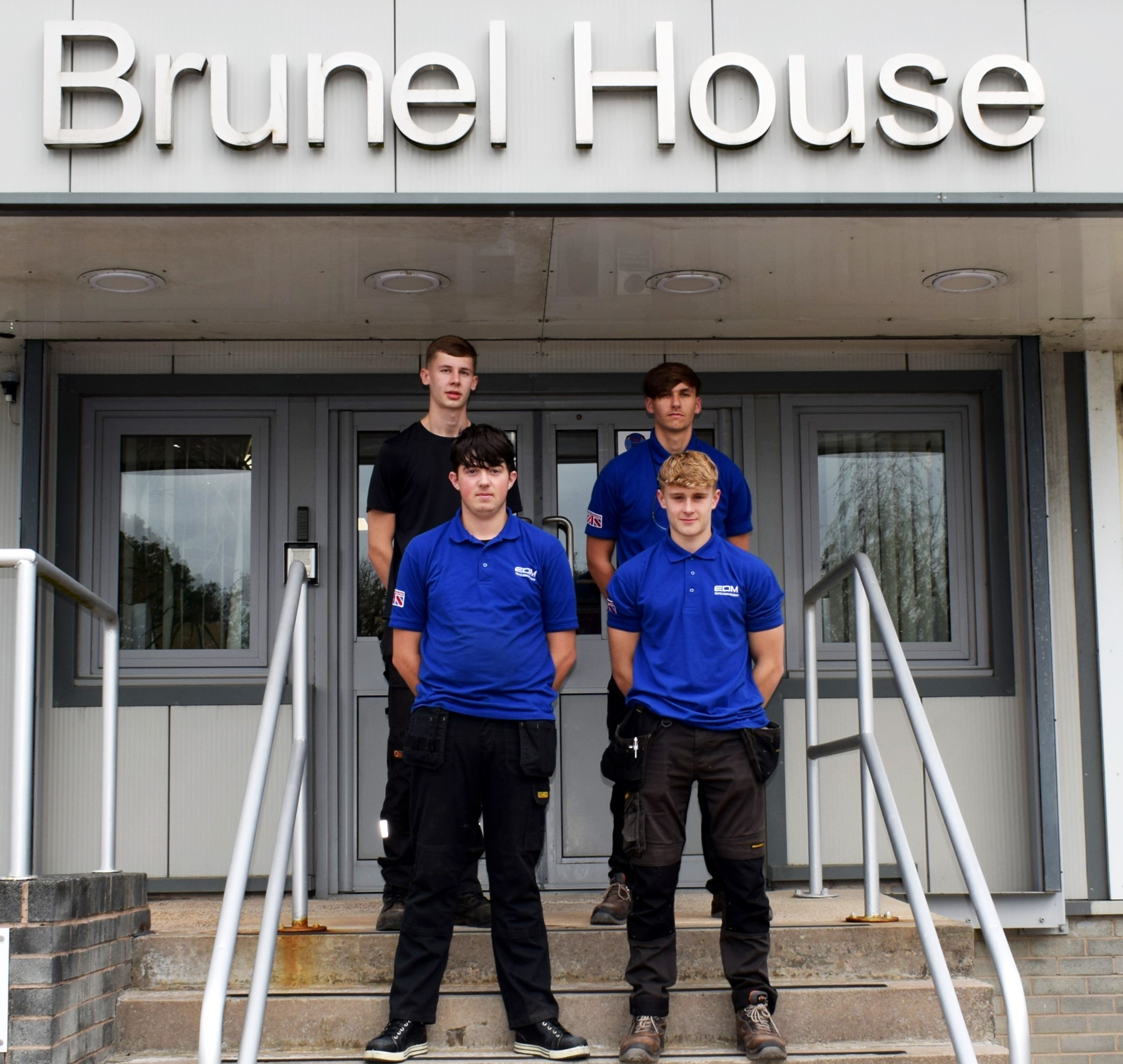 Above: (clockwise from top left) EDM's latest apprentices are Jake Shenton, Shay Brennan, Tom Kingsman and Archie McKimm.
Courtesy EDM

Tony said: "Young people and apprentices are lifeblood of the business. Ten years ago, the average age on the shopfloor was the mid-50s. Today, due to our apprenticeship programme, the average age is the mid-40s.

"Our apprentices not only give us the ability to maintain our high-end traditional engineering skills. Younger people also bring with them new ideas and technology, thereby broadening our capability.

"The upside for our apprentices is that they can earn while they learn, and we have had a number who have continued on to degree level. I am a great believer in lifelong learning, and we will always support our employees in that goal."

He added: "EDM has always had very low staff turnover, with many of our team having worked in the business for over 30 years. I think this is attributable to the variety of interesting work, the possibility to travel the world, the ability to develop one's skills and the opportunity to grow.

"In addition, with a family and teamwork philosophy and great people to work with, it's a fantastic place to be.

"Our management ethos is one of support and encouragement, and there are no barriers to how far anyone can progress.

"We will always look to promote internally first, if our employees have the required skillset or can be trained to fulfil the role. This in turn fosters loyalty and teamwork within the organisation, and it's extremely pleasing to develop our own talent and see people rise through the ranks."

This year, production supervisors Graham Hill and Nigel Southworth and mechanical fitter Glen Shepley have been recognised for 40 years of service at EDM. Two staff members are celebrating 20-year milestones and two are marking a decade at the firm.

As part of the company's staff retention and recruitment strategy, EDM has introduced a series of new employee benefits in the past couple of years, including flexible working, a four-day week for production staff, an employee assistance programme, an employee of the month award and perks such as twice-weekly fruit deliveries.

Tony said: "Looking after our staff means not only helping them develop and improve their skills and careers but also their wellbeing, and that continues to be a key area of focus for us."

So far during 2023, EDM has landed contracts with airlines including KLM, Jet2, JetBlue, United Airlines and All Nippon Airways, as well as with Network Rail, BAE Systems, the Indian Air Force and the Royal Danish Air Force.