in Aerospace
EDM installs Air Balticís A220 Extended Door Trainer
Manchester based provider of training simulators to the civil aviation and defence sectors, EDM, has completed a project for Air Balticís A220 Extended Door Trainer, which has been fully installed at their training facility in Riga, Latvia.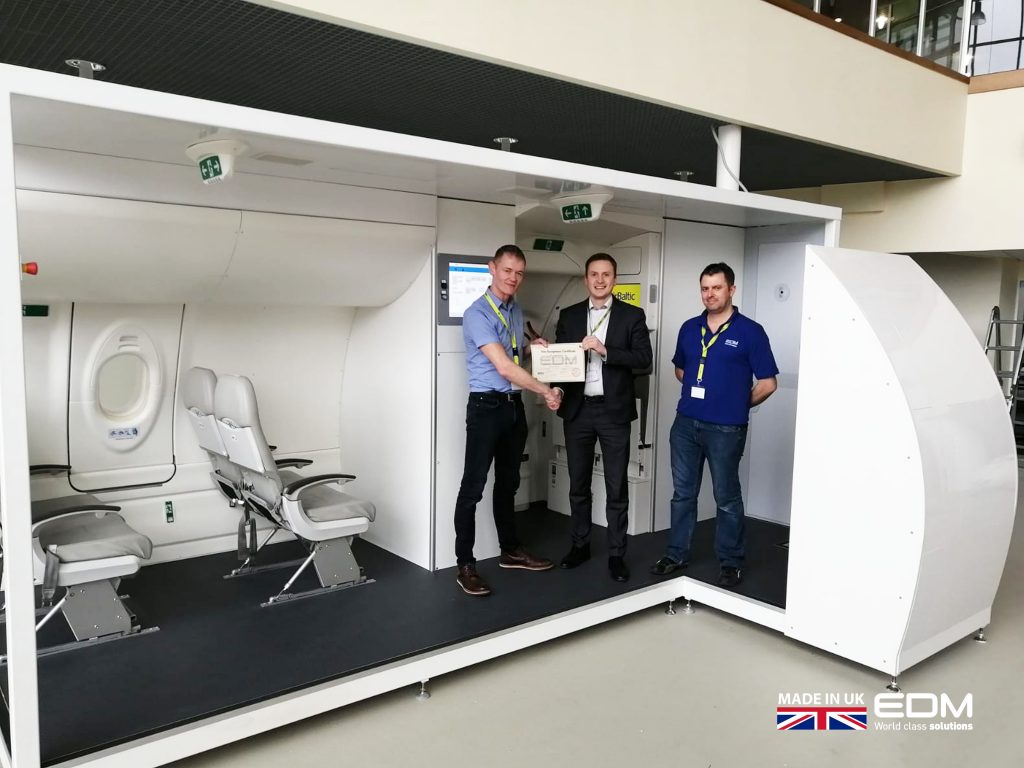 Courtesy EDM

EDM was tasked by airBaltic to develop their new A220 Extended Door Trainer in response to the airline acquiring their new Airbus A220 fleet. This simulator will enable the airline to train their cabin crew and certify them to the new aircraft type. The Extended Door Trainer is fitted with key features to help simulate a number of scenarios that helps practice everyday functionality, but also for emergency situations.

EDM is the leading manufacturer of the Airbus A220 Door Trainer in the world and has already delivered more A220 Door trainers than any other. EDM manufactures high-fidelity simulators that are robust and are of utmost quality to help serve our clients reliably.

EDM's A220 Extended Door Trainer for airBaltic has been manufactured to host a variety of features which have been tailored to suit their requirements and desired functionality.

Some of the functionality provided with this trainer include:

• Door familiarisation procedures

• Securing the cabin for flight

• Internal and external operation of the door

• Carry out and practice evacuation procedures

• Experience the force and movement of the door and use of door assist handles

•Operation of the gust lock

•Operation of the Mode Select lever – Arm/Disarm procedures

• Operation of slide inflation procedure

• Experience and the recognition of Door Malfunctions during operation

• Flight attendant's seats use and operation

• Communications, sounds and alarms operation and recognition

• Auto-close Overwing Exit

• Virtual Slide Trainer Integration

• Simulated Flight Deck Door with Access Keypad

• Dummy R1 cross-check door

EDM's Virtual Slide Trainer was integrated to airBaltic's A220 Extended Door Trainer (externally to the L1 door) to help simulate various slide deployment scenarios. The animation is automatically triggered when the Door opens in armed/emergency mode, or when the manual slide inflation handle is pulled.

The EDM team successfully concluded the installation of airBaltic's A220 Extended Door Trainer with its Site Acceptance Test (SAT) in March 2020 in Riga, Latvia.