in Aerospace / Defence / Space / Events
FAC conference will be out of this world
Farnborough Aerospace Consortium (FAC) has secured some industry heavy-weights for its annual conference – including Sir Michael Ryan CBE.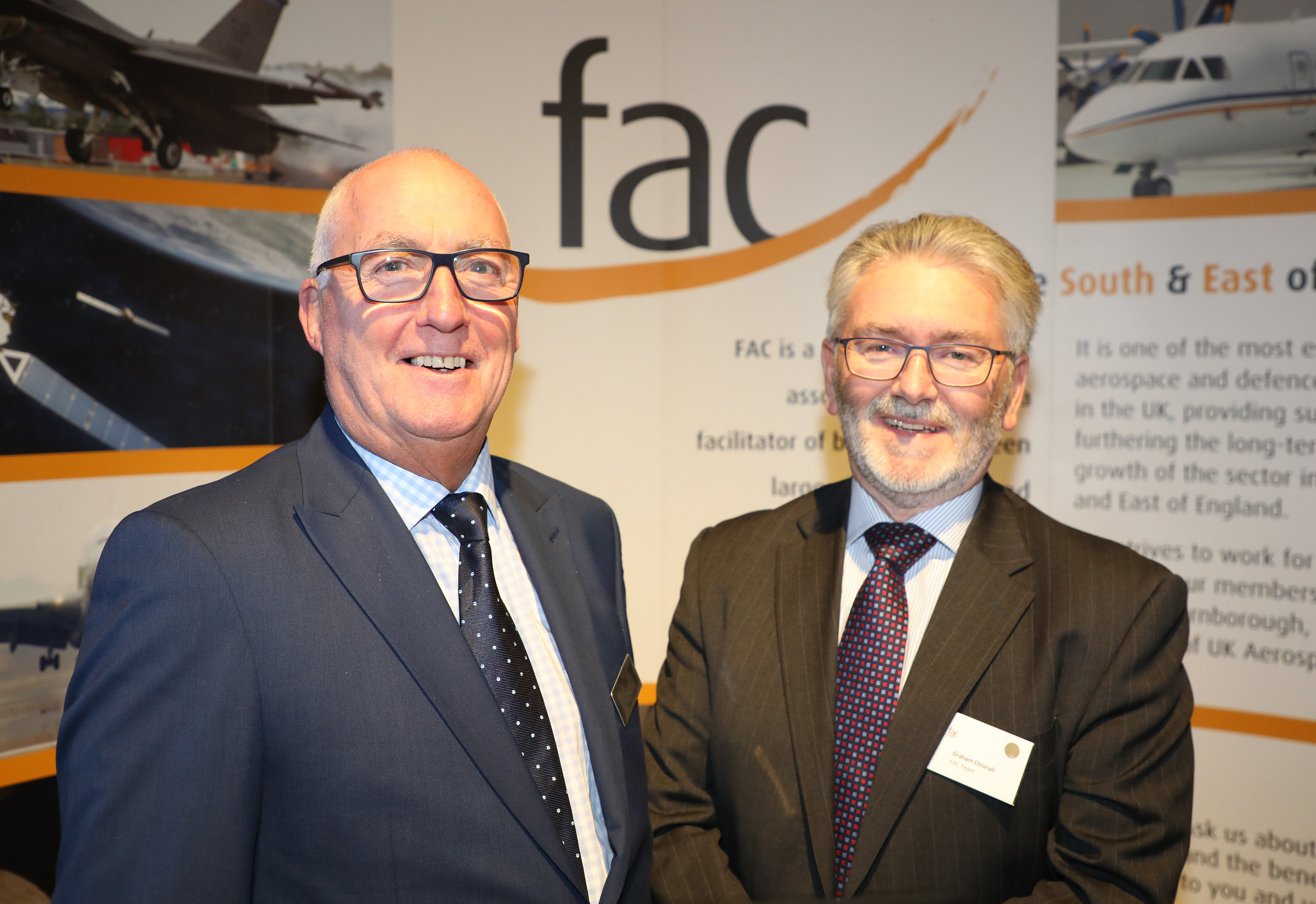 Image courtesy Farnborough Aerospace Consortium (FAC)
Above: Alan Fisher, CEO of FAC, and Graham Chisnall, Chairman of FAC


The event is on September 28th and titled 'Space, defence and civil aerospace – opportunities, competitiveness and growth'.
It is open to all and is being held at the Brooklands Museum in Weybridge, Surrey, which delegates can explore.
Sir Michael Ryan CBE is Vice President and General Manager of Spirit AeroSystems, Belfast, and the Industry Chair of the Aerospace Growth Partnership (APG).
Also addressing the conference will be Jon Hulks, Space Ecosystem Development Manager, UK Space Agency, Neil McManus, Managing director of Marshall Aerospace, and Sue Elliott, Senior Manager UK Network, British Business Bank.
There are a dozen other speakers and the conference includes Q&A sessions as well as networking opportunities. Full details can be found here: www.fac.org.uk
Alan Fisher, chief executive officer of FAC, said: "We decided this year to push the boundaries a bit further to include space travel and exploration.
"It is a growing area in our region and many businesses are working in it and in its supply chain.
"Robert Elliot from Surrey Satellites will be speaking, as will Colin Baldwin, Head of Policy at UK Space.
"Other speakers include Stephen Cowan, Vice President General Manager, GKN Aerospace Defence, and Laura Cuss, Programme Director – Hydrogen Capability Network at the ATI.
"Related industries are also represented with Sue Elliott from British Business Bank giving a keynote speech.
"Some of the big names in aerospace – including Airbus – will also be represented.
"Our annual conference has become an important date in the aerospace calendar and we are expecting a large number of delegates.
"Over the years the conference has led to a lot of business being done and our region remains the heartbeat of the country's aerospace sector.
"But to ensure the region and the country remain world leaders we must keep pushing the boundaries.
"Previously we have focused on net-zero and clean fuels and huge progress is being made in those areas.
"At this conference we are also looking at opportunities, competitiveness and growth.
"While the sector often gets criticised it brings in vast sums to the UK economy and its innovations and breakthroughs assist other industries and sectors.
"We look forward to welcoming our delegates and the information can be found on our website."