in Aerospace / Events
FANUC to unveil Aerospace Portal at FIA 2022
Coventry based factory automation company FANUC UK will unveil its free-to-use Aerospace Portal at Farnborough International Airshow (FIA 2022), 18th-22nd July 2022, as the latest tool in the company's drive to support the global aerospace sector.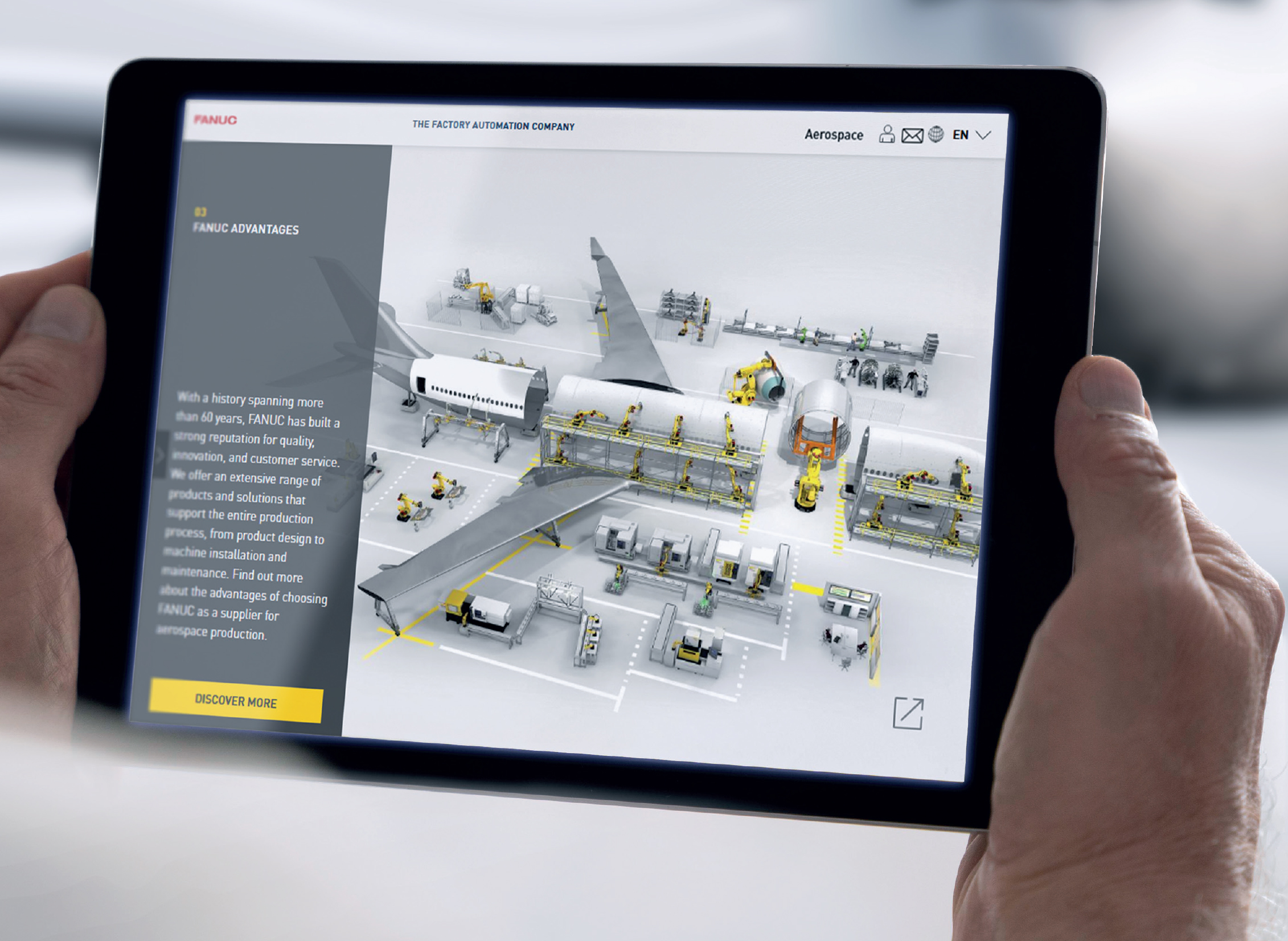 Above: Robotics and automation specialist FANUC UK will unveil its brand-new Aerospace Portal at the Farnborough International Airshow showcasing their entire range of automated solutions for the aerospace industry.
Courtesy FANUC

A free-to-use online knowledge hub, the Aerospace Portal brings together FANUC's entire range of automated solutions for the aerospace industry into one easy-to-access platform, enhancing manufacturers' knowledge and minimising perceived risks. Featuring customer case studies, system integrator partners, technical specifications, application-specific product portfolios and more, it aims to showcase the possibilities and benefits that FANUC's expertise can offer to aerospace firms, helping them to boost productivity, cut costs, navigate the industry labour shortage and remain competitive on the international stage.

"Live for the first time in four years, FIA visitors hungry for up-to-the-minute insights into aerospace-specific engineering and automation will find many of their questions answered by the FANUC Aerospace Portal," says Tom Bouchier. "Reaching an international audience for the first time at FIA2022, the Portal can be easily navigated from component and application through to FANUC partners, engineering specifics and proven case studies."

Live robotics demonstrations
In addition to the Portal launch, FANUC will host a number of live demonstrations on stand 1311, in conjunction with its specialist aerospace integrator partners:
Loop Technology will put a section of the FibreFORM system through its paces, incorporating the FANUC R-2000iC/210F robot. An automated technique for laying up composite plies, in this case based on carbon fibre, the FibreFORM features different curved profiles, to create key components such as fuselage sections.
True Position Robotics (TPR) will demonstrate automated drilling and inspection, in this instance integrating the FANUC M-800iA/60 robot.
The third of the partner demos will see CyanTec fire up its Flexlase laser processing cell, featuring FANUC's M20iB/25 robot with a 30i-B controller.
There is more automated drilling in a further demo, this time featuring the UK debut of the a-DiB Plus. This is FANUC's latest advanced version of its ROBODRILL, which takes the renowned precision of this series to a new level. The model on the stand at FIA2022 will be the a-D21LiB5ADV Plus.

Innovation is at the heart of FANUC's manufacturing philosophy. A focus on R&D means the company is continually improving its range of existing products and developing new offerings to constantly increase reliability, reduce costs for customers and enhance precision. To this end, FANUC has recently launched a brand-new 6-axis articulated arm robot for the aerospace sector. Ideal for precision applications such as direct component machining, the R-2000iC/190S enables users to mill more challenging materials that include aluminium and wood with high levels of accuracy, as well as traditional workpiece materials such as plastic and resin.

"FANUC's established R-2000iC family of robots now has a high-accuracy model, ideally suited to the aerospace market," states Ralf Völlinger, Vice President & General Manager Robot Division Europe at FANUC Europe. "Moreover, with its payload of 190 kg and reach of 2040 mm, the R-2000iC/190S can undertake a number of demanding tasks beyond the capabilities of other precision models."