in Aerospace / Defence
Flowstore forms partnership with Sorion
One of the UK's largest storage and material handling companies, Flowstore, has announced a strategic partnership with Sorion, a provider of line test and guided assembly systems, which will see the Flowstore business further integrate innovative tech into its already advanced storage and material handling facility.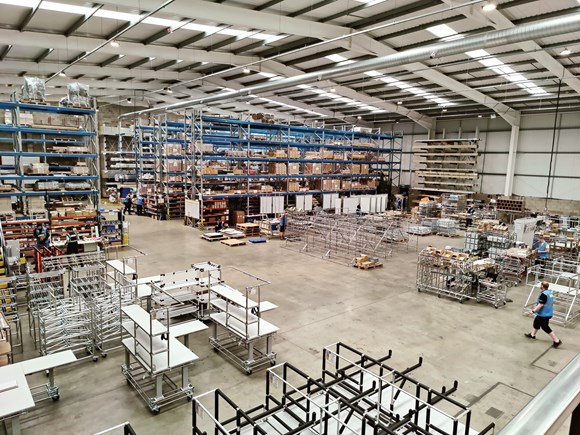 Image courtesy Flowstore

Based in Middlesex, Flowstore will be introducing Sorion's technology including autonomous mobile robot integration, which is expected to bring significant benefits including substantial time savings and efficiencies to Flowstore clients across the automotive, electronics and aerospace industries, including Rolls Royce and BAE Systems.

Speaking about the strategic partnership with Sorion, Simon Bolton, Sales and Marketing Director at Flowstore said: "As a business we have always prided ourselves on delivering innovative technology and solutions that enable our clients to confidently, efficiently and effectively use us for their material storage and handling needs.

"Working with some of the world's largest brands it is absolutely vital – and there is an expectation – that we consistently evolve our technology and solutions, constantly bringing into play new and advanced methods that mean our clients continue to benefit from storage and handling solutions that are founded on the principle of implementing lean management.

"Our strategic partnership with Sorion brings about exactly that and means we introduce new to market technologies that will add significant time savings and bring multiple efficiencies for our clients."

Founded on over 30years' experience and the implementation of lean management principles – including Industry 4.0 – Flowstore is one of the UK's largest provider of storage and handling facilities in the UK. The business has recently relocated to a larger new premises in West Drayton and has also recently opened a new operation in Belgium.