in Defence
HMS Queen Elizabeth returns home from leading CSG21
The Royal Navy's flagship aircraft carrier HMS Queen Elizabeth returned to Portsmouth today after her global seven month maiden operational deployment leading Carrier Strike Group 21 (CSG21).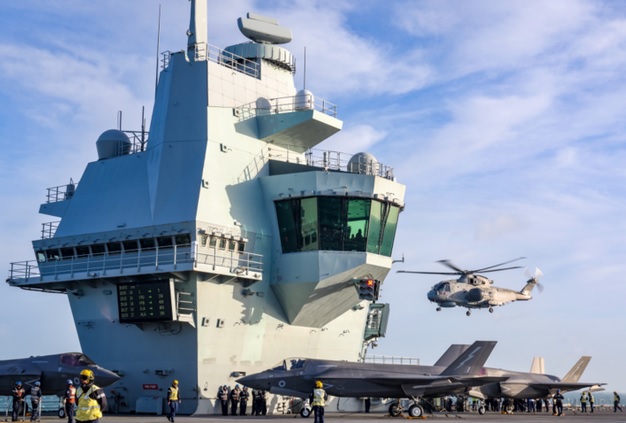 Above: The flight deck of HMS Queen Elizabeth.
Courtesy Royal Navy / MoD / Crown Copyright

Sailors, aviators, ships and aircraft have returned to their home bases in the Netherlands, United Kingdom and United States of America, with HMS Queen Elizabeth's crew being welcomed back to their home base of Portsmouth after sailing 49,000 nautical miles to the Indo-Pacific and back. HMS Kent will join her tomorrow.

A total of 3,700 personnel from nine ships, a submarine, five air squadrons and a company of Royal Marines have arrived home in time for Christmas, having departed the UK in early May.

Defence Secretary Ben Wallace said: "Today we pay tribute to the 3,700 personnel in the Carrier Strike Group that have been our global ambassadors on this historic and ground-breaking deployment.

"The personnel and their families have made considerable sacrifices to make this deployment the success it has been. We thank them for all their efforts in strengthening our relationships with our allies and partners around the world."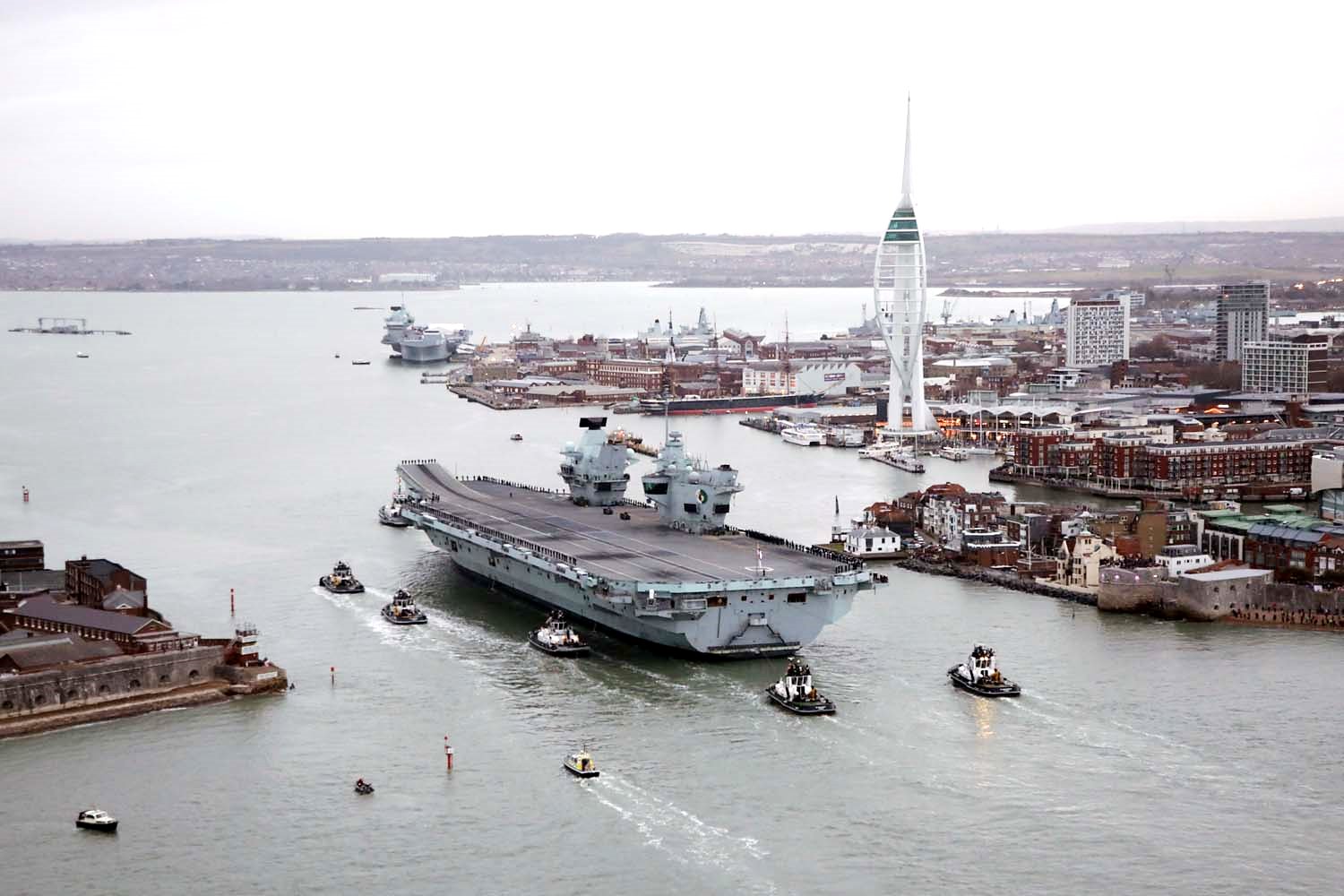 Families and friends gathered in Portsmouth to meet their loved ones. Those deployed will transit straight home where they will take a PCR test and quarantine until they receive the result. 25 of those deployed on CSG21 met their babies who were born in the last seven months for the first time today.

Chief of the Defence Staff Admiral Sir Tony Radakin said: "Throughout the past seven months HMS Queen Elizabeth and her Strike Group have been furthering the UK's interests and strengthening our partnerships around the globe. With involvement from across the Armed Forces, and our allies integrated throughout, this deployment has been a truly joint, truly international endeavour, which represents the very best of Global Britain.

"I thank everyone involved for their efforts to make this deployment such a resounding success, and I wish our returning sailors, aviators, soldiers and marines a very happy reunion with their families this Christmas."

Earlier this week, the Carrier Air Wing departed the group after clocking up 4,723 flying hours. The Air Wing consisted of UK F-35 jets from 617 (The Dambusters) Sqn based at RAF Marham, Wildcat helicopters from RNAS Yeovilton and Merlin helicopters from RNAS Culdrose.

US Marine Corps F-35 jets from VMFA-211 departed CSG21 in late November. United States' Destroyer USS The Sullivans returned to her base port of Jacksonville, Florida in time for Thanksgiving last month and Dutch Frigate Evertsen recently returned to her home base of Den Helder.

Many families and friends greeted frigate HMS Richmond who arrived in Plymouth today, meanwhile HMS Defender and HMS Diamond returned to Portsmouth.

The Carrier Strike Group sailed across three oceans and five seas, cumulatively covering around 500,000 nautical miles. The group has engaged with 44 countries, strengthening partnerships with allies including Australia, Canada, New Zealand, France, Greece, Israel, India, Italy, Japan, Oman and the Republic of Korea.

The most significant peacetime deployment in a quarter of a century, Carrier Strike Group 21 has been more than just a military endeavour, bringing together elements of defence, diplomacy and industry and flying the flag for Global Britain.

In a message to personnel, Defence Secretary Ben Wallace said: "I wish to express my gratitude to the men and women of the United Kingdom Carrier Strike Group upon the completion of your historic first deployment.

"Although you have travelled great distances, we at home have followed your journey at every stage. The past seven months have been a muscular and majestic demonstration of British power and commitment at sea, in the skies and over the land. With our United States and Netherlands allies by your side, you have persuasively demonstrated our shared resolve to protect the rules and freedoms upon which peace and prosperity depend. Through your programme of exercises and engagements you have immeasurably strengthened UK partnerships within NATO and far beyond.

"To have done all this against the challenges of Covid is remarkable. This has not always been easy for you or your families, but you have approached the task with the skill and professionalism which are the hallmark of the British armed forces.

"The foundations you have laid on this deployment will serve those who follow in your wake for years to come. My admiration and gratitude for your dedication is shared across the government. Each of you has done your duty and done it well. The nation cannot ask for more.

"I wish you a happy and restful Christmas with your families. Bravo Zulu."