in Aerospace / Defence
Hollygate secures SC21 award with Leonardo support
Specialist machinist of safety-critical components for aerospace and defence applications, Hollygate Aircraft Components, was presented 'virtually' with its recently-awarded SC21 Operational Excellence Bronze award at the Farnborough Airshow online event.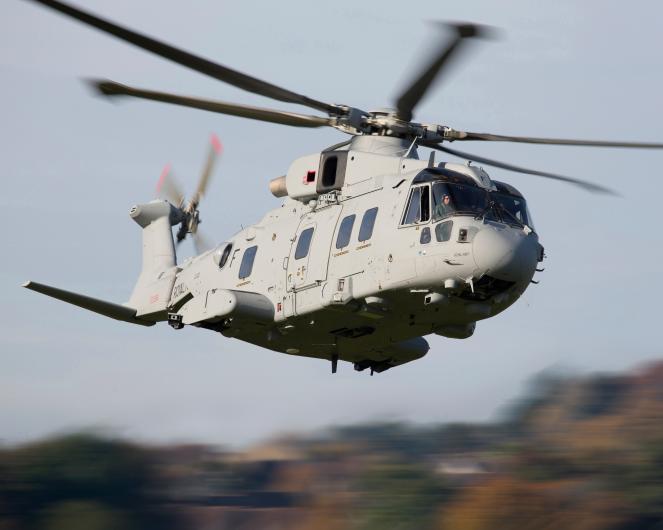 Above: A Leonardo AW101 Merlin Mk4/4A aircraft.
Courtesy Hollygate / Leonardo

Supply Chains for the 21st Century (SC21) is an improvement programme designed to accelerate the competitiveness of the aerospace and defence industry by raising the performance of its supply chains.

Hollygate has over 10 years' experience working with the industry's best business improvement activities, including six years on the NWAA Aerospace Supply Chain Excellence (ASCE) programme followed by four years on the Sharing in Growth (SiG) programme. Now thanks to sponsorship from Leonardo, in April 2019 Hollygate began its participation in the SC21 Operational Excellence programme.

Darren Richardson, Managing Director of Hollygate said: "We're proud to have been sponsored by Leonardo. Although initially daunting, the team briefed us on what to expect from the process and the support we would receive. This was helpful to set our expectations.

"The assessment stage was well-structured and we were delighted with the SC21 practitioner team's approach of sharing ideas and coaching during the assessment stages. We took further inspiration from targets set during the assessment that were based on the audit team's observations, as these demonstrated the potential they saw in areas we'd not previously considered."

Leonardo hosted a site visit at an existing Gold award holder, Kuehne + Nagel, to show Darren and his team first-hand what the programme could deliver and through this engagement and further communication, a route of sharing best practice and advice has now been established.

"Follow-up visits by Chris Thomson and Martin Pitman from Leonardo's supplier development team have also taken place and advice and experience-sharing have bolstered our SC21 journey," added Darren.

The achievements so far have been:
an independent assessment of Hollygate's business, with feedback from experienced independent teams providing an understanding of its performance benchmarked against similar UK companies on the programme.
an improvement in quality performance from 98% to 99.8%.
an improvement in delivery performance from 96% to 98.4%.
the creation of a Continuous Sustainable Improvement Plan (CSIP) delivering benefits in performance:
- waste reductions in the manufacturing process (time/handling)
- improved workplace organisation, factory layout and flow
- reduced cost of maintenance through robust Total Productive Maintenance (TPM) activities.

upgraded engagement and participation in improvement activities by all members of the company.
an improvement in visual management, aiding and simplifying communication.
Chris Thomson, Supplier Development Manager at Leonardo Helicopters (UK), said: "It's great to see the enthusiasm from Darren and the whole Company. The results speak for themselves about Hollygate's commitment to the programme. SC21 Operational Excellence gives UK Aerospace and Defence a common framework to collaborate, to improve the productivity, competitiveness and export potential in international markets. I'm proud of Leonardo's continued commitment to the programme and first-hand experiences in making it happen."

The next step for Hollygate is to progress to a Silver Performance Award during 2021.

Since 2006, Hollygate Aircraft Components has provided specialist machining of safety-critical components for aerospace and defence applications with its range of three, four and five axis machines delivering both soft and hard metal prismatic machining solutions. With a particular specialism in titanium, Hollygate's capabilities include strategic, fast track and AOG services. It boasts 15 CNC machine tools supported by three CMMs and is accredited with NADCAP Measurement and Inspection.