in Aerospace / Events
Intelligent Voice wins ADS Security Innovation Award 2020
The opening day of Security & Policing 2020 at Farnborough Exhibition & Conference Centre saw Intelligent Voice win the 15th annual ADS Security Innovation Award.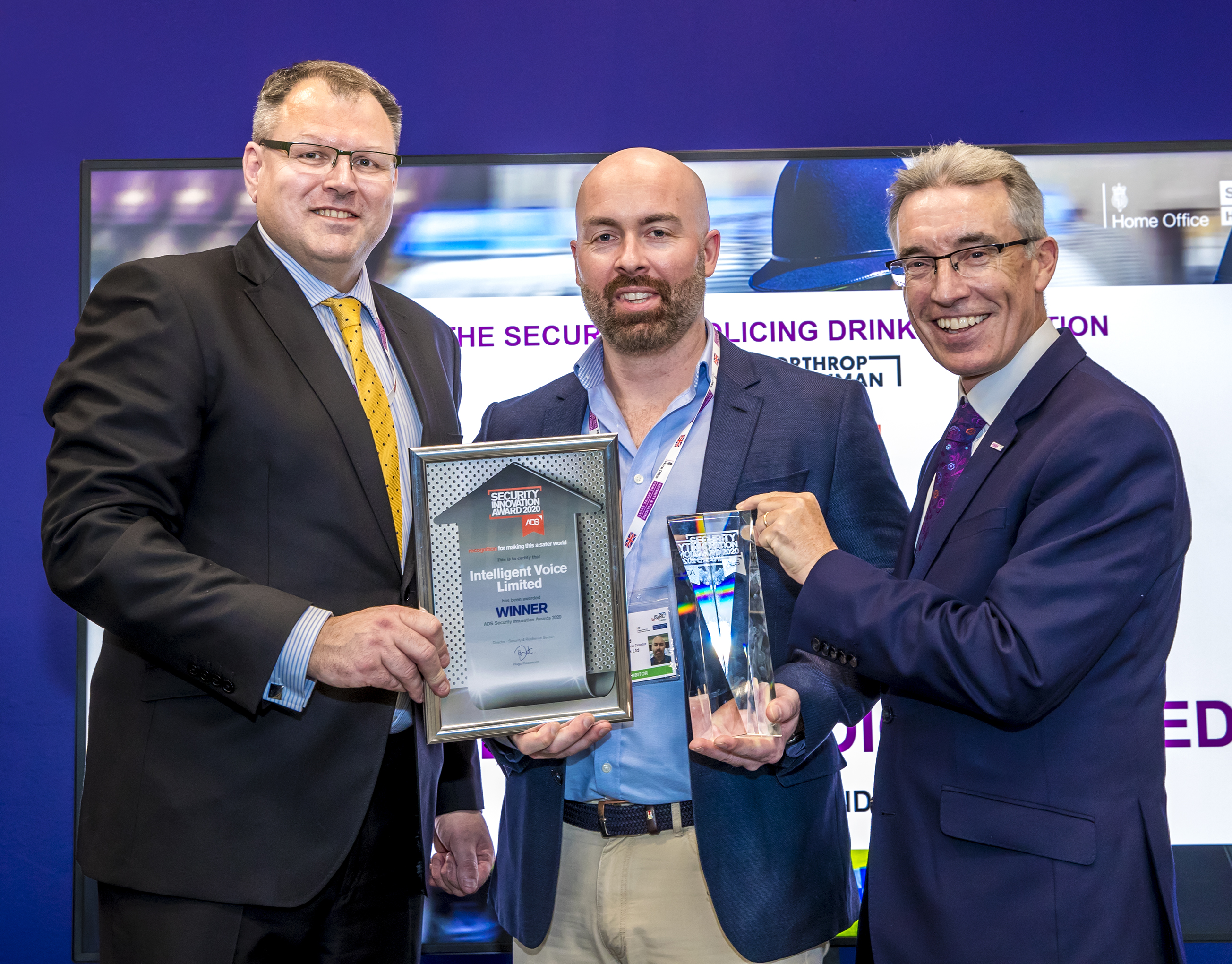 Courtesy ADS

The award was presented by Richard Alcock CBE, Chief Operating Officer, Office for Security and Counter-Terrorism at the Home Office and ADS Chief Executive Paul Everitt after a contest between five shortlisted nominees.

Intelligent Voice's winning service uses powerful data analytics to meet the challenge of using speech recognition and analysis to enable the identification and categorisation of the types of demand being placed on a police service (applicable to all emergency services) through the 999 and 101 contact service. Their service provides insight into the demand placed on the service by the public, the ability to introduce and test effective interventions, enhanced performance and service to the public and the opportunity to save significant costs for re investment in policing.

For the first time, the companies shortlisted had to present their products and services in a 'Dragons' Den' style environment judged by panel chair Elizabeth Sheldon, Vice President of Security at ADS, Rupert Shute, Deputy Chief Scientific Adviser at the Home Office, Angela Essel, Head of the Joint Security and Resilience Centre, Anita Friend, Head of the Defence and Security Accelerator and Simon Harwood, Chair of the Academic Resilience and Security Community.

James Laird, Analytics and Intelligence Director at Intelligent Voice said: "We are grateful to ADS for recognising the impact that our speech analytics solution has delivered in the police control room, an issue now being recognised at a national level with international applicability. Huge thanks go to our Partners in Lancashire Constabulary and HPE for their vision and support."

Paul Everitt, ADS Chief Executive said: "Congratulations to Intelligent Voice who have taken an in-demand part of the emergency services and created a product to work out where the stresses are and how to relieve such pressures, allowing them to enhance efficiency without compromising safety.

"The ADS Security Innovation awards celebrate the dedication, determination and hard work of UK companies across the security industry.

"Successful companies delivering high quality products and services make a vital contribution to our national prosperity and security. Congratulations to all the companies who have been recognised for their outstanding innovation and thank you to all those helping to make a difference."

The other four products and services showcased in the Innovation Awards were:
Argon Electronics: Radsim NG is a highly advanced training system for radiological search and survey exercises. Radsim NG enables safe, environmentally friendly simulation gamma radiation sources to be deployed to replicate specialist training scenarios relating to terrorist incidents involving radioactive / nuclear material. The technology provides extremely realistic simulation of the effects of shielding of materials and time / distance protection enabling responders and specialists to experience health endangering readings in a safe manner to practice personal protection and search / source location and incident management procedures.
Datactics: Datactics has developed the DQS, a secure, cloud hosted facility for individual police forces to run jobs as-required to improve data quality. Through automation, the Datactics product set makes detecting, and fixing, DQ issues much quicker thus improving DQ becomes much more feasible to achieve in practice. It works by codifying human decision-making into rules sets, which can be applied much faster, and always consistently, by a computer.
Digital Barriers: Digital Barriers has significantly disrupted the security and policing market by rolling out the only live-streaming video technology capable of analysing thousands of faces against a watch list, at the edge and in real-time. This unique technological achievement, known as SmartVis Identifier, enables operationally deployable facial recognition for security professionals, such as law enforcement, to run on body-worn cameras, mobile devices and IP surveillance cameras for ID authentication and enhanced situational awareness.
iStorage Limited: cloudAshur is an ultra-secure PIN authenticated, hardware encrypted, cloud data encryption module. Using a hardware-based AES-XTS 256-bit encryption key that is securely stored on the cloudAshur device, it encrypts all data in transit and at rest. The device uniquely offers five factor authentication and grants the user full and secure control of the encrypted encryption key, hence protecting the data even if the cloud account is hacked.
ADS is the UK trade organisation representing the aerospace, defence, security and space sectors, with more than 1,100 member businesses.