in Aerospace
IPC Mouldings retains SC21 Gold award
Carrickfergus based injection moulding company, IPC Mouldings, has received its fifth consecutive gold performance award as part of the 21st Century Supply Chain (SC21) Operational Excellence programme, showcasing the company's superiority in delivery, quality, sustainable improvement and the associated improvement frameworks, within the aerospace sector.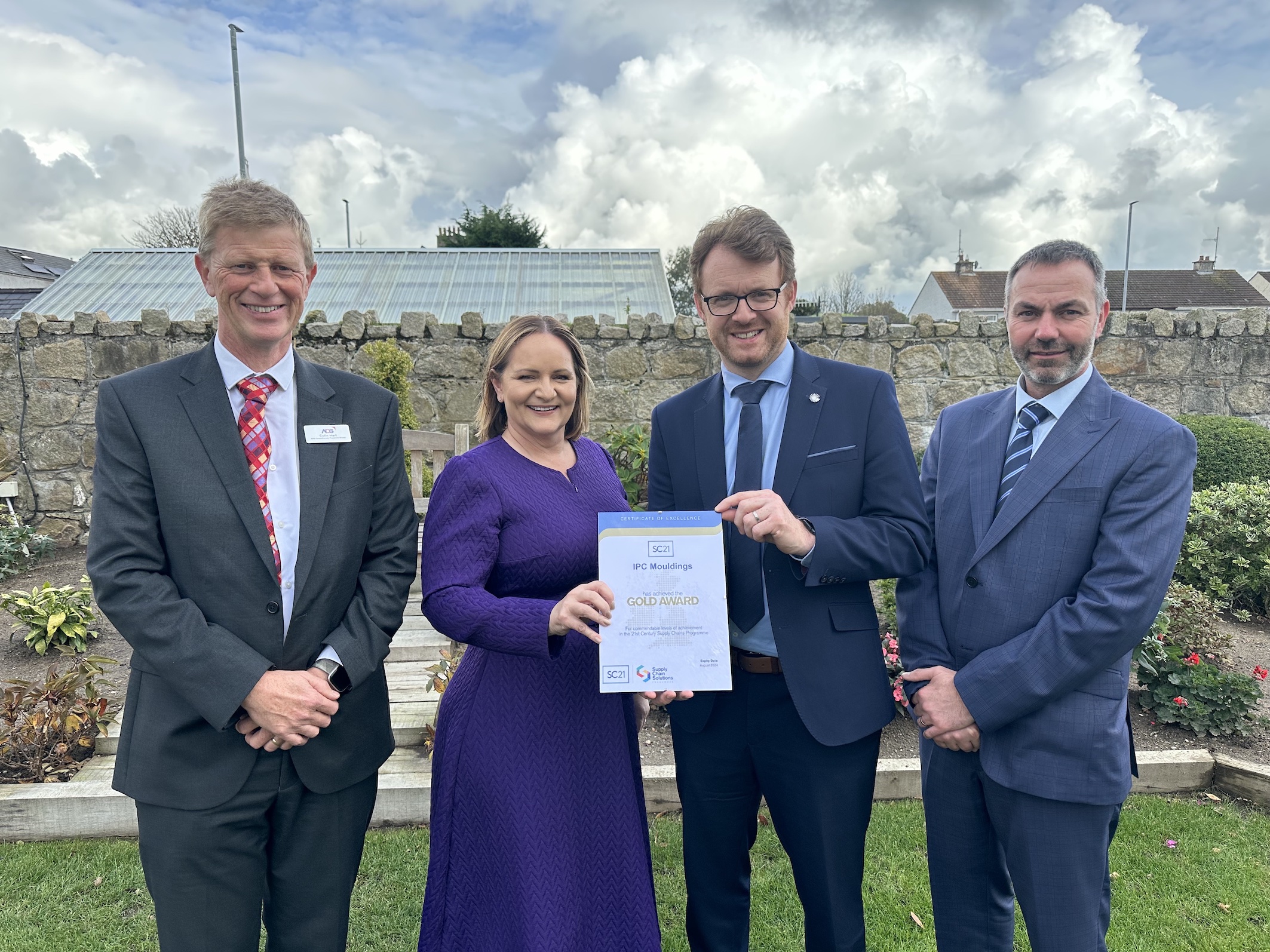 Above: (left to right) Colin Hart, ADS, Joanne Liddle, IPC Mouldings, Alan Henning, Collins Aerospace and Graeme Bennett, IPC Mouldings.
Courtesy IPC Mouldings

SC21 is a continuous improvement programme coordinated and governed by ADS, the trade organisation for aerospace, defence, security and space, which is designed to accelerate the competitiveness of the aerospace and defence sector by raising the performance of its supply chains.

IPC Mouldings is one of only seven companies across the UK to hold the prestigious gold award standard and has been sponsored through the SC21 programme by Collins Aerospace, an RTX business. The Gold award was presented to the company on Tuesday 24th October 2023 at an ADS Aircraft Interiors Group Meeting, hosted by Collins Aerospace, in the Kilmorey Arms Hotel in Kilkeel.

Speaking about the achievement, Joanne Liddle, Managing Director of IPC Mouldings said: "I am delighted that IPC Mouldings has again been recognised with the SC21 Gold performance standard award for our achievement of 99.8% delivery and 99.96% quality across all our customers' orders during the 12-month period up to 1st June 2023.

"We take an integrated approach to supply chain optimisation, focusing on process to reduce waste and redundant effort and collaborating in forecasting, planning and capacity management to improve service levels and mitigate risk. We are a partner providing solutions to our customers and we understand that through that partnership, we often find ways to unlock new sources of value to benefit both. It is this close communication that validates our performance metrics and ensures our shared success.

"I would like to thank Alan Henning, managing director of Collins Aerospace in Kilkeel and all the team, for continuing to sponsor IPC Mouldings through the SC21 Programme. To have their support is a great honour.

"Looking forward, IPC Mouldings will continue to grow and diversify our business through innovation and expertise, and we will work to retain Gold Award level and identify further improvements that we can make. This programme not only helps us retain competitiveness but is a key driver of continuous improvement."

Alan Henning, Managing Director, Collins Aerospace in Kilkeel commented: "I would like to take this opportunity to congratulate Joanne and all the team at IPC Mouldings on the reaccreditation of the SC21 Gold Award. This is a significant achievement which is nationally recognised and further cements IPC Mouldings' place as a key supply chain operator.

"We work closely with the company and have been impressed by how it supports its customers and ensures outstanding quality and delivery performance through the whole product life cycle. It is testament to all the team's hard work that they have been recognised with SC21 Gold for five years in a row."

Valued highly by many global organisations, the SC21 international programme promotes the continuous improvement and acceleration of the competitiveness and capabilities of the Aerospace and Defence Supply Chains worldwide.

Colin Hart, Competitiveness Programme Director at ADS, commented: "We congratulate IPC Mouldings on their retention of their SC21 Gold Award. Throughout their history with the programme, they have consistently delivered outstanding results.

"The awards are designed to empower businesses from the UK's thriving industrial base and the gold award recognises the outstanding ability of businesses to achieve at least 99.0% delivery and 99.0% quality performance. The award also recognises organisational efforts to reduce supply chain risk and the implementation of leaner production methods."

Companies that have secured the recognition, whether bronze, silver or gold, go through rigorous assessments which are designed to accelerate the performance and competitiveness within the aerospace supply chain sector.

By taking part in the SC21 programme, IPC Mouldings is well positioned to promote its supply chain excellence to a much wider audience.

IPC Mouldings is a leading provider of injection moulded parts and engineered assemblies for the most demanding of applications, helping customers solve problems, reduce costs and assure quality. The company is a collaborative supply chain partner in aircraft interiors providing a full-service, offering mould tool design and manufacture, CNC machining, injection moulding and final assembly. It provides key aircraft products including food trays and latch assemblies, armcaps and video bezels.