in Aerospace
Joshua Wintersgill joins HAAG
Disability rights campaigner and ableMove founder Joshua Wintersgill, has been appointed as a Member of the Heathrow Access Advisory Group (HAAG).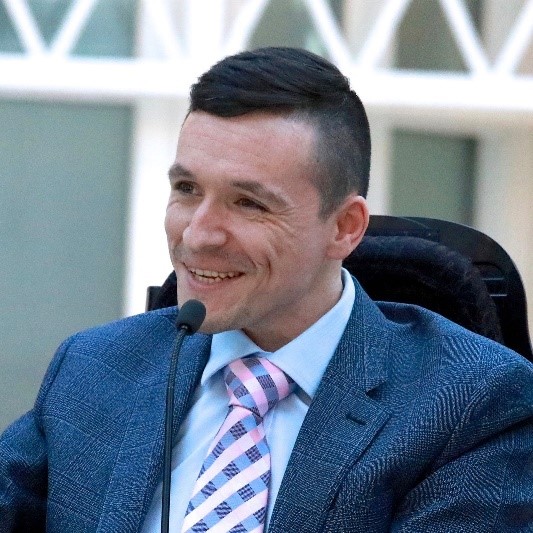 Image courtesy HAAG

Joshua (above) will be joining a team of 10 people, whose job it is to provide advice to Heathrow Airport, to help it deliver its vision of becoming the World's leading airport in accessibility and inclusion. The post will last for a minimum of three years.

Made up of disability advocates who advise on the safety, wellbeing and experiences of people with disabilities when flying, the Heathrow Access Advisory Group (HAAG) focuses on service quality and training, while challenging the airport to improve the services to passengers who need support.

Joshua Wintersgill, ableMove's founder and Director said: "It is a real honour to be onboard with HAAG, which does such important work on behalf of hundreds of thousands of Heathrow visitors. I'm looking forward to contributing to and supporting Heathrow's vision and working on behalf of people with disabilities who use this airport."

Helen Dolphin and Keith Richards, Co-Chairs of HAAG said in a statement: "We are delighted that Joshua has joined the HAAG. He brings with him a great passion and enthusiasm as well as a wealth of experience in the aviation sector. He will be a great asset to our group. We look forward to working with him in the coming years."

Heathrow's goal is to be the most welcoming and accessible airport in the world, ensuring that every passenger can travel the way they choose, with the dignity and care they expect.

Joshua founded easyTravelseat following the difficulties he faced when travelling as a mobility user and hopes his extensive knowledge and experience in dealing with the airline industry including its pitfalls, will give the group a fresh and unique perspective to drive change.