in Aerospace / Events
Leonardo and Sloane Helicopters renew distributor agreement for future fleet
Leonardo's presence in the UK and Ireland helicopter market has expanded as its regional distributor, Sloane Helicopters, confirmed renewal of its Distributor Agreement for the 2022-2024 timeframe with Leonardo at the Farnborough International Airshow.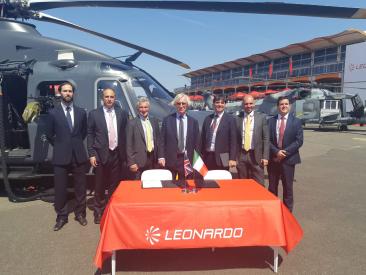 Image courtesy Leonardo

The agreement covers the AW109 GrandNew, AW109 Trekker and AW169 types and foresees a minimum of seven new helicopters purchased during the 2022-2024 period.

Under this new Distributor Agreement an AW109 GrandNew has been signed for. This new contract expands the total helicopter orders by Sloane Helicopters this year to seven, all scheduled for delivery within 2023.

David George, Chairman of Sloane Helicopters, said: "We are delighted to continue and further develop our close partnership with Leonardo. The new Agusta branding focuses on an enhanced VIP customer experience. Combined with the helicopters' leading performance and safety characteristics, along with excellent support services, the Agusta helicopters are the clear leader in the VIP/corporate sector."

Nearly 260 AW109 GrandNew light twins have been ordered out of 1,700 AW109 series units, confirming the AW109 as the most popular aircraft in its class thanks to its unmatched performance, cabin space and technology.

The Distributorship Agreement has provided customers with continued benefits by dramatically reducing delivery times and providing customers with product expertise and a full range of support packages, which also helps Leonardo to maintain its position in the executive/private transport market in the UK and Ireland, among other applications. This has been further reinforced following the launch of the new Agusta VIP brand in late 2021.

The long-term success between Sloane Helicopters and Leonardo was established in 1995, when Sloane became the sole distributor of Leonardo VIP/corporate helicopter in the UK and Ireland. Under this collaboration, more than 100 Leonardo commercial helicopters have been delivered to operators and private users in the UK and Ireland.

Sloane Helicopters is also an Authorised Service Centre, providing maintenance and support services for the majority of GrandNew and all AW169 VIP helicopters in the region. Additionally, Sloane Helicopters is a Type Rating Training centre for Leonardo helicopters in the UK.