in Aerospace
London City Airport welcomes first E190-E2 commercial flight
Yesterday evening, Thursday 2nd September 2021, saw an important debut for London City Airport (LCY), when at 17:49, an Embraer E190-E2 made its first commercial flight into the airport.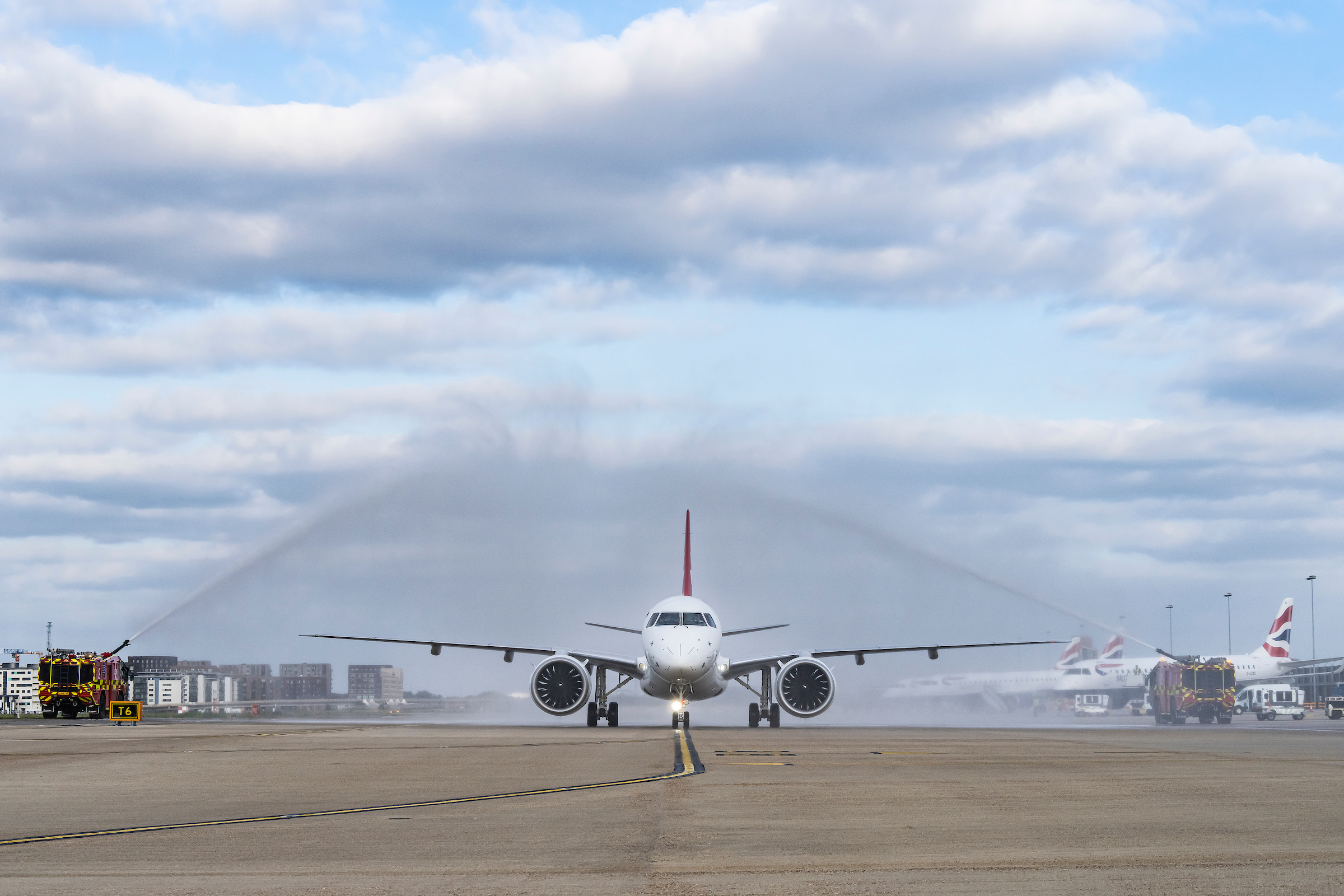 Image courtesy London City Airport

The Helvetic Airways aircraft, registered HB-AZG, flew from Zurich to London in one hour 20 minutes, also re-establishing an essential link for the global financial community.

Flight LX 456, operated by Helvetic Airways on behalf of its partner company Swiss International Air Lines, was welcomed by a water salute from London City Airport's fire service. On board the sold-out flight were 110 passengers, including representatives of the international media, business travellers and those visiting friends and family.

Commenting on the arrival, London City Airport Chief Operating Officer Alison FitzGerald said: "Welcoming Swiss and Helvetic back and with the newest LCY-capable aircraft, Embraer's E190-E2, is a significant milestone for London City.

"It demonstrates how we are collaborating with manufacturers and airlines to introduce more low-emission, low-noise aircraft to our airport, as well as re-establishing a vital business connection which we believe will go from strength to strength as the UK Government begins to further reduce barriers to travel.

"Our ambition is to be one of the most sustainable airports of our size in Europe, and it is my expectation that we will be welcoming more of these aircraft with more airlines as the industry recovers from COVID-19."

With LCY's runway length of only 1,508 metres and descent angles of up to 5.5 degrees, the Embraer E190-E2 is particularly suitable for operations at the legendary Thames-side airport. Speaking shortly before the first flight left Zurich for London, Cesar Perreira, Embraer's Vice President Sales & Marketing EMEA, said: "Thanks to a reduction of almost 20% in fuel consumption and a noise footprint at take-off that is 63% smaller than our previous-generation aircraft, the E190-E2 delivers not only significant reductions in emissions but also a much quieter experience for local residents."

The Embraer aircraft account for nearly 90% of all movements at London City Airport. At the same time, the E190-E2 almost doubles the available range from the airport to more than 4,000 kilometres, bringing destinations such as Istanbul, Casablanca and Moscow within reach for the first time.

Commenting during the inaugural flight, Tobias Pogorevc, CEO of Helvetic Airways, said: "With this world premiere, we are particularly proud to be able to offer a product of the highest level in terms of comfort, quiet and sustainability. We are convinced that the Embraer E2 is perfectly suited to the requirements of business customers flying between the financial centres of London and Zurich."