in Aerospace
Luton sees strongest recovery of any major UK airport
Despite having the strongest recovery of any major airport in the UK, passenger numbers at London Luton Airport (LLA) were down by 74% last month compared to the same period in 2019.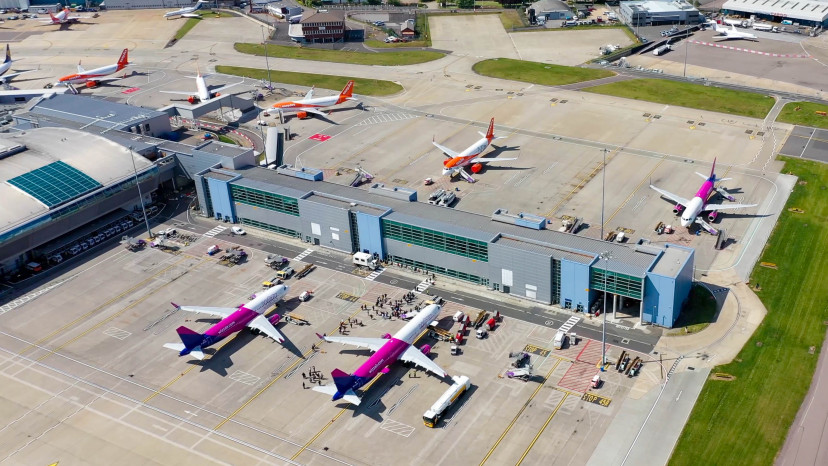 Image courtesy LLA

While this represents a significant increase on the previous month, the figures show that coronavirus is continuing to have a dramatic impact on the aviation industry.

As the airport welcomed more passengers throughout July, retail partners at the airport also reopened, including Wasabi, Starbucks, Sunglass Hut and Benugo. More businesses at the airport are due to open throughout August, including the Aspire Lounge which opened its doors this week following an extensive re-fit which was delayed by the pandemic.

The recently formed easyJet Holidays welcomed its first customers on August 1 while Wizz Air continues to expand its operation at LLA, currently flying to 58 destinations with more than a dozen new routes launching this summer.

Alberto Martin, CEO of LLA, said: "Seeing an increasing number of passengers passing through the airport safely is a rich reward for all the hard work and effort our teams have put in on the ground during this incredibly difficult period. While we're delighted to see more passengers passing through the airport, we are still a long way from normal. Over the next couple of months Government assistance is going to be key. From providing passengers the reassurance they need to be able to take a long-awaited holiday to helping the sector and those who work in it play an essential role supporting the UK's economic recovery."

Luton Airport is one of the UK's largest airports and carried 17.9 million passengers in 2019, an increase of 8.6% on 2018. The airport indirectly employs over 9,400 staff and is a key economic driver for the region.

EasyJet, Wizz Air, Ryanair, Tui, EL AL, Blue Air, SunExpress, Fly Bosnia, Vueling and Level currently operate from the airport. The airport's route network serves 143 destinations in Europe, Africa, and Asia.

The airport is operated and developed by a consortium of which the majority shareholder is AENA, the world's largest airport operator, and AMP Capital, a specialist global investment manager.

LLA has invested over £160million to transform the airport and increase capacity to 18 million passengers per year by 2020. The redevelopment includes a complete redesign of the terminal, bringing in more than 40 new shops and restaurants and an additional 3,000 seats.

LLA has also carried out major upgrades to transport links, including improved road access from the M1, new car parking facilities, and a remodelled bus and coach interchange. Passengers travelling by rail will benefit from upgraded rail links to Luton Airport Parkway station as part of a new partnership agreement with Abellio, which will operate the East Midlands Railway for the next eight years.

A half-hourly express rail service between London and Luton Airport Parkway will launch in December 2020. In addition, work is well underway on a £225 million light rail system linking the airport with Luton Airport Parkway station and is anticipated to be completed by 2021. The project is being delivered by the airport owners, LLAL – a company owned by Luton Council.