in Aerospace
Manchester Airport opening T2 extension
Manchester Airport today confirmed the first passengers will pass through its new Terminal Two extension on Wednesday this week.
Jet2 and TUI flights will operate from the flagship facility initially, with others to follow in the weeks ahead, as the Government's policy for double-vaccinated passengers comes into play.

The extended terminal is the centrepiece of MAG's £1bn Manchester Airport Transformation Programme (MAN-TP), which was first announced in 2015.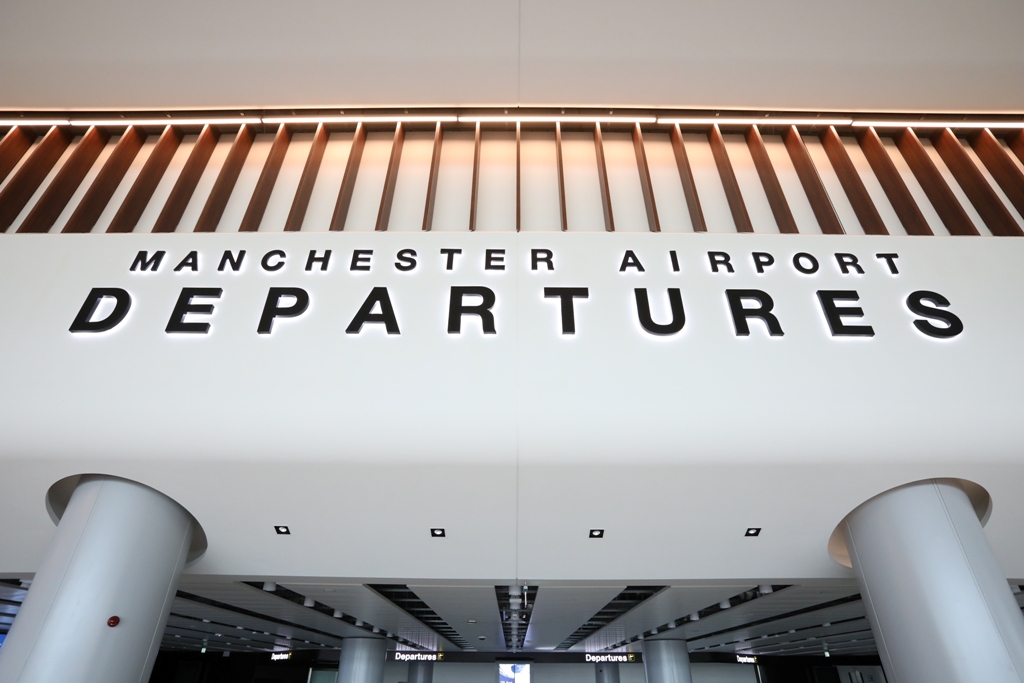 Image courtesy MAG

It was scheduled to open in the summer of 2020 but this was put on hold after the coronavirus pandemic ground international travel to a halt.

To ensure the smoothest possible opening when flying resumes in earnest, MAG has agreed a staggered launch of the terminal with its airline partners. It will see Jet2 start flying from there from 14th July, with just three flights on the first day – to Menorca, Ibiza and Palma de Mallorca.

TUI will operate flights from the terminal from 15th July, with services to a range of destinations including green-listed Malta and Madeira. Singapore Airlines will move over on the 17th.

With the Government set to update its red, amber and green lists on the 15th – coupled with the amber list exemption for double vaccinated passengers from 19th July – further announcements about new flights from Terminal 2 will follow over the coming weeks.

That will see more airlines move across and more retailers and food and beverage outlets confirm their launch dates.

Karen Smart, Managing Director of Manchester Airport, said: "After a long wait, we are delighted to confirm the first passengers will be able to enjoy our new Terminal Two this week. It is a proud milestone for our airport as we begin to emerge from the restrictions brought about by the Covid-19 crisis, and an important moment in our 83-year history.

"This project was always about offering the modern airport experience that families and businesses across the North deserve as they travel through their international gateway to the world, and our new terminal certainly delivers on that goal.

"The impact of the pandemic on the travel industry means we are not able to immediately welcome as many customers and airlines into this fantastic new facility as we would have hoped.

"As Government restrictions continue to be eased, and travel to more destinations is opened-up in the weeks ahead, we will be making further announcements about the carriers and retailers operating from T2.

"In the meantime, we look forward to celebrating this milestone and welcoming those who are travelling through the new terminal later this week. I would also like to thank all our colleagues and partners for their hard work and dedication in getting us to this point."

The expanded terminal has a light, bright and airy check-in hall, with designs that set the tone for what passengers can expect throughout.

Once bags are dropped-off, passengers will head into the new security area, which has 10 lanes that are 29 metres long. They introduce the latest technology, allowing passengers to flow through as quickly and easily as possible.

The new departure lounge is where the new terminal experience comes to life. New features include a honeycomb light installation with 16 million settings that proudly illuminates the space, giving a nod to the famous Manchester worker bee. A new 81 square metre digital screen will take centre stage to provide interactive content and information to passengers.

A wide range of new shops, bars, cafes and restaurants will feature in the new terminal, including many brands that have been born and bred in the North, as well as a series of popular chains – all food and beverage outlets have committed to high street prices.

Initially, Pret-a-Manger, Costa Coffee, KFC, The Amber Alehouse and The Bridgewater Exchange by Joseph Holt will be open to customers. Manchester institution Archie's will open its new Terminal Two location on Thursday, as will juice bar VIT, while other venues will open once more passengers start using the terminal and further announcements will follow.

Two airport operated lounges will also open, offering passengers additional luxury and a relaxing space pre-flight.

It is not just departing passengers that will get a new experience. Those arriving will also get to sample what the new terminal extension has to offer. This includes a new immigration facility, which is four times larger than the current space and a spacious, bright arrivals hall. A modern new baggage reclaim will also open, with three of eight new baggage belts starting to operate.

The new terminal will also be fully Covid-19 secure and will have a range of safety measures in place that passengers have experienced throughout the airport during the pandemic, including an enhanced cleaning and sanitising regime.

The six-year terminal extension project has been spearheaded by construction firm Laing O'Rourke, alongside partners such as architects Pascall + Watson, design consultancy Arcadis, airfield works contractor Galliford Try, engineering and architectural

Airlines
Jet2 will operate from the new terminal effective from Wednesday 14 July and TUI flights from the terminal will begin the following day. Singapore Airlines will move over on the 17th, with more airlines due to move across during the course of the summer.

Passengers can consult their airlines for further information and can also keep an eye on the airport's social media channels, where airline moves will be posted as and when they occur.

Food and Drink
The new terminal will be home to many new eateries for passengers to enjoy before their flight. A lot of these are well known local brands, offering something for all tastes and budgets.

The full list of eateries was announced 2019 and five of these will open on Wednesday. As passenger numbers increase, the airport expects that more of these will open in line with demand. Passengers travelling via the new terminal from Wednesday will be able to enjoy:
- KFC
- Pret-a-Manger
- Costa Coffee
- The Bridgewater Exchange by Joseph Holt
- Amber Alehouse, headlined by Se7en Brothers Brewery

Manchester burger chain Archie's will be serving up their famous burgers, shakes and waffles from the following day and juice bar VIT are also due to open their unit on Thursday.

Lounges
Manchester Airport's Escape and 1903 Lounges will both feature in the new terminal. Each will offer passengers a touch of luxury and relaxing space before their flights.

The lounges will have a combined capacity of 400 passengers and will be located on the upper level of the enlarged terminal. They are accessed from the main departure lounge and both benefit from floor to ceiling windows, providing panoramic views over the airfield.

Car Parking
In addition to the new terminal, the Manchester Airport Transformation Programme also saw the creation of a new car park, T2 Multi Storey West, which was completed in 2019. Both this car park and the pre-existing T2 car park, now known as T2 Multi Storey East, will be open for passengers flying through the extended terminal from Wednesday.

Covid-19 safety measures and processes
Throughout the pandemic Manchester Airport has had a range of Covid-19 safety measures in place. These include face coverings, Perspex screens and enhanced cleaning. The new terminal will have all the necessary measures in place to ensure passenger safety. The airport also continues to follow the latest Government and Public Health England advice, as it has done throughout the pandemic.

Passengers should also read the latest Government advice, so they are familiar with its requirements and travel restrictions including passenger locator forms, testing and quarantine. These can be found here: www.gov.uk/guidance/travel-advice-novel-coronavirus