in Security / Events
NCSC opens new-look CyberFirst Girls Competition
Today marks the opening round of the new-look CyberFirst Girls Competition, run by GCHQ's National Cyber Security Centre (NCSC).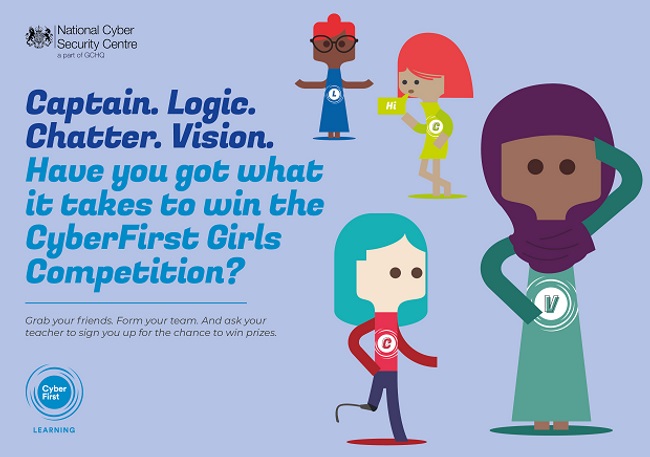 Image courtesy NCSC

Schools across the UK are being urged to sign up to a revamped version of the UK's flagship cyber security competition.

First time entrants in particular have been encouraged to register for the new-look CyberFirst Girls Competition 2022. The annual competition - which sets teams of girls aged 12 to 13 a series of cyber-related challenges - has already introduced thousands of girls to the world of cyber security, which is a growing industry but where females are currently under-represented.

For next year's competition there will be 13 finals held across the UK, rather than one UK final, as organisers seek to encourage more schools to take part that have never done so before.

Hundreds of schools have already signed up – including more than 25% that have never entered before – ahead of today's qualifying roundr. It will see girls tackle puzzles covering topics from cryptography to AI to logic in a bid to score points.

Chris Ensor, NCSC Deputy Director for Cyber Growth, said: "We're really excited to be launching this new-look CyberFirst Girls Competition, which aims to tap into the talent we know is out there across the UK.

"Cyber security is an exciting industry with great opportunities, but female representation is currently too low, and the competition is a fun way for girls to be introduced to the subject.

"It's great to see so many new entrants already coming forward and with registration still open we encourage even more – whatever their experience of cyber – to sign up and see where it takes them."

Now in its sixth year, the CyberFirst Girls Competition aims to inspire more girls to consider careers in cyber security and improve diversity in the industry – as women are still under-represented, accounting for just 16% of the UK's cyber sector workforce.

The CyberFirst Girls Competition is the NCSC's flagship cyber security event for schools and since 2017 more than 43,000 girls having taken part. The contest is open to pupils who identify as female in Year 8 in England and Wales, S2 in Scotland and Year 9 in Northern Ireland.

The online qualifying round opened at noon today and ends at noon on Wednesday 8th December. Teams can be registered until the end of the qualifying round but schools are encouraged to sign up earlier so there is more time to try the challenges.

This year sees some new changes to the competition format:
The highest scoring teams from the online round will compete at finals held on Saturday 5th February in 13 locations, with one held in each of Scotland, Wales and Northern Ireland and in English regions. Exact locations will be announced in due course.
Individual and team prizes are also up for grabs and new rules have been introduced to reach schools that may be less familiar with cyber security. It includes new eligibility rules for independent schools, where they must show they have encouraged two non-selective state schools to sign up to help the contest reach more girls from more diverse backgrounds.
A teacher or school guardian must act as team mentor and register teams via the NCSC website , where more details about the contest and the full 2022 rules are available.