in Space
New funding to fuel space sustainability
The UK Space Agency is funding research into refuelling an upcoming mission to remove space junk, which could help prolong the life of satellites and prevent adding more debris to the space environment.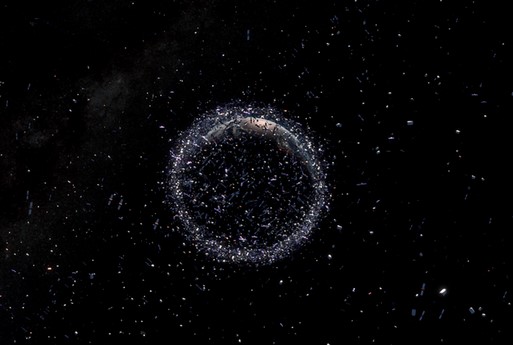 Above: Illustration of space debris around Earth.
Credit: ESA/ID&Sense/ONiRiXEL, CC BY-SA 3.0 IGO

A total of £2 million is available for feasibility studies that can demonstrate the ability to refuel a UK national debris removal mission and look at opportunities for refuelling a commercial satellite as well.

Daily life relies on space services – from navigation and weather forecasting to financial services and TV. It is therefore essential that we preserve the space environment for future generations as we do here on Earth.

Millions of defunct space objects are currently orbiting the planet – almost 37,000 measuring larger than 10 centimetres and an estimated 130 million measuring less than one centimetre. These can be anything from old satellites to astronaut tools and even flecks of paint. The speed at which they travel means they are a constant threat to 'live' satellites.

As part of a package of initiatives to help ensure the long-term sustainability of the outer space environment, the UK Space Agency is leading work to develop UK capabilities in this area and demonstrate leadership in more sustainable space operations.

One such initiative is a UK national debris removal mission, planned for launch in 2026 and designed to be refuellable.

As satellite launch costs continue to fall and new technologies – such as highly manoeuvrable satellites that can dock with others and perform tasks like refuelling – come online, the UK Space Agency is inviting bids from UK organisations to develop feasibility studies to support the mission and the development of future capabilities.

George Freeman MP, Minister of State at the Department for Science, Innovation and Technology, said: "Millions of pieces of space debris and 3,000 redundant satellites pose an increasing threat to the satellite economy we now rely on daily – from telecomms to navigation, air traffic control and climate science. So it is vital that we act.

"This new £2 million UK Space Agency programme will help to develop ways to refuel inactive satellites in space. UK businesses like Astroscale and ClearSpace developing in-flight refuelling, maintenance and other satellite servicing are key to reducing space debris, boosting space resilience and ensuring a vibrant space service economy."

Ray Fielding, Head of Sustainability at the UK Space Agency, said: "This is an exciting opportunity for the UK space sector. In-orbit servicing is expected to be a key tool in ensuring the long-term sustainability of the outer space environment, so these refuelling studies will support our desire to make satellite operation a lot more sustainable and demonstrate UK leadership in tackling the increasing risks caused by space debris."

Richard Lowe, co-Chair of UKspace In-orbit Service & Manufacture (IOSM) Working Group, said: "Satellites provide huge economic benefit for people here on Earth – but they're currently limited to one tank of fuel! In-orbit refuelling is a key technology that can extend the life of satellites. It can also enable development of more capable infrastructure in space and help us to reduce in-orbit debris. This investment paves the way for space services that deliver even more value than today in a much more sustainable way."