in Aerospace / Events
Over 500 jobs available at Manchester Airport fair
Manchester Airport will host a jobs fair with hundreds of roles available in security, customer services, car parks and hospitality next week on Wednesday 8th November.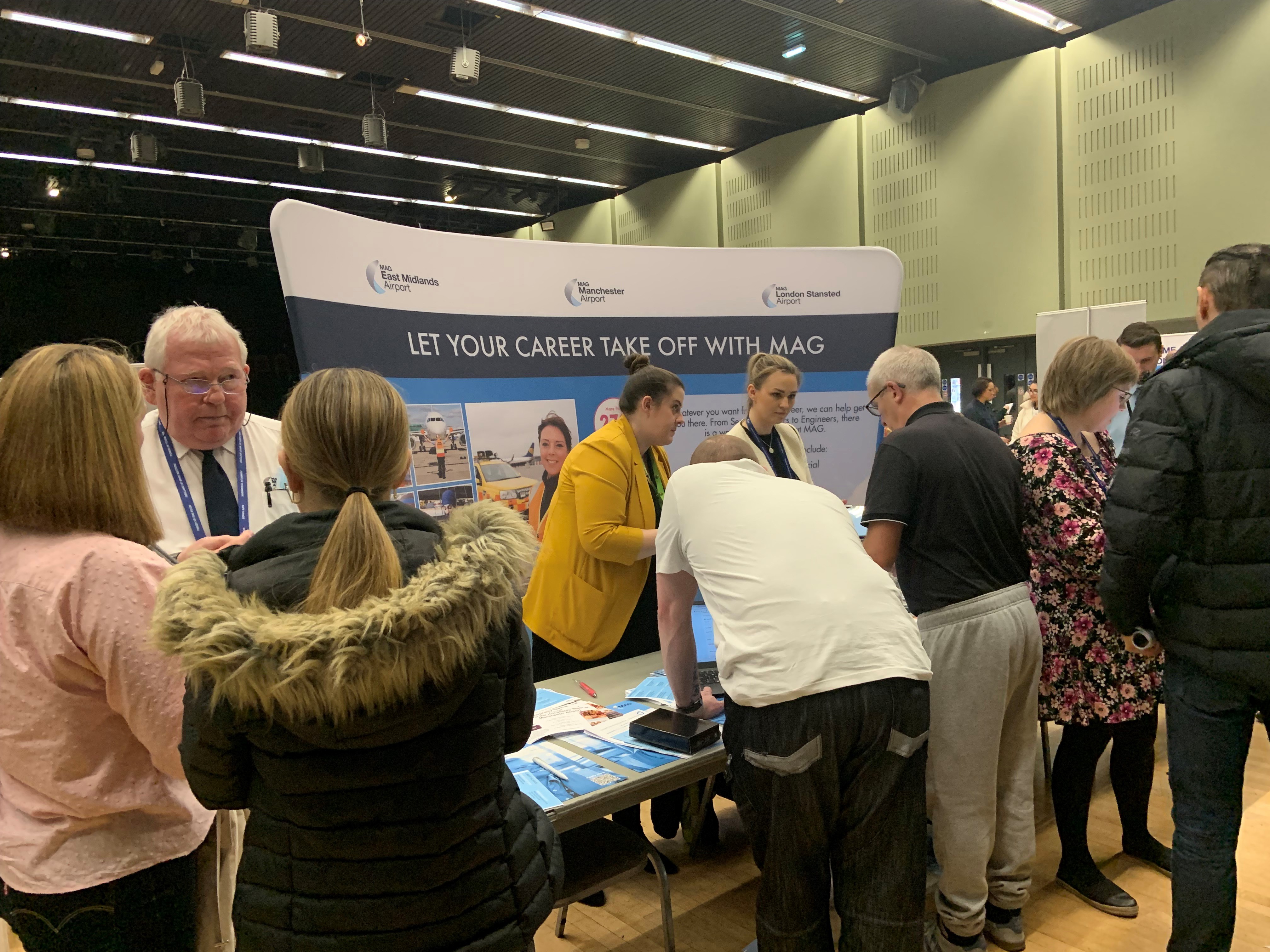 Image courtesy MAG

The event, which will run from 10am – 1pm on Wednesday, 8 November, at Wythenshawe Forum, will showcase a wide range of airport career, with more than 20 employers.

More than 500 roles will be on offer at the event, including around 200 with Manchester Airports Group (MAG), which owns and operates Manchester Airport as well as East Midlands and London Stansted Airports.

Other employers who will be represented at the fair include;
Restaurant and retail operators such as Wagamama, Costa Coffee, Pret a Manger, Boots, SSP, The Restaurant Group (TRG) and HMSHost.
Airlines and aviation service providers, including Jet2.com, CAVU, Swissport, DNATA, AF Blakemore and Bethell.
Construction company MACE, which is the lead contractor on the second phase of the £1.3 billion project to transform Terminal Two and engineering experts NG Baily.
There will also be stalls offering guidance and support to jobseekers, including those who might need specific and tailored support to return to work. These include:
Smart Works, which supports women who are referred from job centres, mental health charities, women's refuges, homeless shelters, the prison service, care service and youth organisations, as they seek employment.
Pure Innovations, which offers a supported apprenticeship scheme at Manchester Airport for those with additional needs, in partnership with MAG
The Manchester Airport Academy, which specialises in finding work on the airport site for those who have been long-term unemployed, helping them brush up their CVs, identifying their strengths and helping them to sell these to prospective employers.
Visitors will get the chance to speak to employers and learn more about what employers are looking for from applicants, boosting their chances of securing employment at the airport. The fair is free to attend and entry can be booked here .

Neil Robinson, Group CSR Director, MAG, said: "We are looking forward to meeting jobseekers at Wythenshawe Forum next week and helping them find the right opportunities to get their careers flying.

"The airport is a vast operation which supports tens of thousands of jobs directly or indirectly, so there are a wide variety of roles available here and with our £1.3 billion transformation programme now in full swing, now is an exciting time to embark on a career at Manchester Airport – whether that's with us or one of the partner organisations represented at this event."

Those securing roles with MAG can also take advantage of a wide range of benefits. These include discounts on public transport when travelling to work, free on-site car parking whilst working and when going on holiday, an excellent pension scheme, training programmes, retail discounts plus many more.


To find out more: www.manchesterairport.co.uk/recruitment