in Aerospace / Defence / Security / Space
Pinnacle Growth Group joins forces with The Fintech Corridor
Lisburn based business growth specialist Pinnacle Growth Group has partnered with The Fintech Corridor.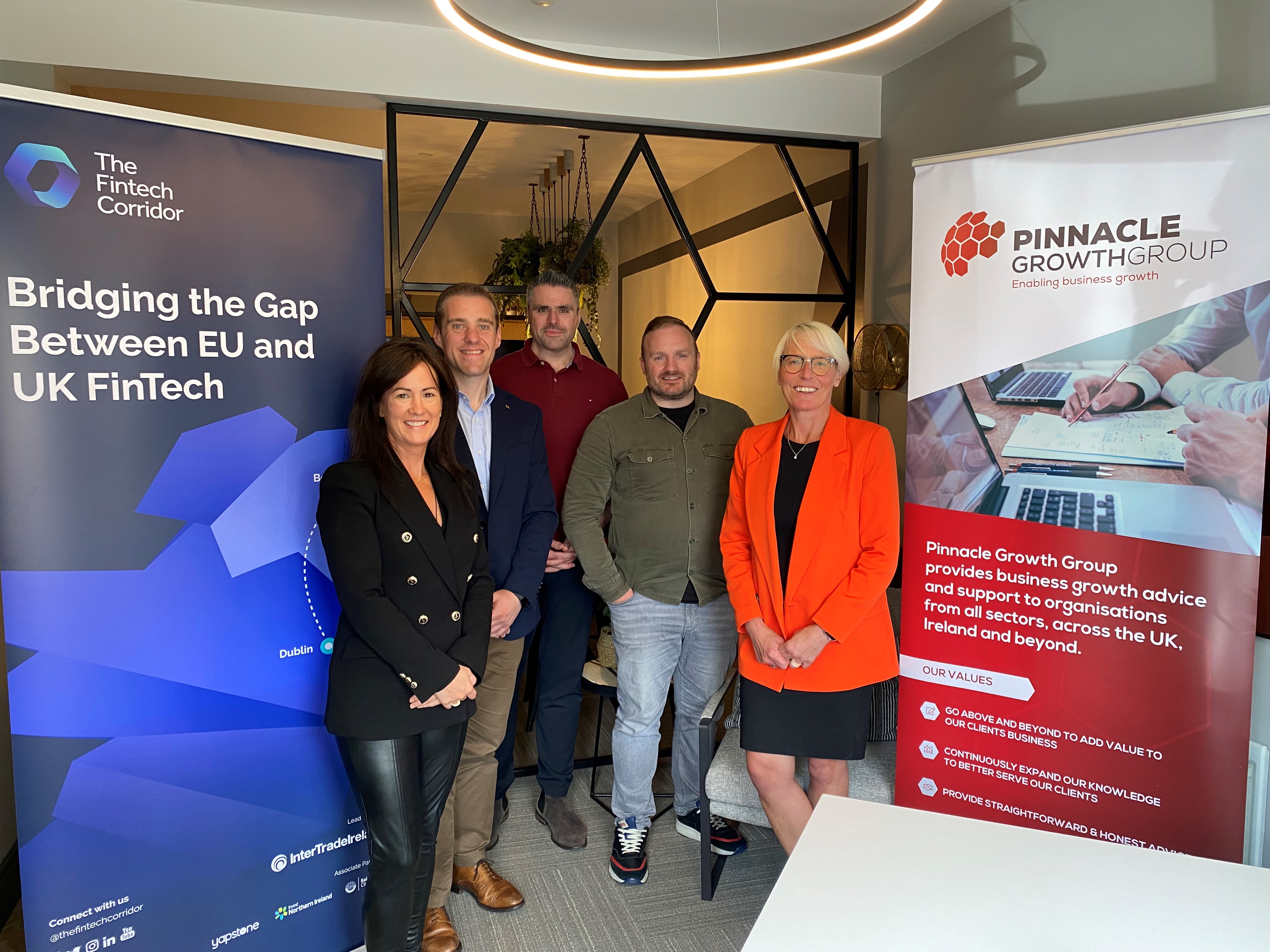 Image courtesy Pinnacle Growth Group

The Fintech Corridor is a unique collaborative all-island cluster with responsibility for increased cooperation and collaboration amongst indigenous and investment fintech's across Ireland. Pinnacle Growth Group provides expert support across Finance for Growth, Business Improvement and Sales and Export Growth, existing to enable business growth for their clients.

For The Fintech Corridor - and its membership - Pinnacle Growth Group will be bringing its experience and focus on securing grants and funding for a diverse range of clients.

Pinnacle Growth Group adopts a proactive approach towards funding, guiding businesses to identify and pursue opportunities that could otherwise gone unnoticed. Given the ever-increasing competition for funding, it is essential to craft a compelling narrative that fully explains the project and aligns with funding criteria.

The Pinnacle Growth Group team assists with completing applications, communicating with funders and ensuring that submitted applications have the best possible chance of success. With a track record of helping businesses secure over £15,000,000 in funding leading to the creation of hundreds of jobs, Pinnacle Growth Group has been instrumental in adding value to and promoting the growth of countless businesses across all sectors in Ireland and the UK.

Welcoming Pinnacle Growth Group, Hilary Moran, Chief Executive at The Fintech Corridor, said: "We are delighted to announce our partnership with Pinnacle Growth Group. The partnership cements our commitment to our members by offering guidance and opportunities in securing grants and funding. Today's announcement represents a significant enhancement of the supports available within the Fintech Corridor. From the minute we met the team at PGG we loved their energy and enthusiasm and the fact that they just got what we were doing. We could not be more thrilled to be part of their story."

Robert McConnell, Managing Director of Pinnacle Growth Group, said: "We are delighted to partner with The Fintech Corridor. Their desire, through Hilary, to see cluster members, and the wider stakeholder group, prosper and grow aligns perfectly with our goal at Pinnacle Growth Group to enable business growth. We look forward to supporting the cluster and members in achieving increased grant funding, expanding in skills and revenue growth, and further enhancing all-island collaboration."

This partnership between Pinnacle Growth Group and The Fintech Corridor heralds a new era of strategic collaboration for business growth, development and funding opportunities, making this an alliance to watch closely in the coming months.
Pinnacle Growth Group, headquartered in Lisburn, supports business growth through its expertise in Finance for Growth, Business Improvement and Sales and Export Expansion

The Fintech Corridor, supported by lntertradelreland, is an all-island collaborative cluster, spearheading amplified cooperation and synergy among native and investment fintech entities across Ireland.