in Aerospace / Defence / Events
RAeS announces 2020 award winners
The Royal Aeronautical Society (RAeS) has announced the 2020 winners of the global aerospace community's most prestigious and long-standing awards honouring achievement and innovation.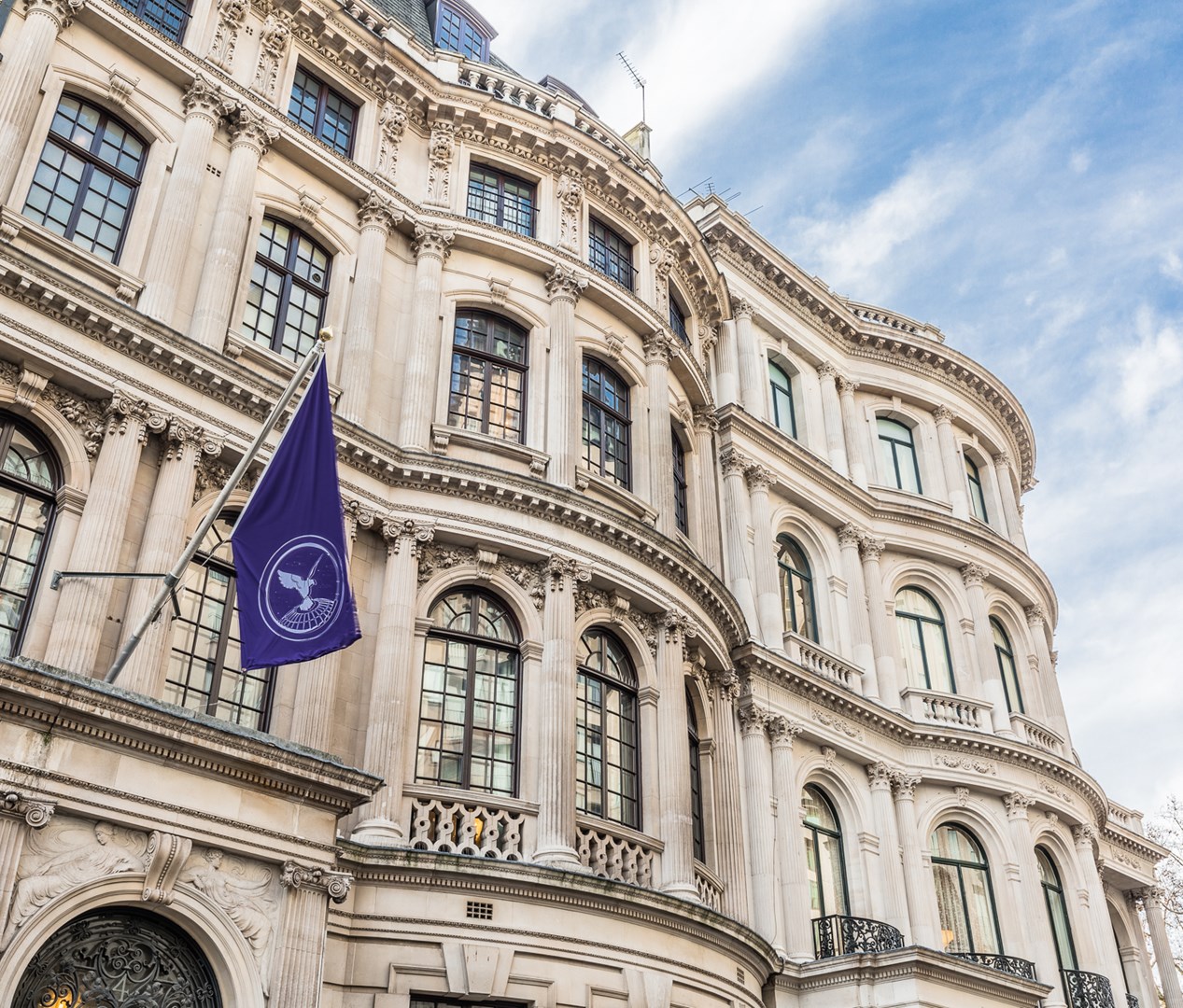 Above: The Royal Aeronautical Society (RAeS), No.4 Hamilton Place, in Mayfair, London.
Courtesy RAeS

The virtual celebration, held 23rd-28th November, saw leaders in aviation, aerospace and space recognised for their significant contributions from space innovation to supporting humanitarian aid and addressing social barriers through flight.

Several representatives of the space industry received awards, with Dr Alice Bunn and Dr Ashitey Trebi-Ollennu receiving Silver Award Medals for their major contributions. Dr Bunn for her role in developing and implementing UK Space Policy and Dr Trebi-Ollennu for his contribution to the successful development and delivery of the Instrument Deployment System on the InSight Mars Mission. It enabled the first robotic deployment by NASA of a seismometer on another planet.

Harbour Air Group founder, Greg McDougall received a Bronze award for establishing North America's first carbon-neutral airline in 2007, which also facilitated the world's first commercial electric flight in 2019.

The Sir Ralph Robins Medal for mid-career engineers demonstrating outstanding engineering leadership, was won by Dr Helen Webber, for her achievements in delivering a major engineering project, leadership of a significant team, delivering a major new project and creating commercial success. Dr Webber was responsible for delivering the High Temperature Heat Exchanger (HTX) design, build and test programme conditions. This was a major step on the road to proving the viability of operating air breathing engines from zero speed up to hypersonic speeds (Mach 5) and the feasibility of reusable space planes that could take off and land at a conventional airfield. The HTX team also went on to win a Team Silver Medal.

The world's highest distinction for aerospace achievements, Honorary Fellowship of the Royal Aeronautical Society, was awarded to a range of distinguished individuals including Tom Williams FRAeS for his major impact on every Airbus aircraft programme over the past 20 years, and Dr Meyer J Benzakien FRAeS for his pioneering work in commercial aircraft propulsion. His work is responsible for advancing engine technology which progressed reductions in noise, emissions and fuel burn.

Early-career professionals were also recognised for both their work on creating a more diverse and inclusive environment and for their wider achievements. The Young Persons' Achievement Award went to Nick Goss, Project Engineer at GKN who played an integral role in developing the Women in Aerospace and Aviation Charter while on secondment to the Aerospace Growth Partnership.

Jonathan Cooper FRAeS, President, Royal Aeronautical Society said: "The Royal Aeronautical Society is incredibly proud of all the award winners today. They have made tremendous strides in advancing the fields of aviation, aerospace and space. Many of the winners have made changes which will influence the future of our sectors, create a pathway for a more sustainable future, and are proactively creating a more diverse and inclusive workforce."

Dr Helen Webber, Lead Project Engineer, Reaction Engines said: "I am honoured to be named as the recipient of the 2020 Sir Ralph Robins Medal. To be recognised with such a prestigious award by the Royal Aeronautical Society is one of the highlights of my career and it inspires me to push the boundaries of aeronautical engineering even further."

Tom Williams FRAeS, Former Chief Operating Officer, Airbus said: "When I started at Rolls-Royce at 16 years old, I did not dream of being the recipient of such a prestigious award.
From building model aircraft at a young age, to being part of the team building the A380, I have been lucky to work on some amazing people on large-scale projects.

"Aviation has always attracted people with a passion, not only for technology but also safety and they will carry the industry through the current crisis."

The Royal Aeronautical Society has been honouring outstanding achievers in the global aerospace industry since 1909, when Wilbur and Orville Wright came to London to receive the Society's first Gold Medal. Over the years, honouring aerospace achievers in this way has become an annual tradition.

RAeS 2020 Awards :
Honorary Fellowships mark the world's highest distinction for aerospace achievement, awarded only for the most outstanding contributions to the aerospace profession.
• Dr Meyer J BenzakienFRAeS, for pioneering work in commercial aircraft propulsion.
• Professor Trevor Birch FRAeS, for more than 30 years of research, development and leadership in aerodynamics.
• Dr Ashwani Gupta FRAeS, for fundamental work on swirl flows.
• Ing Fabio Nannoni, for profound influence on helicopter design.
• Dr David Newman FRAeS, for extensive contribution to the field of aviation medicine.
• Dr Alexander J Smits, for scientific leadershipin the field of experimental aerodynamics.
• Mr Tom Williams FRAeS, for his role in helping to shape the UK and global aerospace industry.

Honorary Companionships are awarded for rendering distinctive and notably meritorious service to the aerospace profession.
• The Honourable Jeffrey Shane, in recognition of his distinguished career as one of the world's leading aviation lawyers.
• Mr Idris Ben-TahirMRAeS, for his many varied contributions to the Canadian aerospace community.

Individual Medals are awarded for contributions to the advancement of aerospace art, science and engineering.

Silver Medal
• Dr Alice Bunn FRAeS, for her significant personal contribution to developing and implementing UK Space policy which has generated important economic benefits for the sector.
• Dr Ashitey Trebi-Ollennu, for his major contribution to the successful development and delivery of the InSight Mars Mission Instrument Deployment System.

Bronze Medal
• Mr Edward Anderson MRAeS, his work to demonstrate the transformative potential of unmanned aerial systems (UAS) in East Africa.
• Mr Greg McDougall, in recognition of his commitment to Green aviation. This is exemplified by the flight of the world's first fully electric commercial aircraft – a DHC2 de Havilland Beaver powered by a magniX 750 horsepower electric motor – in December 2019.
• Mr Ian Walters, Medal for his inspiring leadership of the Airbus team making the Solar Orbiter spacecraft.

Team Medals are awarded for significantcontributions to the advancement of aerospace art, science and engineering.

Silver Medal
• Aircraft Fuel Tank Component Design Team, for the application of the novel Elemental computational fluid dynamics software to deepen the understanding of complex slosh loadsin aircraft fuel tanks. This enabledsignificant reductions in manufacturing cost to the largest selling Airbus A320 aircraft.
• The HTX Team, for the successful demonstration of a High Temperature Heat Exchanger (HTX) capable of quenching the heat from intake air for an engine operating at Mach 5 equivalent conditions.
• The Space Fence Delivery Team,for the successful development of a pioneering space surveillance radar system in the remote Marshall Islands.

Bronze Medal
• P-8A Delivery Team, for delivering on time and to the highest standard the necessary technical airworthiness and safety arguments required to support the introduction to service of the new P-8A Poseidon MRA Mk1 maritime patrol aircraft with the Royal Air Force in October 2019.
• Team Phoenix, for the first large-scale achievement of variable-buoyancy propulsion, demonstrated in flight trials of a large (15m-long, 10m-wingspan) autonomous unmanned air vehicle.

Society Specialist Awards are conferred on individuals or teams in well-established professional disciplines. These awards recognise advances, innovation, excellence and long service that has made a significant impact.

Sir Ralph Robins Medal
Dr Helen Webber, Engineering Project Lead-HTXTeam at Reaction Engines Ltd.

Roger Green Medal
Dr Peter Hancock FRAeS, Pegasus Professor, Provost Distinguished Research Professor, University of Central Florida.

Geoffrey Pardoe Space Award
Dr Johnathan McDowell, Author-Jonathan's Space Report.

Flight Operations Medal
Captain John Cox FRAeS, Chief Executive Officer of Safety Operating System.

RP Alston Medal
Mr Ben Lewis, Deputy Chief Test Pilot for Boeing Defence UK.

Turnbuckle Award
Mr Danny Wright, KC-46/767 Chief Mechanic, Boeing Commercial Airplanes.

Civil CadetPilot Award
Mr Gianluca Vecchio, First Officer, Ryanair

Young Persons' Awards recognise individual achievement and promise.

Young Persons' Achievement Award
Mr Nick Goss, Project Engineer at GKN.

Young Persons' Achievement Commendation
• Mr Alexander Bowen-Rotsaert, Systems Engineer at Boeing Defence Australia.
• Mr Hayden Jakes, Nottingham University.
• Corporal Ben Massey ARAes, Co-founder of Stratobooster.

Herbert Le Sueur Award
Dr Mushfiqul Alam MRAeS, Senior Research Associate at University of Liverpool.

Alan Marsh Award
Ms Zoe Garstang ARAeS, Airworthiness Engineer BAE Systems.

For the full list of award winners, including for Written Paper Prizes and Individual and Team Specialist Awards, see here .

How to apply
The Society's Honours, Medals and Awards are open to everyone in and supporting the global aerospace community–from senior professionals to students and graduates. Nominations for next year's awards are now open and the form can be found at www.aerosociety.com/medalsandawards . The closing date is 31st March 2021.