in Defence / Events
RBSL breaks ground for new Challenger 3 turret test rig
RBSL has formally started construction on a Challenger 3 turret test rig at its Telford site, following a groundbreaking ceremony last week attended by members of RBSL, British Army, DE&S and Mark Pritchard – local MP for The Wrekin.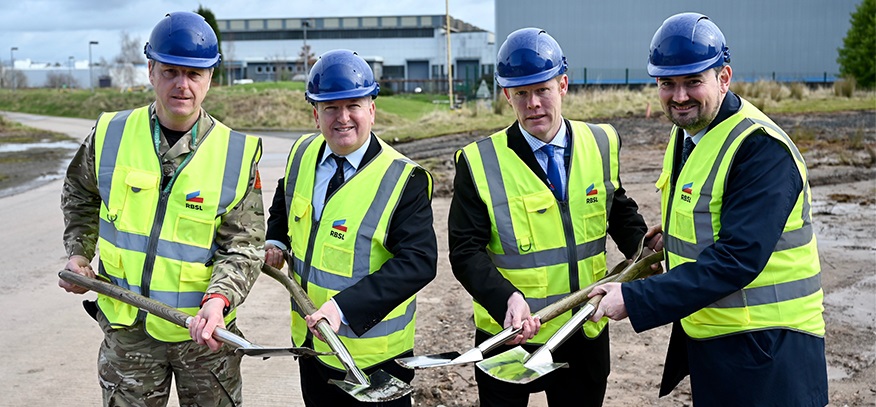 Image courtesy RBSL

The turret test rig programme is a multimillion pound capital infrastructure project which will equip RBSL with unique test capabilities to ensure the Challenger 3 turret system is mature and reliable before production begins.

The turret system forms an integral part of the Challenger 3 upgrade programme, which will transform 148 Challenger 2 Main Battle Tanks for the British Army. The upgraded vehicle, to be called Challenger 3, will be a network-enabled, digital Main Battle Tank with state-of-the-art lethality, upgraded survivability, plus world-class surveillance and target acquisition capabilities.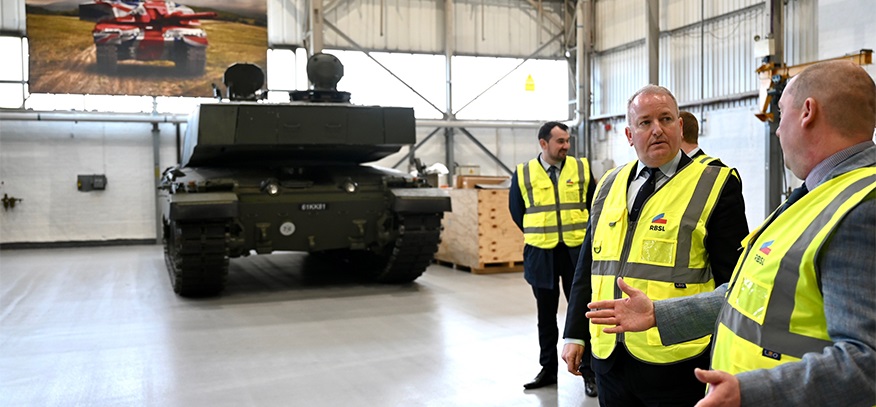 The Challenger 3 programme will create and sustain 200 jobs within RBSL, including 130 engineers and 70 technicians, plus a thriving community of RBSL's 40 current apprentices. In parallel, 450 jobs are expected be created and sustained within the UK supply chain, further contributing to UK prosperity and the levelling-up agenda.

RBSL's turret test rig will be a new, purpose-built facility which will simulate road and cross-country driving conditions in a controlled environment. This will allow engineers to perform rigorous reliability testing and significantly reduce the need to complete thousands of kilometres of vehicle trials.

It will be a critical piece of equipment for the Challenger 3 programme and a significant capability for UK armoured vehicle production.

The groundbreaking event saw local MP, Mark Pritchard, receive an update on the Challenger 3 and industrialisation programmes, including RBSL's engagement with local industry to initiate the building project, plus local recruitment for skilled engineers who will operate the rig.

The turret test rig is also an important milestone for RBSL's £20m industrialisation programme, which will modernise facilities and infrastructure at its Telford site to deliver manufacturing excellence.

Mark Pritchard, local MP for The Wrekin, said: "As a local employer in the West Midlands, RBSL's projects and programmes have significant potential to benefit the Telford and Wrekin constituencies. It was my pleasure to perform the groundbreaking for RBSL's new Challenger 3 turret test rig and ensure Shropshire remains a hub of engineering excellence in support of national defence programmes."

Phil Simon, Chief Operating Officer for RBSL, said: "The turret test rig will allow RBSL to perform trials in a more innovative way and make valuable efficiencies throughout the Challenger 3 programme. From conducting geophysical surveys to determine the best location, to working with specialist architectural consultants to design the facility, we're now ready to take the next step and start construction, ensuring the Challenger 3 programme receives the full benefit of this unique capability."

Col Will Waugh MBE, Challenger 3 Programme Director for Army HQ, said: "This is great news for the Challenger 3 programme. The ability to stress test our turrets in this facility will ensure they are fit for purpose and save time during later trials. It's another step to delivering the most lethal tank in Europe to the British Army and is essential to our warfighting capability out to the 2040s."