in Aerospace / Defence
Rolls-Royce signs agreement to sell ITP Aero
Rolls-Royce announced yesterday that it has signed a definitive agreement to sell 100% of ITP Aero - supplier of critical engine components to key civil aviation and defence aircraft platforms - to Bain Capital Private Equity.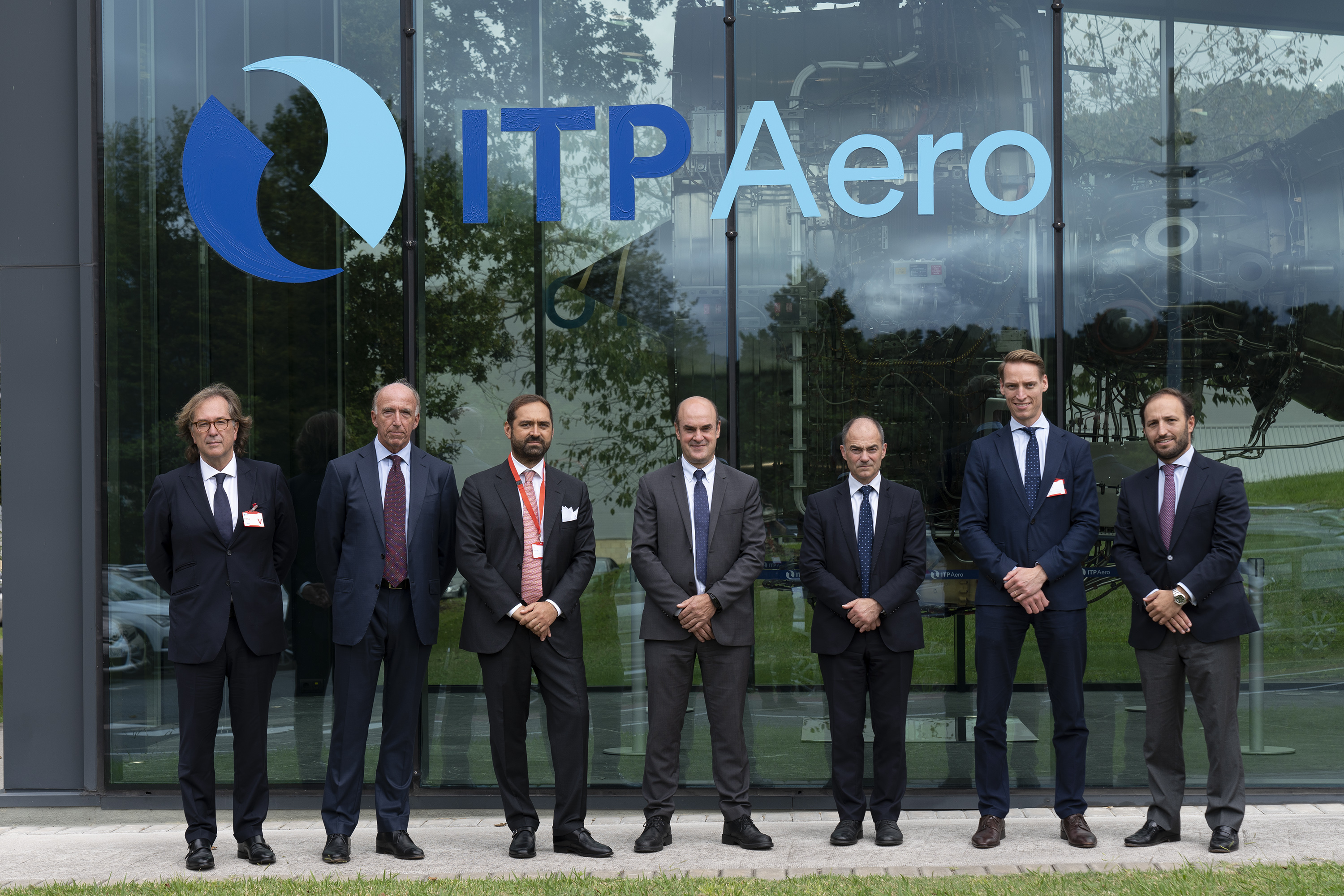 Above: (left to right)Ibon Aperribay, Chairman of SAPA; Ian Davis, Rolls-Royce Chairman; Ivano Sessa, Bain Capital Management Director; Carlos Alzola, CEO of ITP Aero; Warren East, Rolls-Royce CEO; Tobias Weidner, Bain Capital Principal; and Miguel Azorin, Managing Director at JB Capital.
Copyright Rolls-Royce plc All rights reserved

Bain Capital Private Equity, which is leading a consortium of investors, for approximately €1.7 billion. The consortium includes interests to be held by Spanish co-investors SAPA and JB Capital.

The proposed sale is a key element of Rolls-Royce's disposal programme, announced on 27 August 2020, to raise proceeds of at least £2.0 billion, and is consistent with the company's strategy of reducing capital intensity while maintaining a key long-term strategic supply relationship. Rolls-Royce will receive total cash proceeds (excluding any cash retained by Rolls-Royce) of approximately €1.7 billion, which will be used to help rebuild the Rolls-Royce balance sheet, in support of the company's medium-term ambition to return to an investment grade credit profile. The proposed sale values ITP Aero at an enterprise value of approximately €1.8 billion. The transaction has been approved by the Board of Rolls-Royce and the consortium members and is subject to certain closing conditions, including customary regulatory clearances. It is expected to close in the first half of 2022.

The consortium's vision for an independent ITP Aero is to invest in growing the company's products, regions and customers and further enhance its status as a Spanish national champion. ITP Aero's partnership with Bain Capital and the consortium will allow it to further drive its strategy to be a pioneer of new technologies and world class manufacturing enabled by a highly skilled workforce. This strategy will see ITP Aero maintain and grow its position as a leading supplier of critical engine components to key civil aviation and defence aircraft platforms, further diversifying its customer base and supporting the next generation of aircraft, including in sustainable and low carbon technologies. The consortium fully recognises the importance of ITP Aero to Spain, the Basque Country, and the Spanish Government.

Rolls-Royce, the Bain Capital-led consortium and ITP Aero are pleased with their discussions with the Spanish and Basque governments about this transaction. The consortium led by Bain Capital supports the maintenance of jobs as well as the company's future growth. Bain Capital is also open to negotiate the incorporation of further Spanish and Basque industrial partners in the consortium, representing up to 30% of the equity, until the end of June 2022.

Warren East, CEO, Rolls-Royce, said: "Today's announcement is a significant milestone for our disposal programme as we work to strengthen our balance sheet, in support of our medium-term ambition to return to an investment grade credit profile. This agreement represents an attractive outcome for both Rolls-Royce and ITP Aero and we are also grateful to the Spanish and Basque Governments for the constructive discussions we have held with them during the process.

"The creation of an independent ITP Aero is a great opportunity for the company, its people and other stakeholders. A financially, technologically, and industrially strong ITP Aero is also vital to Rolls-Royce. The company will remain a key strategic supplier and partner for decades to come. We believe we have selected new owners willing to support the business for the long-term and build on its successful track record. We look forward to continuing to work closely with Carlos and our colleagues at ITP Aero in the future."

Carlos Alzola, CEO, ITP Aero, said: "This transaction is a significant moment for all of us at ITP Aero. We will be able to further strengthen our position in the aerospace industry, continue to provide high levels of innovation and service to our customers and expand our business to capture significant growth opportunities. All of us at ITP Aero are eager to start the next chapter of our story as an independent company with a strong strategic plan and financial support behind us – building on our 30 years of success – to create a global leader in aerospace that is headquartered in the Basque Country in Spain. Our success is built on the effort of all of our colleagues around the world and I would like to thank each of them for their continued dedication."

Ivano Sessa, Managing Director and Tobias Weidner, a Principal, at Bain Capital Private Equity, said: "ITP Aero has a great track record in an industry which is vital to the global economy, with attractive long-term growth potential. We see significant potential in further accelerating ITP Aero's growth trajectory and investments in new technologies. Together with our partners SAPA and JB Capital we think we bring a unique understanding and ability to support ITP Aero. We look forward to working with ITP Aero's management, employees and other stakeholders including the Spanish and Basque governments to realise the significant growth potential that ITP Aero has as an independent company."

In the year ended 31 December 2020, ITP Aero reported revenues of €735 million and underlying EBIT of €40 million. Earlier this year, Rolls-Royce's former site at Hucknall, UK, was integrated into the ITP Aero business, with a structured plan to include the associated fabrications commodity supply chain in the short term. For the year ended 31 December 2020, the combined perimeter generated a pro-forma profit (loss) before tax1 of €(17) million, with pro-forma gross assets2 of €1.95 billion at 31 December 2020.