in Defence
Royal Navy's newest ships embrace tech to reduce environmental impact
The newest warships in the Royal Navy's inventory are the greenest since the days of sail, with the green credentials of HMS Tamar and Spey being incorporated – and built upon – in the Navy's next breed of submarine hunters, currently under construction on the Clyde.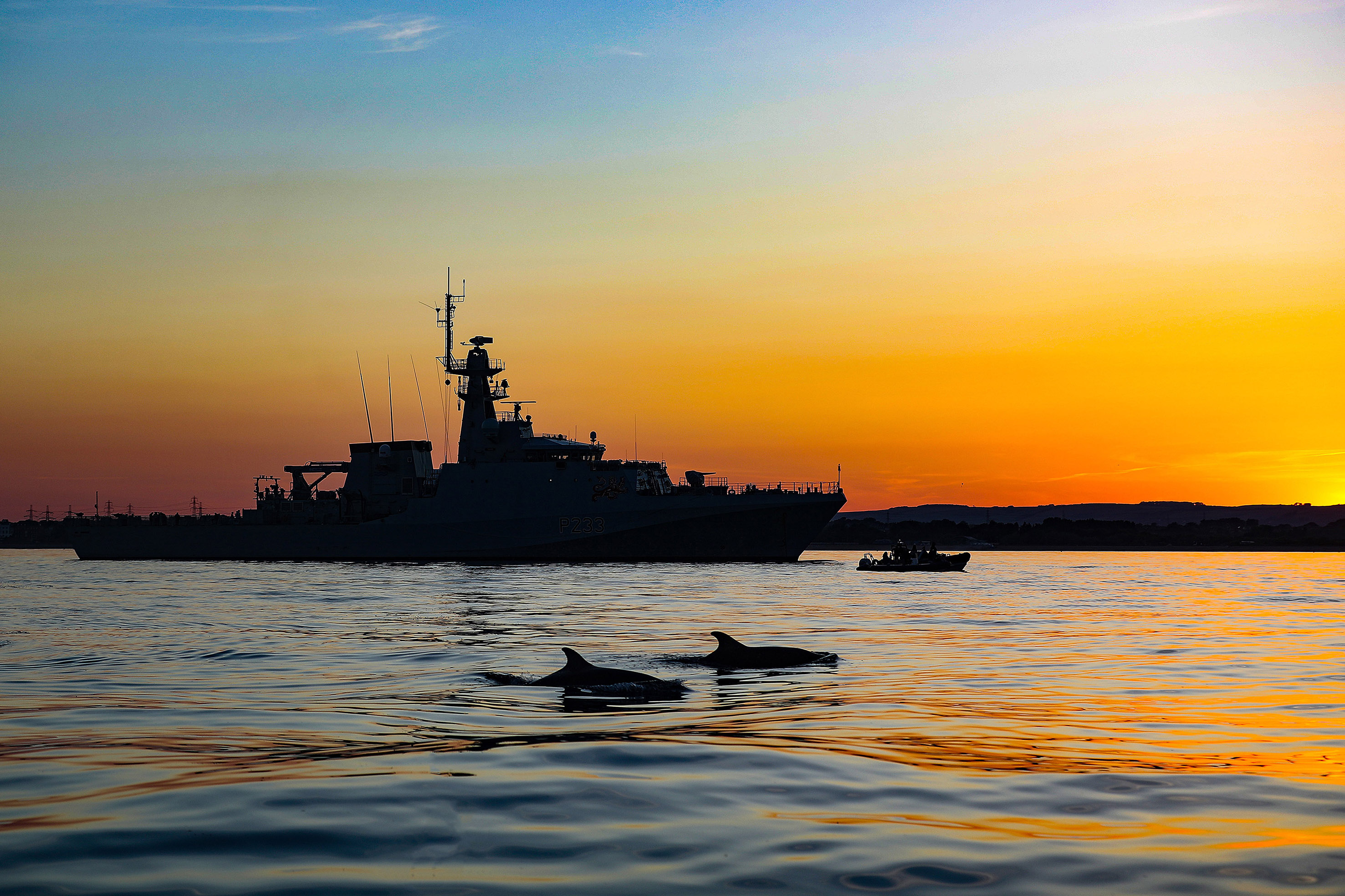 Above: Dolphins join HMS Tamar off Portland.
Courtesy Royal Navy

Patrol ships HMS Tamar and Spey are currently making their way across the Pacific to their new theatre of operations for the next five years: the Indo-Pacific region.

As well as bringing a permanent Royal Navy presence to a part of the world key to the UK's interests for the first time since the handover of Hong Kong, they do so with minimum impact on the environment.

Their selective catalytic reduction system works to reduce emissions of nitrogen oxide – which attacks the ozone layer and is also a key component of acid rain – into the by up to 97%.

By converting urea to ammonia on board, it is injected into catalysts in the exhaust system, where it breaks down harmful emissions and converts them into simple diatomic nitrogen and water.

That makes the two sisters 'IMO Tier 3 Compliant' – giving them freedom of manoeuvre in all emission control areas, and hence full global reach.

That ensures the pair are able to operate across the Indo-Asia Pacific region whilst complying with the strictest of environmental legislation.

In addition, all ballast water taken on board is treated with ultraviolet light to sanitise the water which means the ships won't carry invasive species around the world in their tanks.

Also, the waste water the ship produces – known as 'black water' – is broken down by bacteria and discharged safely into the ocean as clear water, so clean that it is supposedly good enough to drink (although no-one aboard has tried it).

With an average age on board of just 27, HMS Tamar's 50 or so sailors have mostly grown up in an era with environmental issues to the fore.

"We are, proudly, a 'millennial ship'," explained Lieutenant Lucas Wright, one of Tamar's marine engineering officers.

"The importance of looking after our oceans and ocean conservation is a priority on board. We are looking at ways how in the future we can support this during our enduring mission to the Indo-Asia Pacific region."

The next generation of the Royal Navy warships will be even greener. Being built a proverbial stone's throw from the COP26 venue, HMS Glasgow – the first of eight Type 26 frigates – embraces the latest technology and shipbuilding practices to minimise any impact on the environment.

In addition to including improvements in Spey and Tamar (nitrogen oxide emissions and black water treatment), Glasgow's hull is coated in environmentally-friendly anti-fouling – it does not rely on chemicals to prevent marine growth clinging to the ship and slowing her down.

That hull has gone through hydrodynamic design to make Glasgow as sleek as possible, while a 'stern flap' adds an extra knot to her speed without needing the extra power.

Inside the frigate, she is lit by LED rather than fluorescent lights which are energy efficient, do not require as much cooling and last longer.

Her refrigerators are cooled using gases with less potential for global warming, other waste water ('grey' - which is not discharged overboard - and oily) is treated to higher-than-regulation standards.

Finally, given Glasgow's principal mission – to hunt hostile submarines – the ship is fitted with the Sonar 2117 system which provides the crew with an assessment of the risk to marine life caused by operations.