in Aerospace / Defence / Events
School STEM show hits the road
Opening the eyes of young people to the career possibilities of studying science, technology, engineering and mathematics (STEM) subjects, the annual BAE Systems schools roadshow has kicked-off at The Belvedere Academy in Liverpool.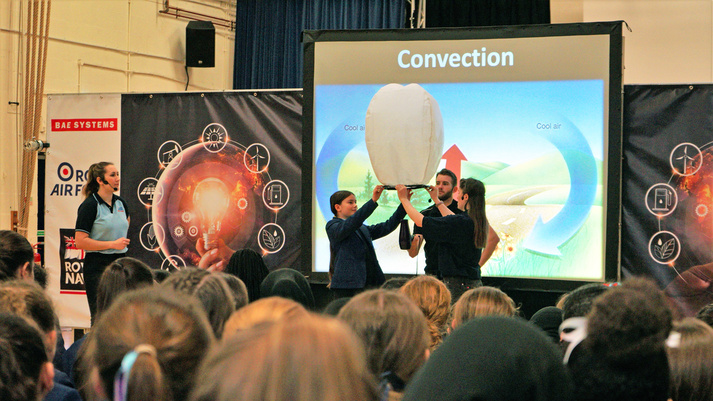 Above: BAE Systems have partnered with the Royal Air Force and Royal Navy to take STEM to The Belvedore Academy in Liverpool.
Courtesy BAE Systems

With a continued shortage of engineering skills in the UK and lack of diversity across the engineering sector, the roadshow aims to inspire young people across the country, highlighting the exciting career opportunities on offer and how these relate to STEM subjects.

Marking its 15th anniversary, this year's show focuses on energy and the importance it plays in everyday life, from new ways to harness natural sources, to how the human body converts food into kinetic and thermal energy. A series of interactive workshops and demonstrations will showcase various applications and bring it to life for pupils.

Steve Fogg, Managing Director, Shared Services, BAE Systems, said: "Inspiring the next generation of young people to consider engineering must start at school. With STEM underpinning much of what we do in the modern world, the schools roadshow brings to life its importance and highlights to young people the exciting, and sometimes surprising, career opportunities that are available.

"At BAE Systems, we're proud of the role we're playing to help address the UK skills gap and by working alongside government, the education sector and industry partners, we are committed to developing the highly skilled workforce of the future."

The roadshow is our flagship education programme and will visit around 450 schools across the length and breadth of the UK this year. Since its launch in 2005, the roadshow has visited 3,700 schools and been seen by 850,000 young people.

Employing more than 34,000 people in the UK and with a significant presence in the North of England, BAE Systems are one of the country's largest employers of engineers, with around 66% of staff employed in engineering or engineering-related roles.

BAE Systems invested more than £100 million in education, skills and early careers activities in the UK in 2018 and have around 2,000 apprentices in training at any given time. This year, we are recruiting 800 apprentices across the UK, with more than 70% of these roles based in the North in our Air and Submarines businesses.

As a member of Movement to Work which aims to tackle youth unemployment by providing vocational training and work experience, BAE Systems offer 98 placements every year and since 2014, nearly 500 young people have participated, with more than one third gaining employment within the company.