in Security
Security & Policing celebrates 40th anniversary success
Security & Policing, the official UK Government global security event, celebrated a successful in-person return to Farnborough for its 40th anniversary.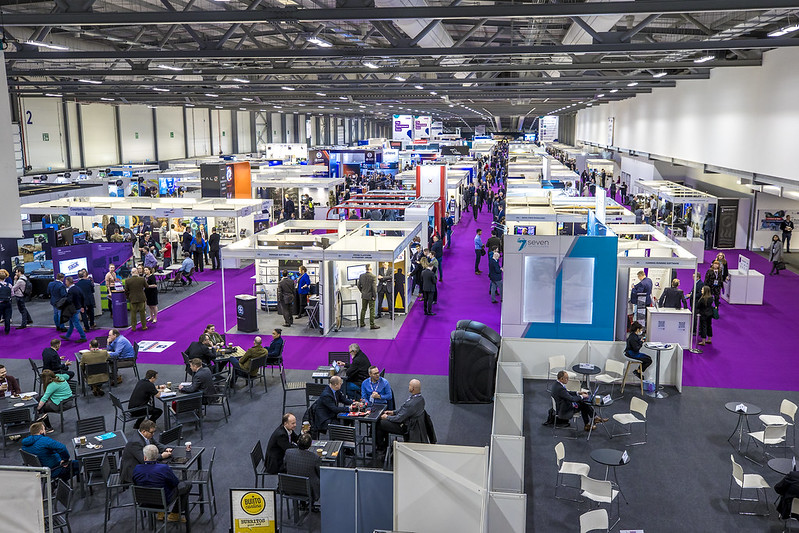 Image courtesy Security & Policing / ADS Group Limited

This year's closed event, held between 15-17 March 2022, welcomed over 6,000 approved attendees, including visitors and delegations from over 73 countries, over 300 leading industry exhibitors and a record 30 participating Government and law enforcement departments and agencies.
The three-day event centred around the theme of Protecting People, Places and Prosperity showcased leading content and insight as well as high-level engagement and partnership opportunities between UK suppliers, academia, Government officials and senior decision makers across law enforcement and security from the UK and overseas.
RECORD UK GOVERNMENT ENGAGEMENT AND ATTENDANCE AT S&P 2022
For the first time ever, Security & Policing welcomed The Rt Hon Priti Patel MP, Secretary of State for the Home Department on the show's opening day for a packed keynote address and to meet with attendees across the show.
The opening morning also saw attendees fill the keynote briefing room to hear from The Rt Hon Damian Hinds MP, Minister for Security and Borders, visits from Mike Freer MP, Minister for Exports and Minister for Equalities, plus a host of thought-provoking sessions across the content zones throughout the day.
On Tuesday evening we welcomed exhibitors, international delegations and guests for the opening reception where TapS0S were announced winners of the ADS Security Innovation Award 2022, for their TapSOS application which enables non-verbal 999 communications for those with physical, medical or situational barriers.
On day two we were delighted to welcome back The Rt Hon Kit Malthouse MP, Minister for Crime, Policing & Probation for his second visit to the event for another popular keynote session.
Attendees also filled the auditorium for keynotes from Dame Cressida Dick DBE QPM, Commissioner of Police of the Metropolis and Dr Paul Hollinshead OBE, Chief Executive, Dstl, along with a host of panel and challenge sessions in the Fusion Forum and Government updates and insights from the Centre Stage.
Finally evening guests to the Evening Thought Leadership Panel & Dinner sponsored by Amazon Web Services (AWS), enjoyed an insightful panel discussion on National Resilience before a dinner speech from Matthew Rycroft CBE, Permanent Secretary, Home Office.
The final day saw more visits from The Rt Hon Anne-Marie Trevelyan MP – Secretary of State for International Trade and Ranil Jayawardena MP, Minister for International Trade, as well as an audience with Phil Douglas, Interim Director General Border Force and array of Fusion Forum and Centre Stage sessions.
The National Counter Terrorism Security Office (NaCTSO) Business Conference also took place on the final day of the event, centred around the theme of Protective Security Information for the Business Community.
You can review the full content programme across the three days
here.
New for 2022, The Centre Stage located adjacent to the Government Zone gave visitors and exhibitors the chance to hear directly from speakers from Government departments and agencies on their latest priorities, developments and collaboration opportunities.
Find out more about the attending Government participants across the expanded Government Zone and Centre Stage
here.

UNMISSABLE IMMERSIVE EXPERIENCES
Security & Policing 2022 hosted the most expansive series of Immersive Features seen in the history of the event – Incident at Sea: Live Immersive Response. Hosted by the Joint Security and Resilience Centre (JSaRC), the features provided visitors with a series of narrative-led, content-rich, immersive experiences, which give an insight into technologies and solutions to solve the latest and future security challenges and threats.
The Immersive Experience focussed on showcasing solutions and technology across four key policy areas: Cyber Security, Coastal & Maritime Surveillance, Supply Chain Resilience and Justice. The four interactive features took visitors through the repercussions of a ransomware attack on a shipping vessel in close proximity of a busy UK sea port.

WATCH BACK SESSIONS ON-DEMAND WITH SECURITY & POLICING+
Approved attendees can now watch back keynote and Fusion Forum sessions they may have missed on-demand by logging into the event's complementary online platform,
Security & Policing+.
To access Security & Policing+ you must activate your account, if you haven't already via, your initial approval email or links provided in other event preview emails.
If you have already activated your account you can
login here.

Please note access to Security & Policing+ will close on Monday 18 April 2022.
SAVE THE DATE FOR SECURITY & POLICING 2023:
14-16 MARCH, 2023


Security & Policing will return to the Farnborough International Exhibition and Conference Centre next year between Tuesday 14 – Thursday 16 March, 2023.
Exhibitors can
re-book or enquire
to book their place for 2023 now, with a range of exhibitor packages to suit all budgets and requirements now available. View the 2023
exhibitor packages here.
Visitor registration applications will open and be communicated later in the year. You can
sign-up for event updates here.
On behalf of the event organisers, the Joint Security & Resilience Centre (JSaRC), UK Defence and Security Exports, ADS and Dods, we would like to thank all of this year's visitors and exhibitors from across the global security community for celebrating this landmark event anniversary with us and for the ongoing support of Security & Policing.