in Space / Events
Skyrora hosts 'Made-3D' consortium meeting
Alongside a team of international experts, Skyrora Ltd. hosted the most recent meeting for the European Union's Horizon Europe Research and Innovation Programme's 'Made-3D' project at the company's engine manufacturing facility outside of Glasgow.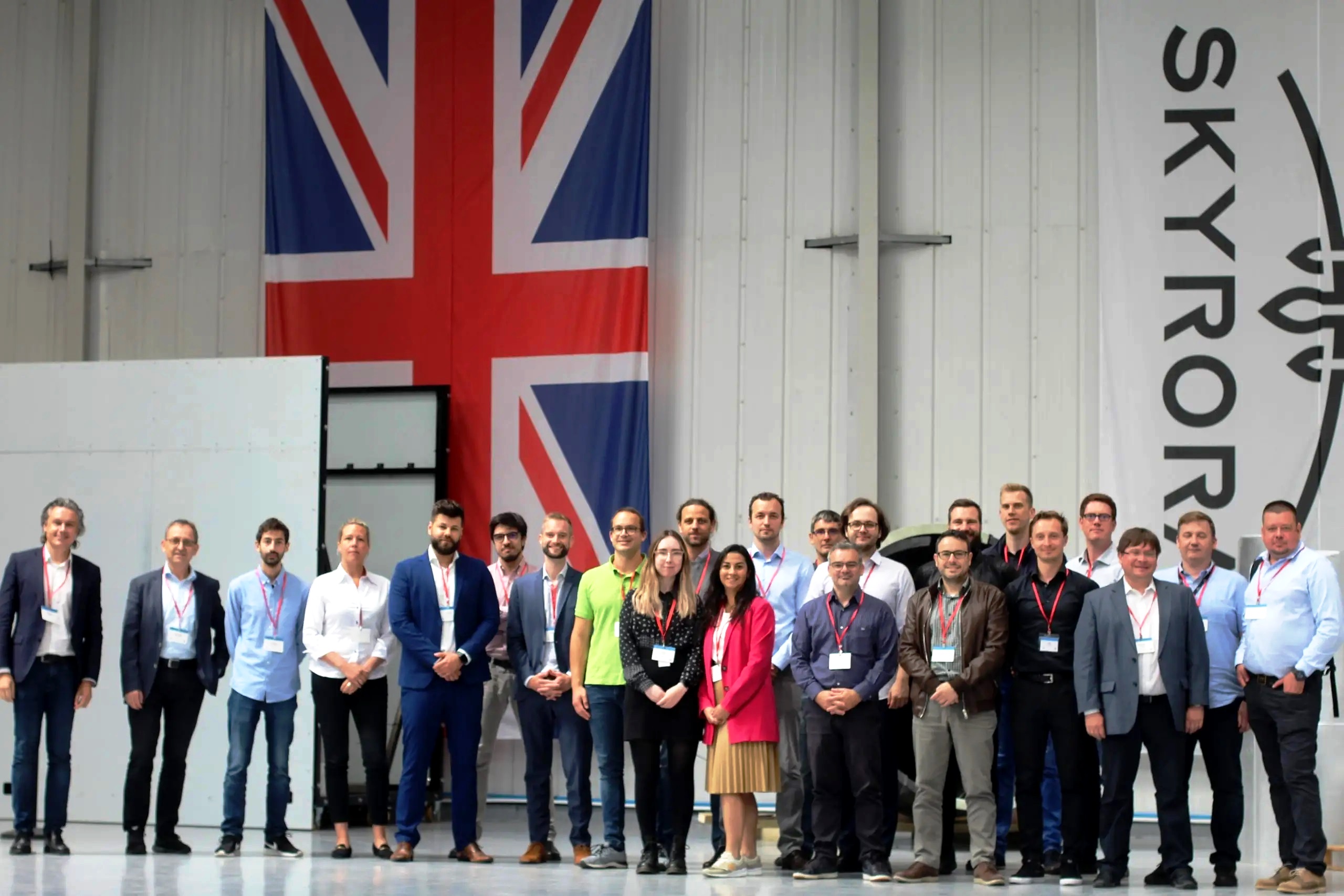 Image courtesy Skyrora

The meeting brought together the project's consortium of 13 pioneering industrial companies, universities, and research organisations in the field of additive manufacturing from across Europe to discuss how the project can increase the competitiveness of multi-material components and products for use in a wide range of applications, including the automotive, aerospace, and aeronautic sectors.

Commencing activity at the start of this year following several years of research, the 'Made-3D' project will run for 3.5 years supported by approximately €6.7 million in funding, with the consortium meeting twice per year.

Skyrora has been awarded £500,000 through Innovate UK in association with the European Commission to contribute ground-breaking additive manufacturing innovation to the project. This funding will enable Skyrora to complete research with partners to produce a multi-material LEO rocket engine vacuum nozzle. Production will be enabled by Skyrora's in-house hybrid 3D printer, Skyprint 2, which is the largest of its kind in Europe.

Following production, the optimised nozzle prototype will be tested during a LEO rocket engine hot fire test at Skyrora's state-of-the-art testing facility in Midlothian, which is also the largest of its kind in the UK. If successful, this innovation will allow for a 50% weight reduc-tion of the nozzle, enabling Skyrora's LEO rocket engine to deliver competitive advantage by carrying an increased payload to orbit to accommodate further small and cube satellite cus-tomers per launch of their orbital Skyrora XL vehicle.

Skyrora CEO Volodymyr Levykin said: "We were honoured to host the most recent meeting of the 'Made-3D consortium' at our manufacturing facility outside of Glasgow, bringing together like-minded leaders from across the European space sector. As we rapidly approach orbital launch, Skyrora seeks to push the envelope when it comes to innovative advancements in manufacturing, not only to refine our offering for prospective customers globally, but to do so in the most sustainable way pos-sible."

"Contributing to the 'Made-3D' project will enable Skyrora to develop a unique bi-metallic printing process via our Skyprint 2 machine that has never been done before, unlocking po-tential avenues for third party commercial collaboration in the process."

Broadly, the 'Made-3D' project aims to enhance the additive manufacturing process to enable the multi-material processing required within the automotive, aeronautics, and aerospace industries, focusing on material design, process design, component design, and sustainability. The results of the project will significantly impact the entire process chain of 3D printed multi-material components, from computational material-design concepts to industrialization and recycling. For instance, the project aims to unlock access to reusing leftover metal powder and bulk materials from the printing process to eliminate wasted resources.