in Aerospace
Spirit AeroSystems opens AIC in Scotland
Spirit AeroSystems has celebrated the official opening of its state-of-the-art Aerospace Innovation Centre (AIC) in Prestwick, Scotland today, in the presence of Scotlandís First Minister, Nicola Sturgeon.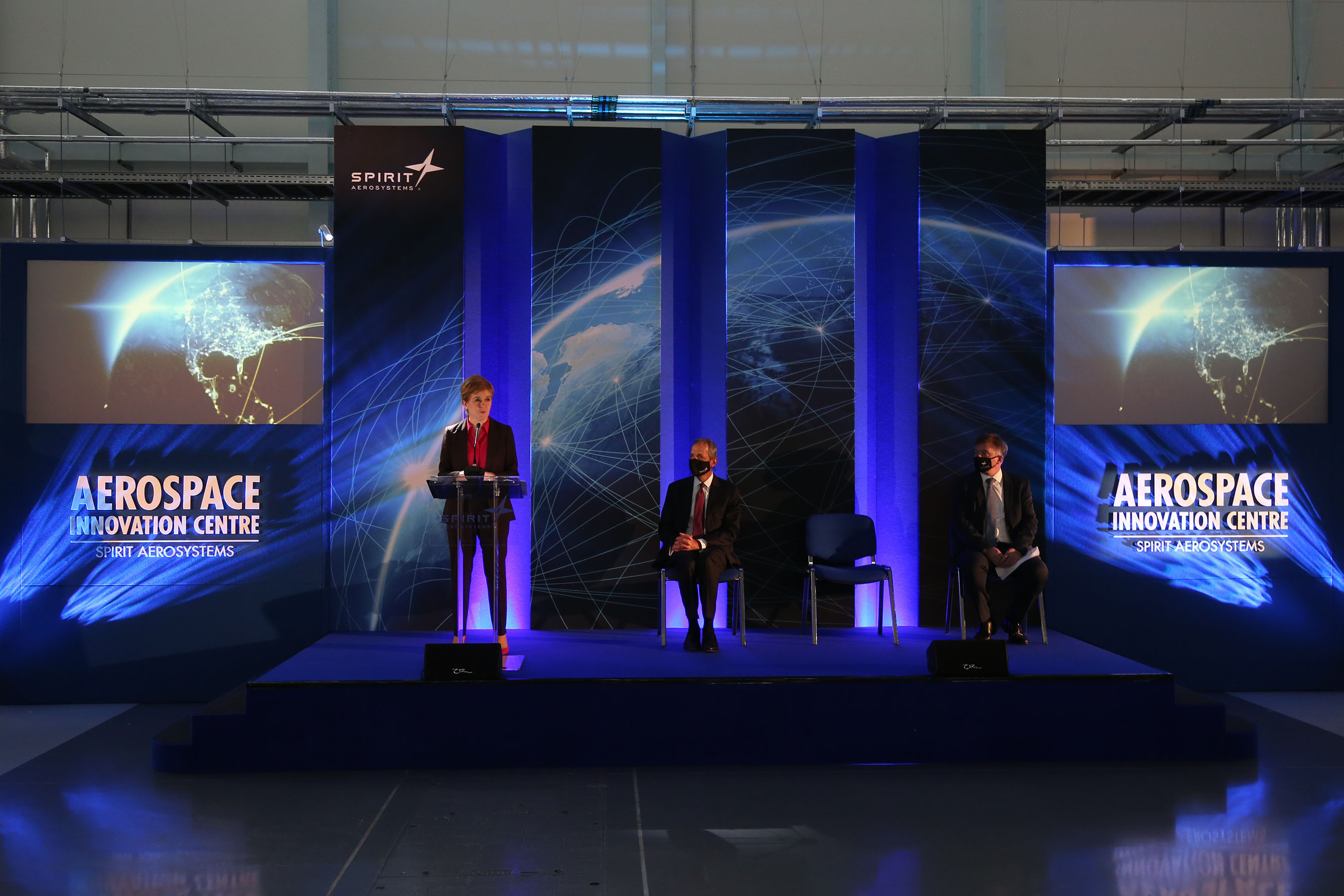 Above: (left to right) First Minister of Scotland Nicola Sturgeon, pictured with Tom Gentile, President and CEO, Spirit AeroSystems and Scott McLarty, Senior Vice-President and General Manager - Airbus, Spirit AeroSystems.
Courtesy Spirit AeroSystems

The AIC has been established as a centre of excellence for the research and development of advanced materials, digital manufacturing technologies and processes, where Spirit Europe will collaborate with industry and academic partners to innovate, train and develop skills for today and tomorrow.

The 90,000 square foot innovation centre on the Spirit Europe campus in Prestwick is capable of manufacturing components of up to 20 metres in length. It features 55,000 square feet of manufacturing space, a materials lab, and office and conference space to accommodate over 200 people. Spirit Europe's investment of circa £25m, together with almost £5m grant funding from Scottish Enterprise, will help advance technologies and capabilities to develop next-generation aerostructures.

First Minister of Scotland Nicola Sturgeon said: "This investment from Spirit AeroSystems, at a time of considerable challenge for the aerospace sector globally, is an endorsement of Scotland's engineering and manufacturing capability and it will complement existing facilities, such as the National Manufacturing Institute for Scotland (NMIS)

"As well as improving the efficiency of aircraft parts, and the way they are manufactured, this facility has the potential to enable growth for industry-leading aerospace innovations and create more high-value manufacturing jobs over the next decade.

"We are focused on building a stronger, sustainable and inclusive economy, with new, high quality, green jobs, and Scotland's aerospace sector with the highly-skilled workforce it employs is an integral part of that."

Scott McLarty, Senior Vice-President and General Manager – Airbus at Spirit AeroSystems said: "We are delighted to celebrate the official opening of our Aerospace Innovation Centre in Prestwick, Scotland. In addition to advancing local skills and rapid knowledge transfer between academia and industry, it will facilitate the development of world-class technology solutions for diverse design and manufacturing applications. Our latest investment in collaborative innovation, supported by Scottish Enterprise, reinforces our commitment to strengthen Aerospace in Scotland, enabling us to compete more competitively and sustainably on national and global scales."

Adrian Gillespie, Chief Executive of Scottish Enterprise, said: "The AIC brings together all the key ingredients of innovation – world class expertise and facilities in a collaborative, diverse and open environment. This is an exciting time for advanced manufacturing in Scotland and Scottish Enterprise looks forward to working closely with Spirit, their partners and manufacturers across the country to make the most of the opportunity this centre creates to develop new ideas, products and sustainable jobs."

The AIC is already facilitating more than 20 industry and academic collaborations, working to deliver Spirit Europe's and its partners' ambitions.