in Aerospace
TBAT Innovation appoints new management team
TBAT Innovation Ltd has made significant changes to its leadership set-up, appointing three new Directors from within the existing team, with Matt Symonds and co-director Sam Stephens taking a step back and handing over the Managing Director role to Ryan Mouncy, with Vincent Seddon and Elaine Williams promoted to Commercial and Finance Director, respectively.
As part of the changes, Matt Symonds, who joined TBAT in 2007, will step down from his position as Managing Director but will remain as co-owner, Director and advisor within the business. Sam Stephens, who founded TBAT Innovation in 2002, will also step back but similarly retain an active role in the business as co-owner, Director and advisor.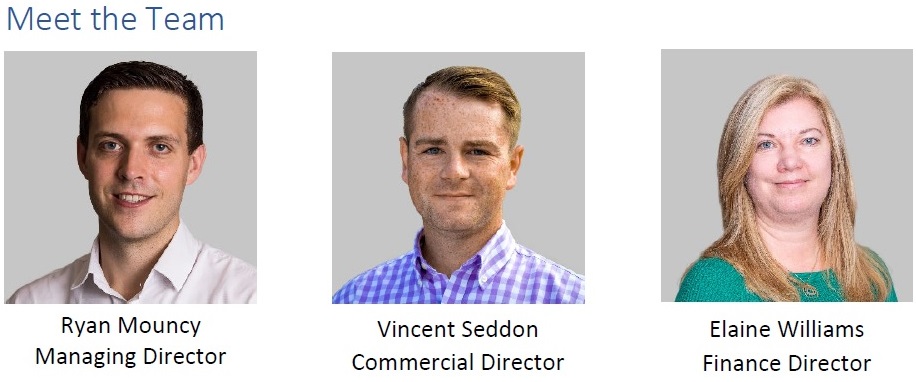 Image courtesy TBAT Innovation

TBAT's new Managing Director, Ryan Mouncy, is currently Operations Manager for the business. His promotion will see him lead the company's strategic direction to focus on the continuing growth of the team and its service offering. In support of this Vincent Seddon, currently, Business Development Manager is promoted to Commercial Director, with Elaine Williams, currently internal R&D Accountant, promoted to Finance Director.

With over 12 years experience in management and R&D, Ryan has been a key member of TBAT's leadership team since 2017. Ryan has since played an instrumental role in the development and management of TBAT's team, systems, and processes. Ryan is currently completing a three-year MBA which will provide him with further skills and insight to strategically lead the business.

Ryan Mouncy said: "It's a privilege to work with such a committed team and to strategically guide them into the next phase of growth. The approach is simple, we listen to our customers, adopt a growth mindset, and ultimately add value at every opportunity."

As a result of more than 12 years spent in customer-facing roles in finance and R&D, Vincent has owned and driven business development within TBAT over the past few years. As Commercial Director Vincent will oversee all sales and marketing activity to enable the planned growth.
An experienced accountant, having run her own practice, for the past few years Elaine has been overseeing everything finance-related for client projects. As Finance Director Elaine will continue this role whilst developing and managing the strategic finance approach to manage, control, and enable TBAT's growth.

Matt Symonds said: "The last 15 years have been a fantastic journey and looking back on how the business has developed makes me feel very extremely proud. This change has been in the planning for a good while now and I'm really delighted to see Ryan, Vincent, and Elaine step up into these new roles. Congratulations to you all. We have strong and ambitious growth plans and I'm confident that this trio and the wider team will realise them. I'm excited for the future, and for working with the team."

Sam Stephens said: "When I set up the business back in 2002, little did I know that we would develop into such a large and successful team. We've learned an incredible amount along the way and all that learning has gone into the growth plans that we're pushing forward with now. Looking forward to what the future holds for TBAT and supporting that journey. On a personal note, I would like to say a big thank you to the amazing team at TBAT, our awesome clients, and all the director's families who have supported us over the years. Massively excited for the years ahead."