in Aerospace
UK America's Cup entry jets off from Stansted
One of the world's largest aircraft - the four engine Antonov 124 - paid a flying visit to London Stansted Airport before jetting off for New Zealand with the UK's entry to the America's Cup onboard, the INEOS Britannia II.


Above: INEOS TEAM UK's America's Cup race boat being towed onto a 1987 Ukrainian Antonov 124 cargo plane by the team's new prototype INEOS 'Grenadier' 4x4 at the start of its journey to Auckland, New Zealand.
Courtesy MAG / Copyright Mark Lloyd / INEOS TEAM UK - Stansted - United Kingdom

The Antonov 124 took off at 6.30pm on Monday 28th September for its flight to Auckland, via Dubai.

INEOS Britannia II is the British challenger for next year's America's Cup sailing race which begins in January 2021 and will be skippered by four time Olympic Champion Ben Ainslie. It is the second race boat built by INEOS TEAM UK in their bid to win the America's Cup, sport's oldest international trophy.

The 75-foot race boat (code named RB2), that will race in the America's Cup from January 2021, was helped onboard an Antonov cargo plane by the team's new prototype INEOS Grenadier 4x4, before being secured for take-off.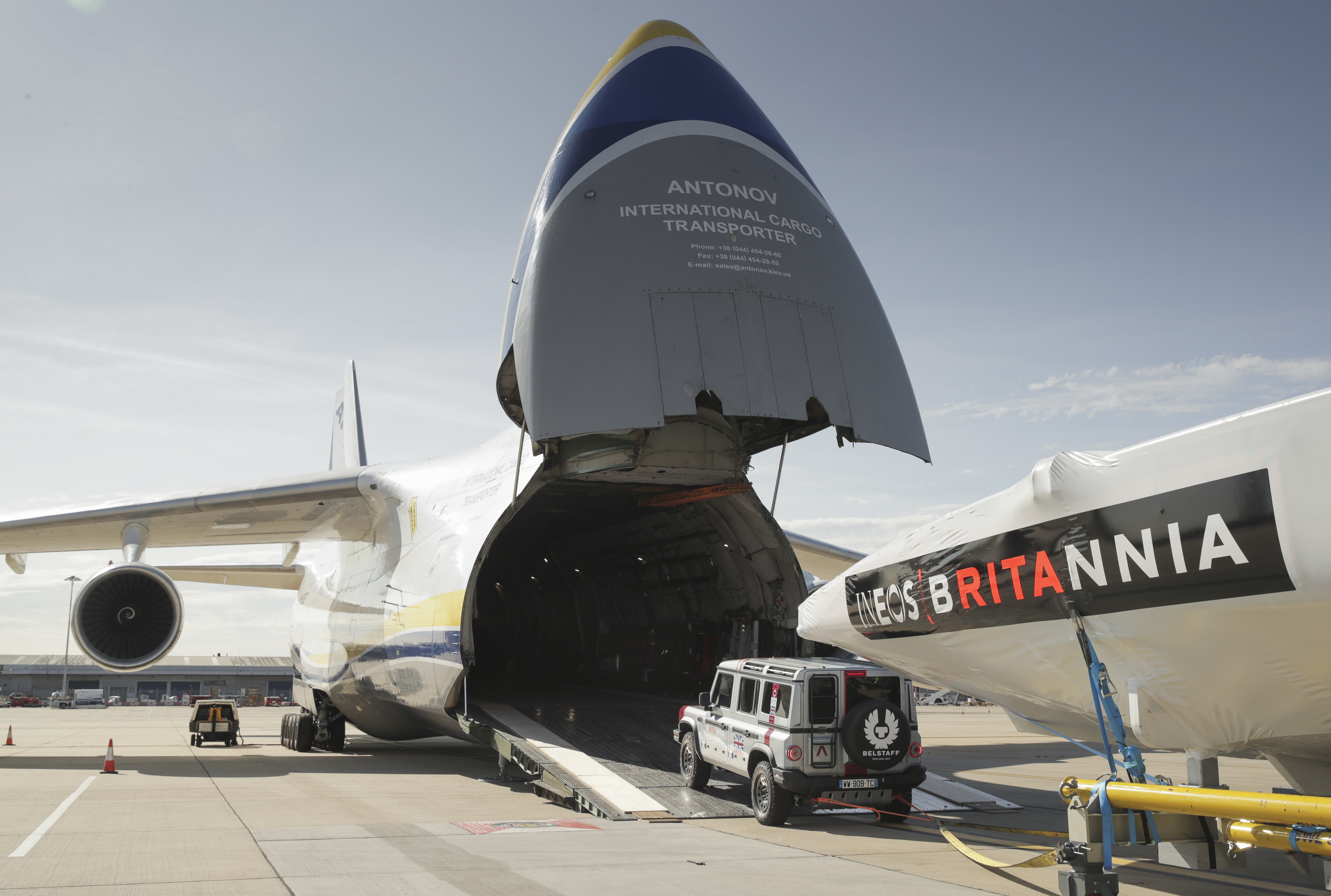 The precious cargo is now on a four-day journey to Auckland, New Zealand, where INEOS TEAM UK are ready for her arrival.

Four times Olympic Gold medallist, America's Cup winner, Team Principal and Skipper Sir Ben Ainslie is currently in two-week mandatory quarantine in New Zealand and counting down the days until sailing operations begin.

'As a Challenger you're always playing catch up on the race boat design from the Defender who gets to define the rules. That's the game we chose to compete in, so we had to give ourselves maximum design and build time in the UK, which meant the Antonov was the only transport option. It's testament to the huge effort by the whole team to get RB2 built and delivered to New Zealand on schedule. We can't wait to get her out sailing!"

Project Director Dave Endean has overseen the build and safe transportation of RB2 to New Zealand.

"It's been a huge operation to get to this point and a real team effort.", said Dave Endean. "The logistics of moving an entire America's Cup team, including two AC75 boats, to New Zealand are not insignificant and it has taken a lot of time and hard work from the entire team to make it happen. It was an important milestone to get our race boat on the Antonov cargo plane today and I and the rest of our team left in the UK, can't wait to join the team in New Zealand now and get sailing in the Auckland Harbour."