in Security
UK cyber chief recognises Northern Ireland as global cyber security hub
At the UK's flagship CYBERUK conference in Belfast, UK Government chiefs yesterday praised the significant role of the Belfast (Good Friday) Agreement in securing Northern Ireland's status as a global cyber security hub, as it continues playing a critical role in securing UK-wide online resilience 25 years after the pivotal accord was signed.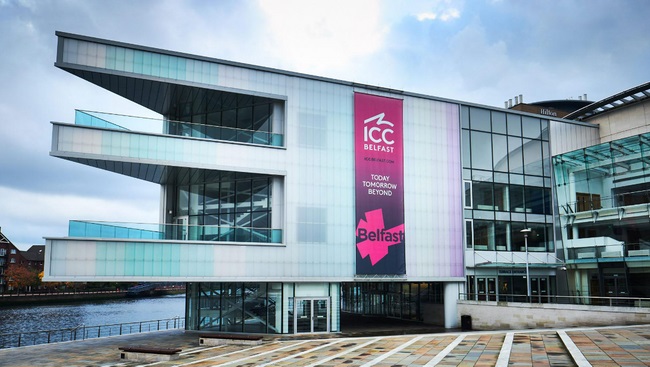 Above: The UK's flagship cyber security conference CYBERUK, took place 19th-20th April at the ICC Belfast, Northern Ireland.
Courtesy NCSC

Marking Northern Ireland's achievements, leaders from the National Cyber Security Centre (NCSC) – part of GCHQ – and the Northern Ireland Office praised the scale of progress and ambition of Northern Ireland's cyber ecosystem, highlighting that over 100 companies with cyber security operations, ranging from start-ups to multinational corporations, are based in Belfast alone.

Recognised worldwide as a hotspot for cyber security innovation, Northern Ireland is building a legacy for the future, including by executing ambitions under the 'New Decade, New Approach' strategy to deliver 5,000 cyber security professionals by 2030.

Key to its future success will be continuing to leverage its strong connections between industry and education, as well as the world-class research and excellence at institutions such as Queen's University Belfast and Ulster University – for which the Agreement paved the way.

Queen's was one of the first institutions accredited by the NCSC as an Academic Centre of Excellence in cyber security research and education, and its cutting-edge Centre for Secure Information Technologies (CSIT), with which the NCSC has worked for over a decade, is reputed as an exemplar for the rest of the UK.

Speaking from CYBERUK, NCSC CEO Lindy Cameron said: "The prosperous economy you see in Northern Ireland today has been built on the foundations of the peace process.

"Northern Ireland's thriving cyber security industry is just one fantastic example of this. Since the peace process, we've seen a pipeline of trailblazing cyber talent develop and mature here.  

"Northern Ireland has become an indispensable partner in the NCSC's work to make the UK the safest place to work and live online, which is exactly why we brought CYBERUK to Belfast – and I couldn't be prouder of my home city." 

Secretary of State for Northern Ireland Chris Heaton-Harris said: "It's fantastic to see CYBERUK being held in Belfast for the first time.

"The Belfast (Good Friday) Agreement has had a transformative effect on Northern Ireland's economy and enabled the building of a more vibrant society.

"Today, Northern Ireland is becoming a byword for cutting edge technology, connectivity and innovation.

"CYBERUK in Belfast is a vote of confidence in Northern Ireland's place in what is a thriving UK cyber security ecosystem.

"The UK Government remains committed to investing in Northern Ireland's continuing prosperity and the great opportunities that exist here, which have been built on a foundation of peace."

Northern Ireland's tech community has thrived in the years following the Belfast (Good Friday) Agreement, consistently attracting domestic and overseas investment: it is the number one international investment location for US cyber security firms.

More recently, the UK government announced a funding injection of nearly £19 million to deepen cyber expertise and support the R&D of emerging technologies, including plans for a Cyber-AI hub in the capital. The funding also comprises a £3.3 million contribution from the Engineering and Physical Sciences Research Council to deliver the third phase of CSIT's Innovation and Knowledge Centre (IKC) programme.

By 2030, it is estimated that the cyber security sector could add £437 million in value to the Northern Irish economy – nearly double this year's direct Gross Value Added (GVA) of £230m – and in turn generate £2.9 billion cumulative GVA over the next decade.