in Space
Virgin Galactic launching first civilian spaceflight
Virgin Galactic's first civilian spaceflight, Galactic 02, will be launching later today from Spaceport America New Mexico.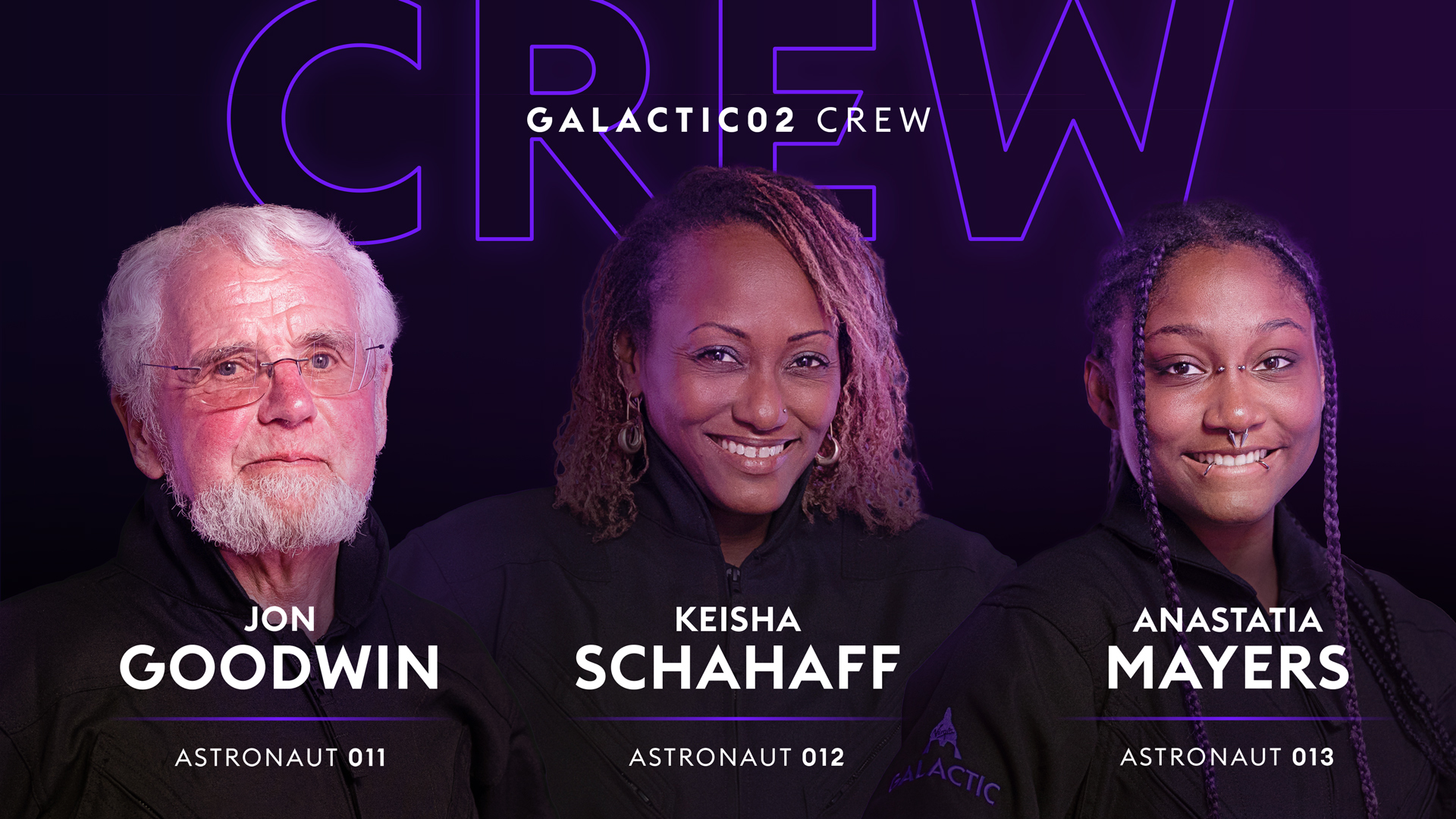 Image courtesy Virgin Galactic

Virgin Galactic's seventh spaceflight and second commercial spaceflight, 'Galactic 02' will fly three private passengers to space, achieving several historical milestones and furthering Virgin Galactic's mission of broadening access to space. VSS Unity will carry 80-year-old Jon Goodwin, Olympian and early Virgin Galactic ticket holder, as well as Keisha Schahaff and Anastatia Mayers, a Caribbean mother-daughter duo who won their seats in a draw that raised funds for non-profit Space for Humanity.

The private passengers have been in spaceflight training participating in equipment fitting, walkthroughs and test flights.

The three-person crew will board the VSS Unity for a 90-minute flight to suborbital space.

Passengers will include 80-year-old Jon Goodwin, the second person with Parkinson's to go into space, in addition to Omaze winners Keisha Schahaff and Anastatia Mayers, the first mother-and-daughter duo to travel to space together.

Galactic 02 passengers:
Jon Goodwin
An 80-year-old adventurer and first Olympian to travel to space (Jon competed in the 1972 Munich games). Diagnosed with Parkinson's in 2014, Jon will be only the second person with the condition to travel to space.
Keisha Schahaff
A 46-year-old mother of two daughters, entrepreneur and health & wellness coach from Antigua and Barbuda. Beneficiary of two spaceflight seats in a historic sweepstakes which raised $1.7 million in grants for non-profit Space for Humanity.
Anastatia Mayers
An 18-year-old student born and raised in Antigua and Barbuda. Student at the University of Aberdeen in Scotland in her second year studying philosophy and physics. Together with Keisha, the two will become the first mother-daughter duo to travel to space together.
The dynamic and multinational crew highlights the role the commercial space industry can play in removing barriers that once existed to becoming an astronaut. To date, fewer than 700 people have travelled to space, with little diversity among that group. Virgin Galactic's mission is to change that – beginning with an 800 strong Future Astronaut community that represents more than 60 different nations.

Jon Goodwin said: "From becoming an Olympian to canoeing between the peaks of Annapurna, to winning a six day race in the Arctic Circle, climbing Mount Kilimanjaro (and cycling back down), I've always enjoyed rising to new challenges. When I was diagnosed with Parkinson's in 2014, I was determined not to let it stand in the way of living life to the fullest. And now for me to go to space with Parkinson's is completely magical. I hope this inspires all others facing adversity and shows them that challenges don't have to inhibit or stop them from pursuing their dreams."

Keisha Schahaff said: "When I was two years old, just looking up to the skies, I thought, 'How can I get there?' But, being from the Caribbean, I didn't see how something like this would be possible. The fact that I am here, the first to travel to space from Antigua, shows that space really is becoming more accessible. I know I will be changed by my experience, and I hope I will be able to share that energy and inspire the people around me – in my role as a life coach, a mother, and as an ambassador for our beautiful planet."
Michael Colglazier, CEO, Virgin Galactic said: "This flight highlights two of Virgin Galactic's core aspirations – increasing access to space and inspiring people around the world. Each of these astronauts are role models and beacons of inspiration in their communities. Watching Keisha, Ana and Jon embark on this transformative experience helps demonstrate that space is now opening to a broader and more diverse population across the globe."