in Aerospace
Wizz Air and Doncaster Sheffield Airport sign future growth deal
As the UK aviation sector recovers from the devastating impact of the pandemic, Doncaster Sheffield Airport (DSA) and Wizz Air, have strengthened plans for future growth with the signing of a new deal.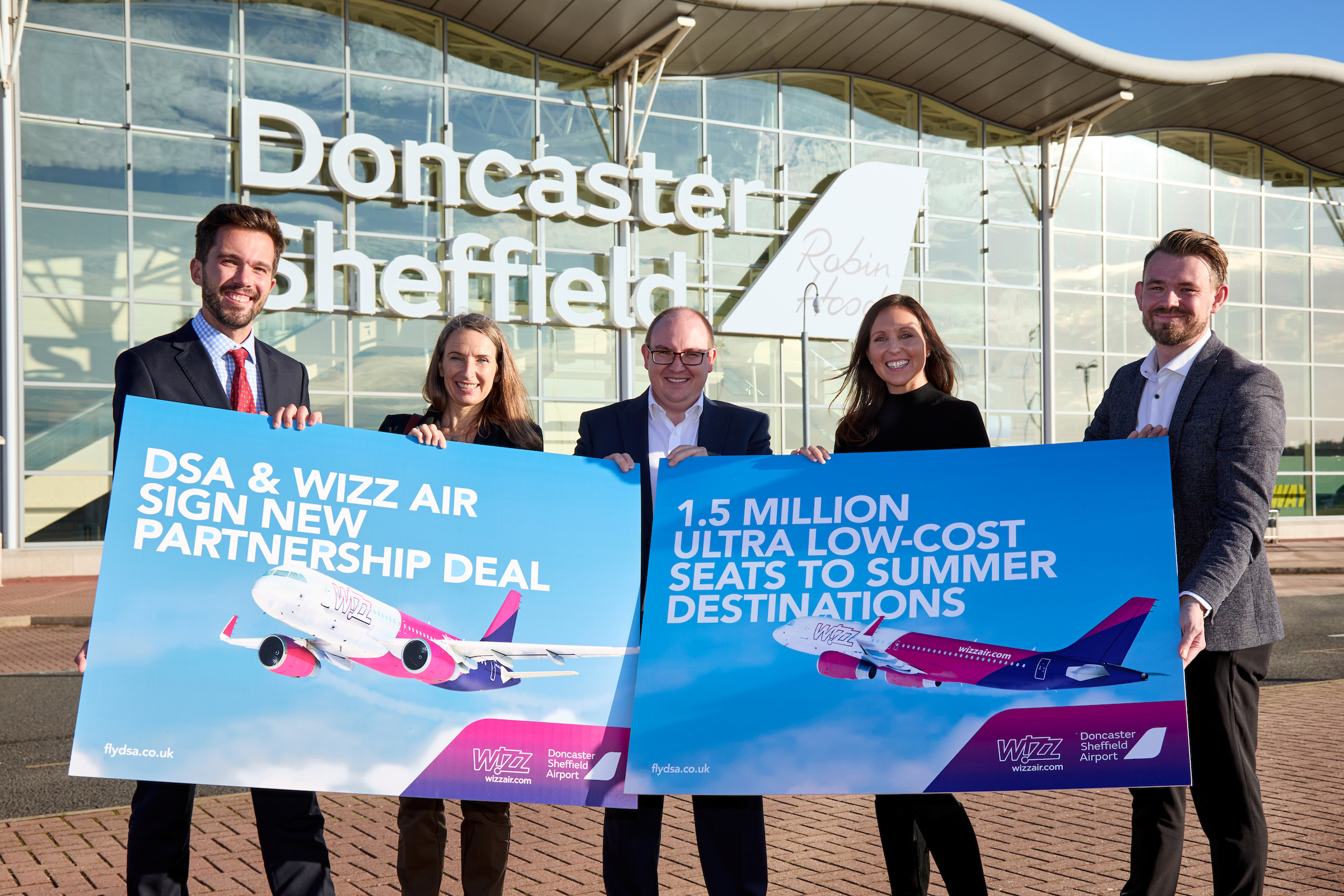 Above: (left to right:) Freddie Brodermann, Senior Commercial Manager, Wizz Air UK and Marion Geoffroy, MD of Wizz Air UK, meet Declan Maguire, Head of Aviation Development, DSA, Kate Stow, Director Aviation Development and Corporate Affairs, DSA, and Chris Harcombe, Managing Director, DSA to announce partnership growth deal at Doncaster Sheffield Airport.
Courtesy DSA

Wizz Air already plans to offer more than 1.5 million seats at DSA next summer, supporting the local economy by creating hundreds of jobs in the region.

This new deal comes as restrictions on international travel continue to relax and ahead of predicted strong recovery for 2022, with increased demand for flights to popular leisure destinations such as Spain, Turkey and Portugal, signalling significant growth for the UK's favourite airport. Wizz Air is already seeing an increase in bookings for October half-term and summer 2022.

Wizz Air UK Managing Director Marion Geoffroy joined the senior management team at Doncaster Sheffield Airport for a two-day visit that included introductions to the brand new Wizz Air crew, recruited from the local area and fresh from their rigorous training, as they prepare to take off from the DSA base on one of their brand new, ultra-efficient Airbus A321 aircraft.

Marion Geoffroy, Wizz Air UK Managing Director, said: "We continue to build on our successful relationship with DSA which began in 2006. Our intention is to further enhance our operations at DSA by growing a based operation of scale here in the coming years, providing even more ultra-low fares to local customers to an exciting range of destinations across Western and Eastern Europe, and perhaps beyond. This is great news for the local economy, both in terms of jobs and inward investment.

"Wizz Air has defied the industry-wide downturn with the expansion of operations in the UK, including the launch of two new bases in the past year. With the addition of a number of A321 neo aircraft to the fleet in Summer 2022, we are focused on accelerating growth over the coming years."

As part of the new agreement, a number of additional new routes are on sale for Summer 2022 to popular leisure destinations such as Spain, the Canary Islands, Turkey, Portugal, Bulgaria and Crete. It comes hot on the heels of new flights to winter destinations such as Lanzarote, Fuerteventura and Tenerife, which are perfect for some autumn sunshine and will launch just in time for October half term. Top winter city destinations such as Riga, Krakow and Warsaw are perfect for a city break and traditional Christmas markets.

Kate Stow, Director of Aviation Development and Corporate Affairs, Doncaster Sheffield Airport, said: "This new deal with Wizz Air is wonderful news for our customers across Yorkshire, Lincolnshire and North Nottinghamshire, offering them a greater choice of ultra-low-cost flights to more destinations from one of the fastest growing airports in the UK, now and into the future.
"Airports are an important economic catalyst, providing jobs and inward investment to the region and it has been a real honour to welcome Wizz Air's senior management team to meet their new crew, based here at DSA, recruited from our region.

"Our projected growth of +56% next year versus the trading period prior to the pandemic means we've bucked the industry trend and we look forward to more customers enjoying our Easy, Friendly and Relaxed service as we embark upon our impressive recovery from now and into summer 2022."

Wizz Air has an impressive growth plan through its relationship at Doncaster Sheffield Airport with 1.5M seats on sale for S22 (April – October 2022). This figure represents an increase of 1M new seats compared to Summer 2019, a 208% increase Vs Summer 2019.

In addition, Wizz Air will have 250,000 seats on sale for Winter 2021 (November 2021 – March 2022), with flights to the Canary Islands, Cyprus and top city destinations including Latvia and Poland.