in Defence
Affinity receives MoD contract to operate additional training aircraft
Affinity Flying Training Services Ltd (Affinity) has received a circa £65 million contract from the UK Ministry of Defence (MoD) for the operation of four additional Texan T-6C aircraft over a 12-year period.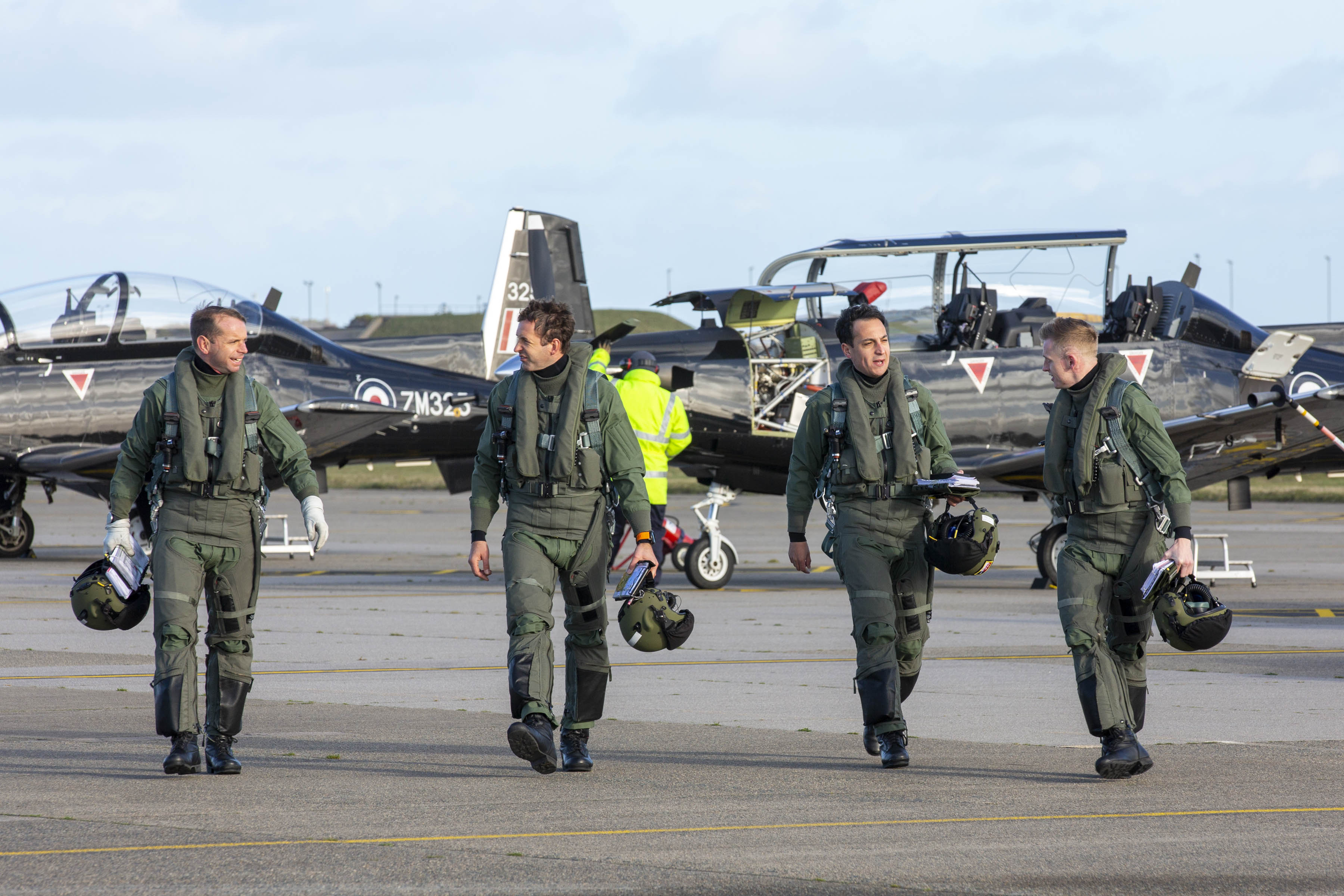 Above: RAF flight instructors and cadets after a training flight.
Courtesy Affinity / MoD Crown Copyright 2019

The addition and operation of the new aircraft will provide increased training support and an uplift in training and flight hours for the UK Military Flying Training System (UKMFTS) programme with full capability in place by 2024.

This expansion of delivery capacity follows the procurement of four Texan T-6C aircraft from Textron Aviation Defense, which have been kept in readiness. The four additional Texan T-6C aircraft will be operated predominantly from Affinity's site at RAF Valley, where they will join the 10 existing Texans that are already in service.

This uplift will provide employment for some 30 additional staff, boosting the local economy and supporting skills development in the region, while also growing Affinity's delivery capacity through upgrades to key facilities.

The UKMFTS programme is a partnering agreement between UK Front Line Commands, the UK MoD, Ascent Flight Training and other leading industry partners to deliver aircrew training for the 21st century.

Affinity supports pilot training, procurement, operations and maintenance services, at RAF Cranwell, RAF Barkston Heath and RAF Valley on three different types of aircraft used by the UKMFTS programme. Since its formation in 2016, Affinity has delivered over 20,000 flying hours across the UK.

Affinity Managing Director Iain Chalmers commented: "I am delighted that we are able to make a further contribution to the UK MFTS programme. This has been a fully collaborative effort with the UK MoD, Textron Aviation Defense and Ascent Flight Training. We, our colleagues in Textron and our UK partners in MFTS remain committed to supporting and delivering an excellent training system for the UK Ministry of Defence, while also providing opportunities for future innovation in training delivery in line with the Royal Air Force's Astra Campaign to build the next generation of pilots."

Martin Fausset, CEO Elbit Systems UK said: "This contract represents a significant step for the training of Royal Navy and RAF pilots. Following the successful delivery of the first phase of Affinity's flying training programme, we are delighted to build and strengthen our partnership with the UK MoD as we support the training of the pilots of the future."

Andrew Barrie, President, KBR Government Solution EMEA, added: "'We are pleased to be an instrumental part of the UK military flying training programme and this new contract is testament to the Joint Venture team who are working day-in, day-out to ensure pilot training is delivered in a truly collaborative way", said Andrew Barrie, President, KBR Government Solutions EMEA.

"We are bringing together our cross-industry experience and capabilities – complementing those of our partners Elbit Systems UK to deliver, and continually develop, innovative solutions for the benefit of the customer."

Affinity Flying Training Services is a 50-50 joint venture between Elbit Systems UK and KBR.