in Defence
AGI completes Visual Landing Aid upgrade on RAN's HMAS Choules
Poole based Aeronautical & General Instruments Ltd (AGI), in partnership with its technical support agent Owen International Pty Ltd, have completed the successful commissioning of the new Visual Landing Aid System onboard HMAS Choules, the Royal Australian Navy's (RAN) Bay Class Landing Ship Dock (LSD).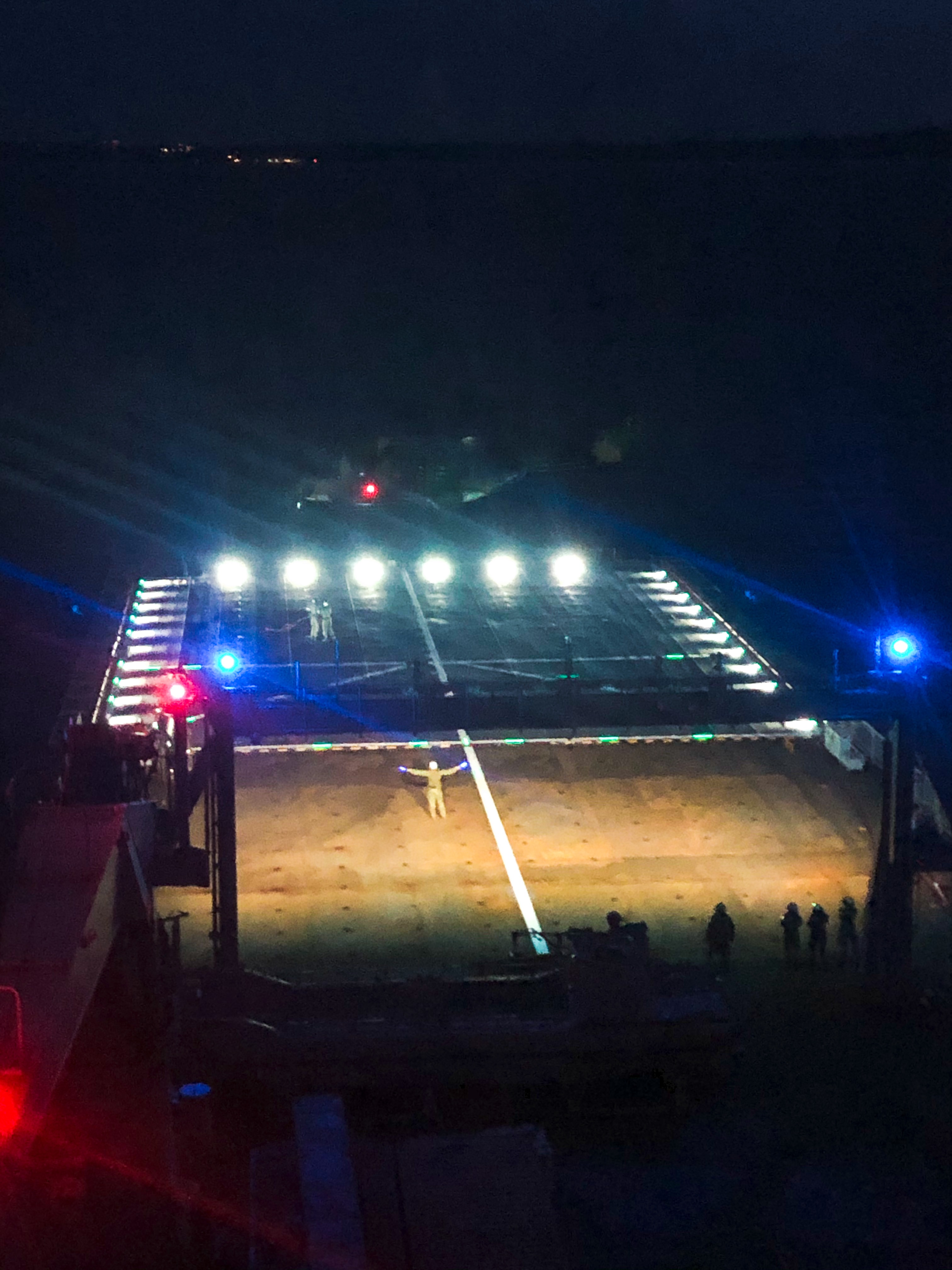 Above: Visual Landing Aids being tested during First of Class Flight Trials in Sydney Harbour, on HMAS Choules.
Image courtesy AGI

A collaborative effort between the Royal Australian Navy Capability Acquisition and Sustainment Group (CASG), Atlantic & Peninsula Australia (A&P), AGI and Owen International saw the delivery of an integrated digital system of advanced visual cues, with the capacity of being seamlessly upgraded to support UAV systems in the future.

Owen International, who support and sustain AGI's systems in Australia and New Zealand, commissioned the new Visual Landing Aid System and attended the First of Class Flight Trials which were conducted off the east coast of Australia by the RAN's Aircraft Maintenance and Flight Trials Unit (AMAFTU).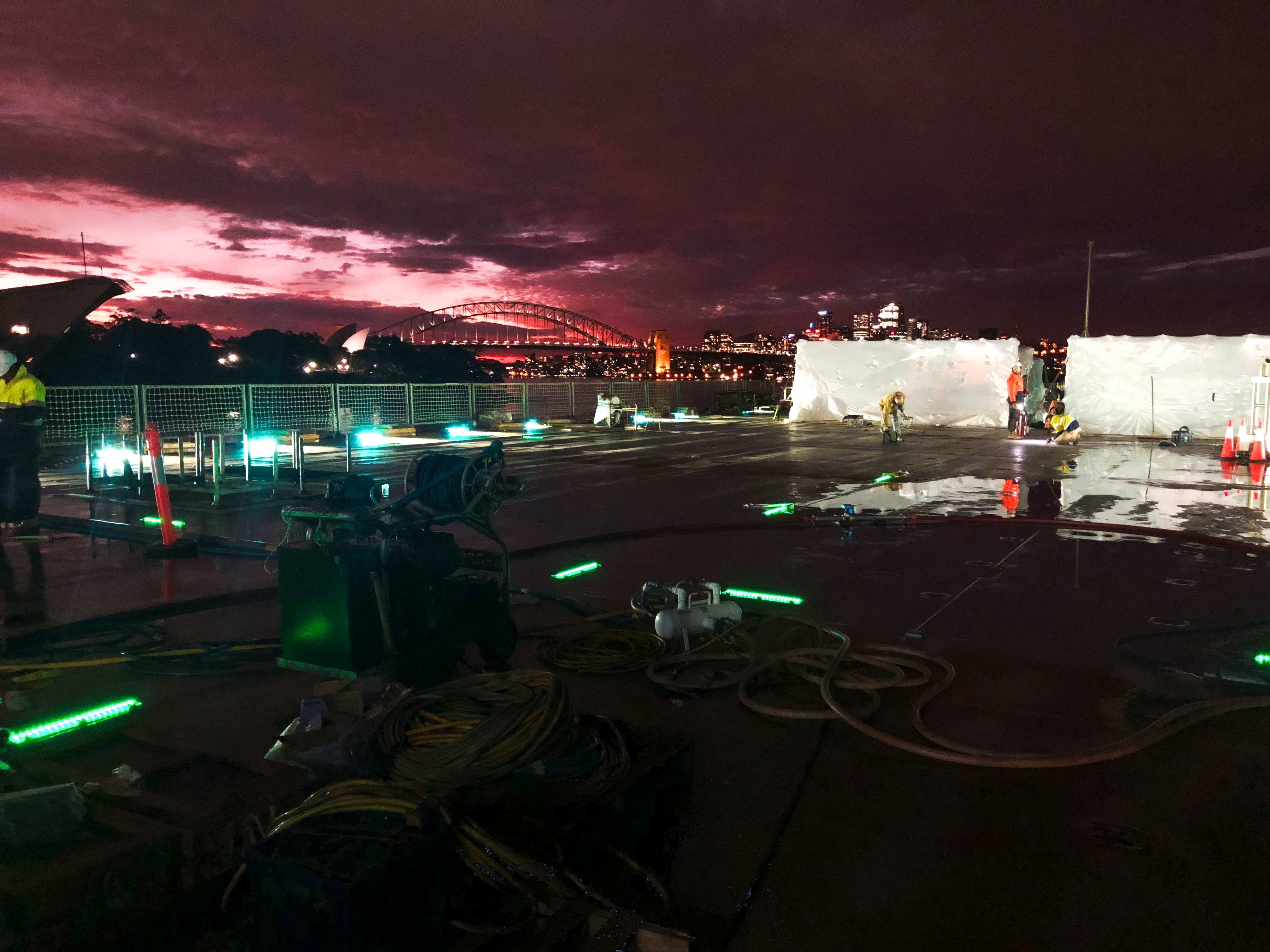 AGI Managing Director, David Hyde commented: "This is a very significant achievement, a milestone in the continued growth of our sustainment capability with Owen International in the Asia Pacific region. The successful commissioning of the system by Owen has set a new benchmark in the development of AGI`s Australian Industrial capability".

Reducing pilot workload and increasing operational capability, AGI's Visual Landing Aids are the choice of the worlds most advanced navies. The core product offering which includes an Advanced Glide Slope Indicator (ASGSI), latest generation Stabilised Horizon Reference System (SHRS) and DeckfinderTM Ready Combination Deck Lights provides greater awareness of vessel position and motion with advanced visual cues.

As the global capability for supporting the operation of Unmanned Arial Vehicles (UAVs) progresses, the system can be seamlessly upgraded to incorporate automated UAV landing features.

Based in Poole in Dorset, AGI supplies over 50 countries worldwide, manufacturing a wide variety of defence products and naval equipment. Founded in 1915, AGI has built up a reputation for high quality, well-engineered products that employ electronic, electromechanical and optical technologies. Its naval products include Visual Landing Aids for Rotary, Fixed-Wing and Automated UAV Landing, as well as Meteorological and Navigational Systems. Its Instrumentation product range includes Safety OHM Meters, Airport Weather Systems and Gun Barrel Bore Gauges. AGI's team of In Service Support Engineers provide the support services necessary throughout the life of the equipment, such as installation, commissioning, training and repairs.

Owen International has supplied and supported Australian Defence Force (ADF) equipment for over 37 years. Systems include Ship Visual Landing Aids, Meteorological, Chemical Detection, Electro Optical Surveillance and Gun Fire Control Systems.