in Space
Airbus completes key milestone for ESA's FORUM satellite
Airbus has successfully concluded the first key phase of the European Space Agency's (ESA) FORUM Earth observation satellite with the completion of the Preliminary Design Review (PDR).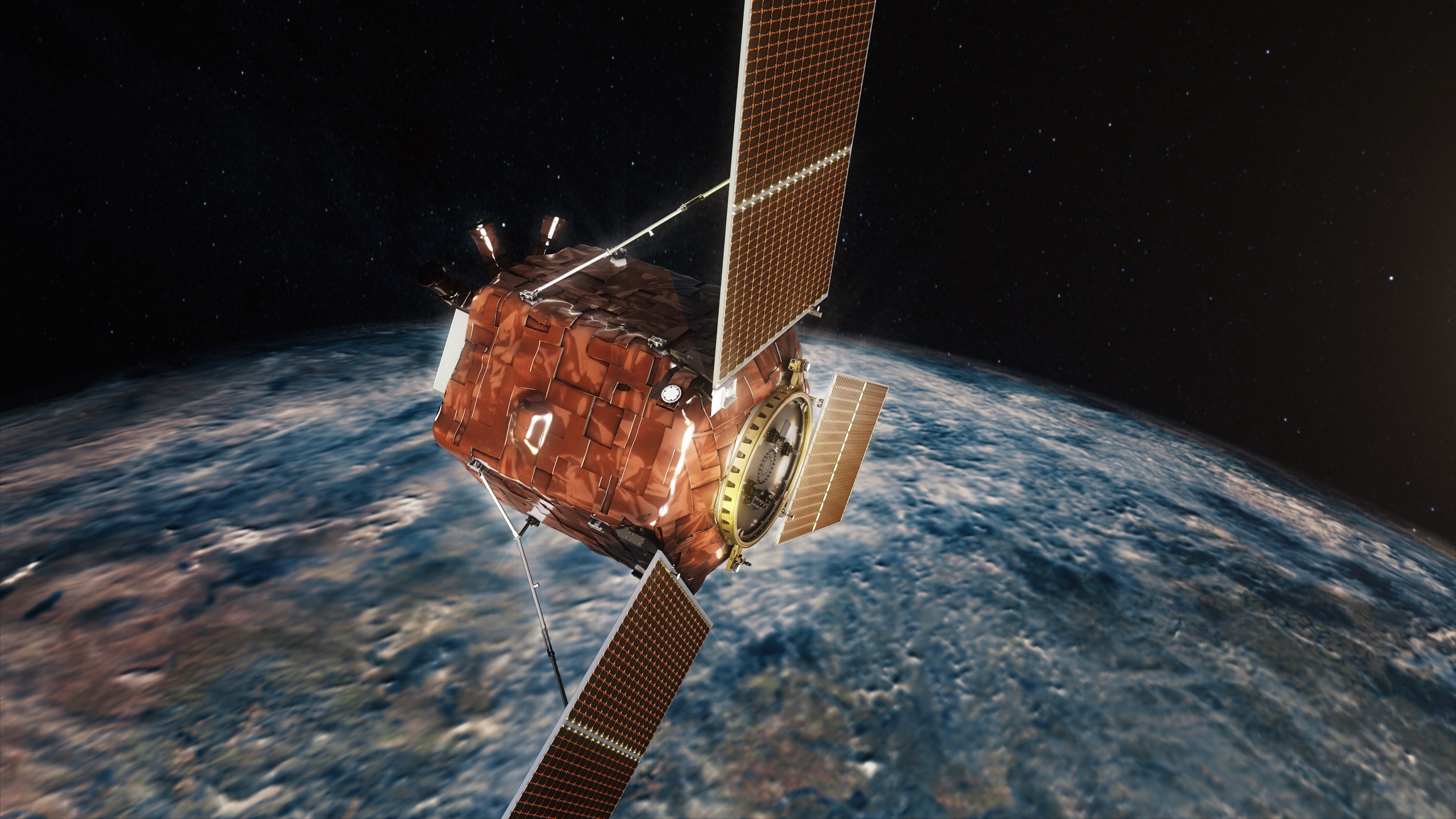 Image copyright Airbus

FORUM will monitor far-infrared radiation coming up from the Earth's surface and help to improve the performance of climate models.

Airbus is prime contractor for the €160m satellite FORUM – short for Far-infrared Outgoing Radiation Understanding and Monitoring – which will measure radiation emitted from Earth in the far-infrared part of the electromagnetic spectrum that has never been measured from space before. Data from FORUM will provide unique insight into Earth's thermal radiation budget (essentially how much energy comes in and how much goes out) and how it is controlled, filling in a missing piece of the climate science jigsaw. The thermal radiation measured by FORUM is at wavelengths strongly affected by water vapour and ice clouds, which in turn, play a key role in regulating surface temperature.

Measurements from this new mission which features a Fourier transform spectrometer provided by OHB in Germany, will improve confidence in the accuracy of climate change assessments that form the basis for future policy decisions. FORUM expands ESA's Earth Explorers fleet, whose innovative measurement techniques yield new insights into different aspects of the Earth system and the interactions that bind the system as a whole.

Airbus engineers in Stevenage along with a team of more than 100 across Portsmouth, Toulouse, Ottobrunn and Friedrichshafen worked on the programme to achieve this milestone. Following successful PDR, the spacecraft design will now be finalised, initial critical hardware testing started and the flight hardware procurement activities accelerated. The CDR will be completed by the end of 2024 giving the greenlight to commence the spacecraft assembly at the start of 2025, leading to launch in 2027.

The FORUM satellite will fly in a loose formation ahead of the MetOp-SG A1 satellite, also designed and built by Airbus, for synergistic observations using MetOp-SG A1's infrared atmospheric sounding interferometer. Using MetOp's data at shorter infrared wavelengths will complement and further improve FORUM's own science.

Jean-Marc Nasr, Head of Airbus Space Systems said: "This critical Earth observation mission to measure infrared radiation from the Earth for the first time, will give scientists and climatologists the data they need to improve their global warming forecasts. It builds on Airbus' heritage in designing and manufacturing cost efficient small Earth observation missions including Sentinel-5P and is the sixth Airbus primed Earth Explorer mission for the European Space Agency."

Science Minister George Freeman said: "This important new mission to further improve the accuracy of climate forecasts and view our planet through new eyes is another illustration of UK space tech expertise."