in Defence / Events
Babcock begins build on HMS Venturer
Babcock has started construction of the first of five Royal Navy Type 31 frigates, HMS Venturer, at its Rosyth facility.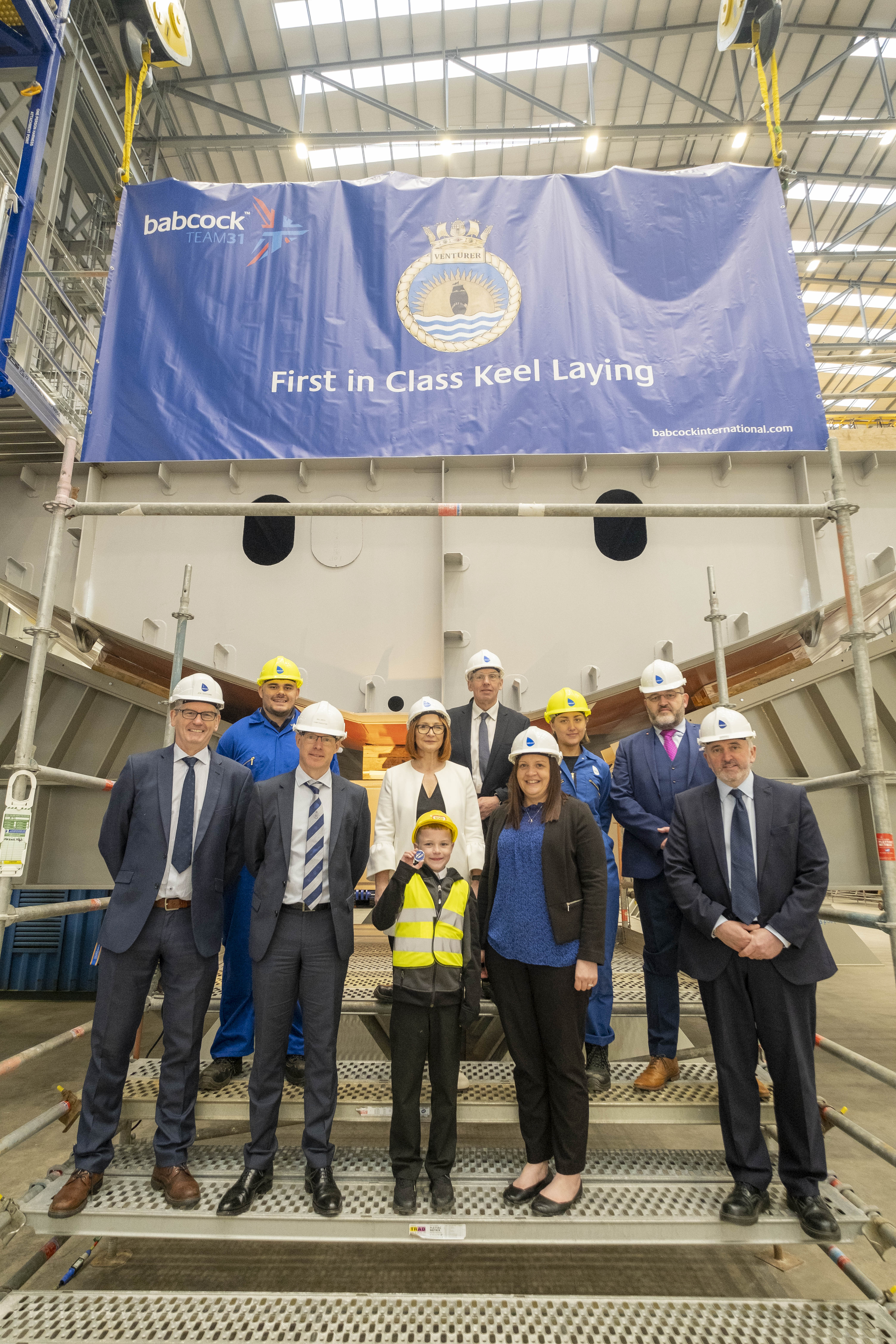 Above: Representatives from Babcock and DE&S support the traditional coin laying ceremony at Rosyth with competition winner Josh Duffy (7).
Courtesy Babcock

After cutting the first steel on the programme in September 2021, the traditional keel laying event formally recognised the start of the build, including placing a specially commissioned coin under the keel. On completion of the ship, the coin will be presented to the Captain and crew.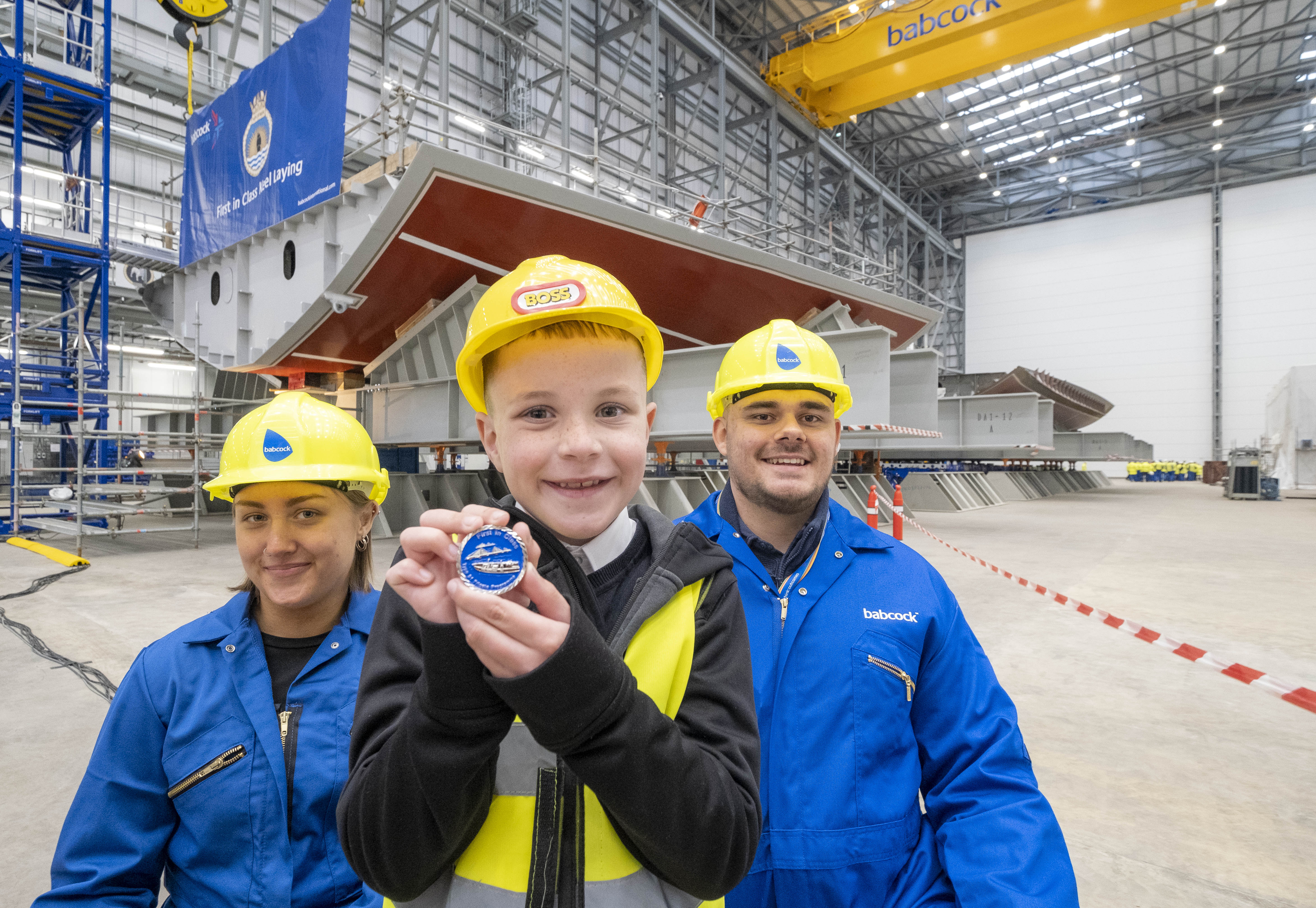 Above: Babcock Apprentices Naimh Charleston and Ian Stevenson with Josh Duffy (7) who designed the coin for the keel laying ceremony .
Courtesy Babcock

The ceremony was held in the new build hall, the Venturer Building, which forms part of a £60 million investment programme, on top of an additional £100 million over the last 10 years.

The fully covered hall will house two frigates for uninterrupted, parallel assembly and will support increased productivity gains through improved access to the platforms and digital connectivity.

All of this underpins Rosyth's shipbuilding capabilities and maximises the benefits of state-of-the-art engineering infrastructure and digital innovation.

The Type 31 programme is an important part of the shipbuilding pipeline set out in the National Shipbuilding Strategy that was refreshed last month. The strategy's stated vision for 'a globally successful, innovative and sustainable shipbuilding enterprise' is being borne out in Rosyth, with the company investing in and accelerating its ship building prowess and ambitions.

Guests from the Royal Navy, Ministry of Defence and other partners joined Babcock at the event and watched a short film celebrating the role of Rosyth's workforce. Showcasing its #WeareDeliveringInspiration theme, Babcock shone a spotlight on the talent and motivations of team members working on the programme and how they are helping to progress the build.

The event comes just over one month since Babcock secured its second export contract for its Arrowhead 140 frigate (the export variant of the UK Type 31 platform) with the company announced as the platform design provider and technology partner for Poland's MIECZNIK (Swordfish) new frigate programme. Babcock had previously secured a design licence agreement with PT PAL Indonesia (Persero) to enable PAL to build two Arrowhead 140 frigates in Indonesia with bespoke design modifications for the Indonesian Navy.

Sean Donaldson, Babcock Managing Director at Rosyth said: "The keel laying ceremony for the future HMS Venturer was a great occasion as we joined with our customer and colleagues to mark this milestone. It's my privilege to work with this talented team each day and to witness their drive, determination and relentless pursuit of quality."

"A big well done to our competition winner Josh Duffy (7), who designed the coin that we had minted for the keel laying ceremony and whose mum works for Babcock at Rosyth and to our apprentices Ian Stevenson and Naimh Charleston for a flawless job laying down the coin."

Dan Bishop, Director Ships Acquisition DE&S said: "It's great to be here today at the Type 31 Keel laying ceremony.

"This is a great example of successful delivery through co-operative working. The Royal Navy and DE&S worked in unison to set the Type 31 requirement and have successfully championed a new competitive procurement process - the first major warship procurement in a generation to meet this challenge. We're really proud to work alongside Babcock to deliver this capability for the Royal Navy.

"Today marks a significant milestone in the programme for the Royal Navy, Defence and shipbuilding in Scotland and it's great to see the first of the British military's new Type 31 warships keel being laid at Babcock's Rosyth dockyard."