in Defence / Security
DASA launches Reducing Cyber Risk Across Defence competition
The Defence and Security Accelerator (DASA) has launched a new Themed Competition Reducing Cyber Risk Across Defence, to help quantify and reduce cyber risk across defence and enhance digital resilience.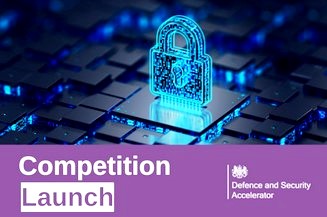 Image courtesy DASA

Cyber attacks are becoming more sophisticated, with potentially more impact on military operations. This Themed Competition seeks proposals that will help to quantify and reduce the cyber risk across Defence, enhance digital resilience and enable Defence to be secure by default.

The risk of cyber attack is amongst the highest that is managed by the Defence Board and it requires a collective response to address it. Becoming cyber resilient is the first challenging milestone. Remaining resilient will require constant appraisal of our adversaries and ourselves. We are not alone in developing and exploiting technologies and will need to work together across industry, Government, Allies and Partners to maximise our collective capabilities.

The Cyber Resilience Programme seeks to address the need to build a cyber resilient Defence, in accordance with the Cyber Resilience Strategy for Defence, and comprises four themes:
Awareness, Behaviour and Culture
Resilient by Design
Secure Digital Foundations
Cyber Vulnerability Fixes
This competition is part of a broader suite of activity undertaken by the Cyber Resilience Programme that engages industry, academia, partners and allies, to build military capabilities with inherent resilience.

This competition seeks:
novel tools that strengthen digital resilience across defence
novel approaches that enable security by default
novel ways to quantify Operational Technology risk
This competition is interested in support innovation projects that will deliver outputs at Technology Readiness Level (TRL) 6 – technology model or prototype demonstration in a relevant environment.

The Challenges:

Challenge 1: Digital Resilience
This competition is seeking innovative ways to strengthen digital resilience across Defence.

Challenge 2: Secure by Default
This competition is seeking to develop capability to enable Secure by Default approaches to be implemented in the future, for Defence and its industry partners. We are looking for research activities that will investigate tools and approaches which support the implementation of a Secure by Default approach.

Challenge 3: Quantifying Operational Technology Risk
This competition is seeking innovative ways to quantify OT cyber risk across Defence. Proposals need to be able to work in an operational environment or in some way take operational scenarios into account.
Key Dates and Funding
Up to £880k is available for this competition, and DASA expects to fund up to 5 proposals.
Submission deadline: midday on Tuesday 31st October 2023
Supporting events

Webinar
19th September 11:00 -12:00pm
This dial-in session will provide further detail on the problem space and a chance to ask questions in an open forum. If you would like to participate, please register on the Eventbrite page .

One-to-One Sessions
A series of 20 minute One-to-One teleconference sessions, giving you the opportunity to ask specific questions. If you would like to participate, please register on the links below. Booking is on a first come first served basis.
20th September One-to-One Sessions | 21st September One-to-One Sessions


To read the full competition document and submit a proposal, click here:
www.gov.uk/government/publications/reducing-cyber-risk-across-defence