in Defence / Events
Defence Secretary to support UK industry and back firms globally
UK defence firms will be championed as positive ambassadors for the UK, in the face of investment threats, Defence Secretary Grant Shapps has told industry leaders today.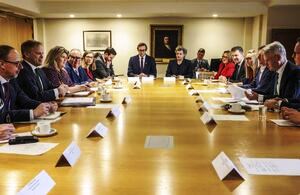 Image courtesy MoD

Maintaining national security and the continued supply of cutting-edge equipment to British Armed Forces and allies were also highlighted in a meeting with key defence sector organisations held at the Ministry of Defence (MoD) in London.

The Defence Suppliers Forum (DSF) brought together senior government personnel with more than a dozen of the UK's key defence suppliers. These ranged from UK SMEs and trade associations to some of the world's largest international defence and aerospace companies, with experts convened from military domains covering everything from the ocean's depths to outer space.

With global security challenges increasing, the forum, which convenes twice a year, was an invaluable opportunity to deepen ties between industry and government. It ensured the short, medium, and long-term plans of government and industry align around the collective objectives of equipping the UK's Armed Forces and simultaneously deterring international adversaries.

Addressing this influential network, the Defence Secretary made clear he would always champion British industry, particularly in the face of concerns around ESG investing, ensuring they have the financing needed to maintain vital supplies to our Armed Forces and allies, keeping the country safe and protecting our way of life.

Defence Secretary, Grant Shapps said: "Investment in defence is the morally right thing to do, without which the atrocious activities of tyrants like Putin would go unchallenged and undeterred.

"A strong UK defence industry is the bedrock of our national security, continuing the supply of equipment that our service personnel use to protect our nation, the weapons we need deter our enemies, and the ability to support our allies' Armed Forces.

"There is no doubt about the critical role that industry plays in our defence and that's why I will back the firms that protect our nation and help us prosper."

The DSF Main is the primary collaborative forum for the Defence Secretary to engage with a range of senior leaders from across the UK defence sector on strategic issues of mutual interest. Key aims of the DSF include:
Creating a new and closer strategic alliance between the MoD and industry, delivering the ambitions set out in the recent Defence Command Paper Refresh.
Delivering more agile, secure, sustainable, and resilient supply chains by improving visibility of fragility and maximising opportunities for all suppliers, including SMEs.
Forging closer working on defence exports to champion British manufacturers on the global stage.
BAE Systems Chief Executive and DSF Co-Chair, Charles Woodburn said: "In today's heightened global threat environment, it's important for the UK's defence industry and Government to come together to sustain our sovereign capability to deliver the equipment our armed forces need. Investment in our defence industry is vital to ensure our continued ability to support national security and economic prosperity."

Improving the way the government supports UK exports and growth opportunities was also high on the agenda. With more than 200,000 British jobs supported through the Defence industry, the sector is crucial to the Prime Minister's priority to grow the economy, while also furthering international opportunities for the sale of high-quality British technologies and services to our allies.

Kevin Craven, Chief Executive, ADS said: "Our defence industrial base is a vital pillar of our society, protecting our way of life. Our industry needs to be highly innovative, agile, and responsive to ongoing requirements.

"The UK defence financial and operating environment must be grounded in a collaborative approach to strategic planning, that enables the development of the technologies of tomorrow. ADS is a proud convenor of industry, working tirelessly with the DSF and Ministry of Defence to secure UK strategic advantage."

The Defence Secretary also outlined the importance of delivery, stating that while he would be holding the Department to account to avoid unnecessary programme delays and costs, industry partners must play their part in meeting agreed timelines and budgets.