in Defence
First UK manufactured V-tails fitted to Protector
The first set of V-tails manufactured by GKN Aerospace on the Isle of Wight have been sent to General Atomics Aeronautical Systems, Inc. (GA-ASI) in California, with a set being fitted to one of 16 new Protector aircraft destined for the Royal Air Force.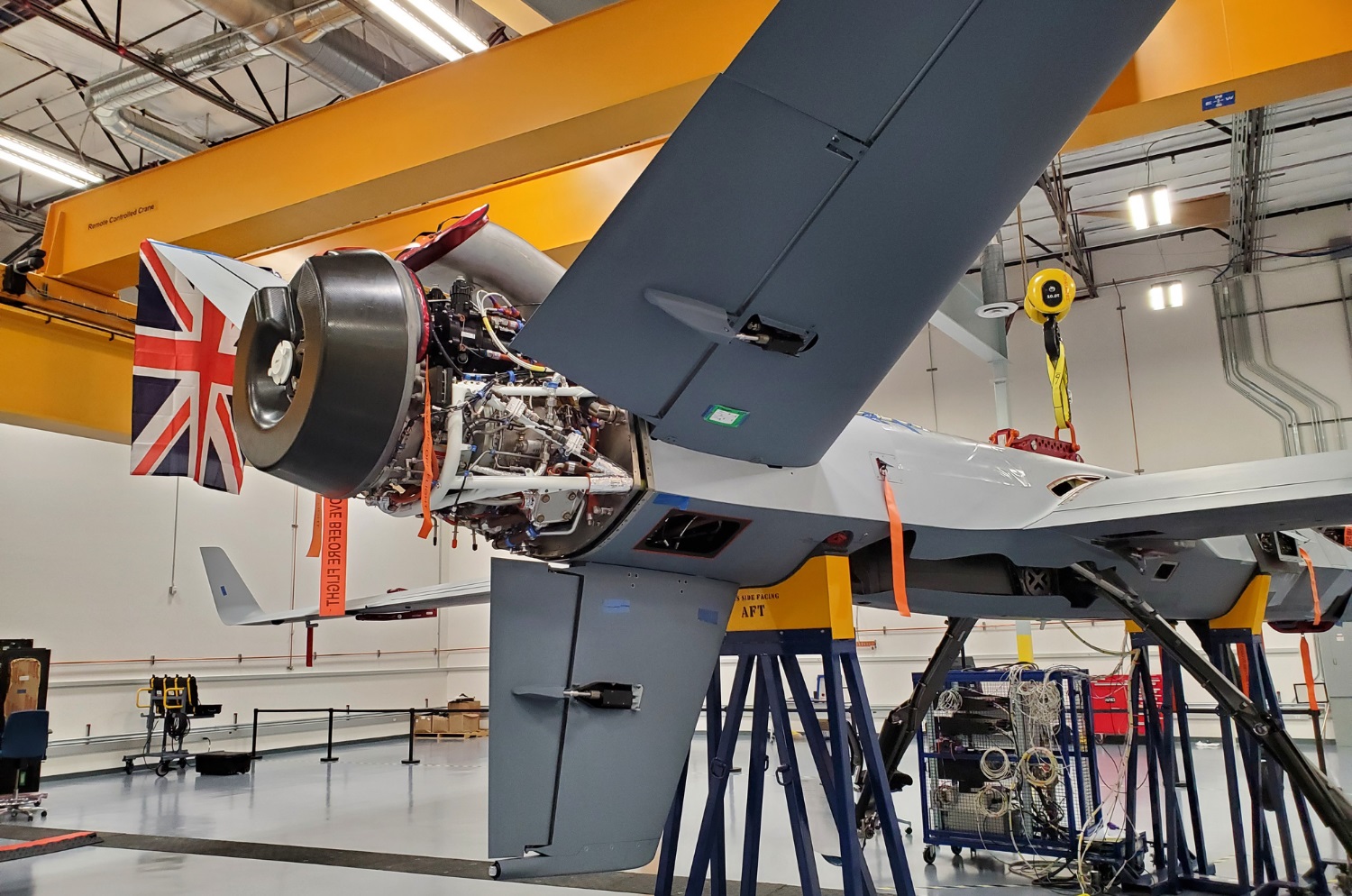 Above: Advanced Composite V-tails from GKN Aerospace Cowes Facility is standard on MQ-9B SkyGuardian and SeaGuardian RPA.
Courtesy DE&S / GKN Aerospace

GKN Aerospace now manufactures the V-tails for all MQ-9B aircraft variants which are manufactured by General Atomics-Aeronautical Systems-Inc (GA-ASI) at a facility in California. The MQ-9B aircraft will be known as Protector once it enters RAF service by mid-2024.

Protector will be deployed in wide-ranging Intelligence, Surveillance, Targeting and Reconnaissance (ISTAR) operations where its ability to fly consistently for up to 40 hours, offers the RAF vastly improved armed ISTAR capability.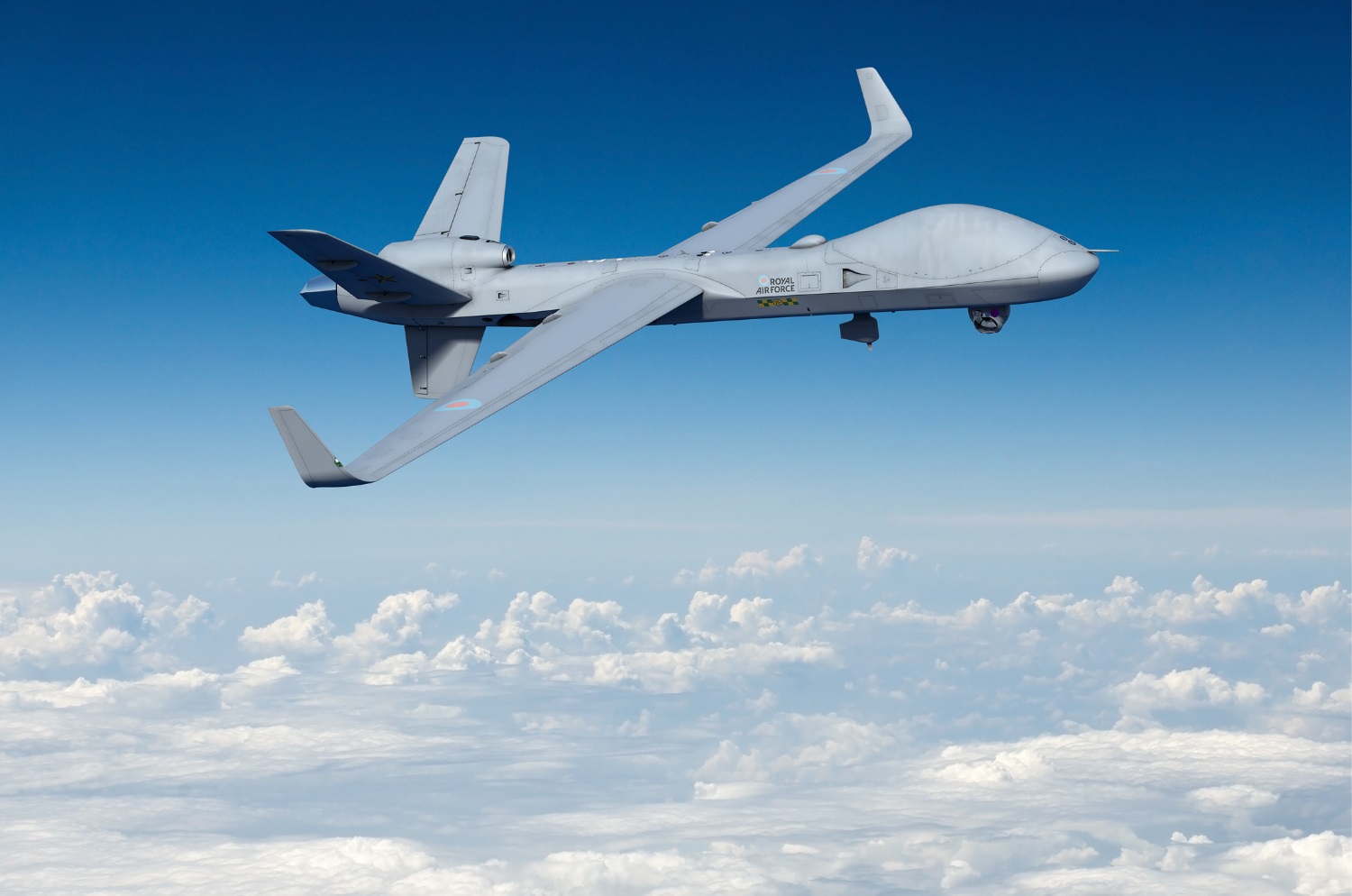 Michelle Sanders, team leader of the Remotely Piloted Air Systems delivery team at DE&S, said: "This milestone demonstrates the continued progress being made on this important programme which will provide the RAF with a cutting-edge capability. As well as equipping the UK Armed Forces for operations now and into the future, this key programme promotes prosperity in the UK and supports highly-skilled jobs."

With 12 UK industry partners, the programme is bringing together world-leading technology and service providers to work with GA-ASI, supporting over 200 UK jobs with £400 million being reinvested into UK industry.

There are a significant number of nations interested in MQ-9B, with Belgium having already agreed to procure Protector for its Medium Altitude Long Endurance (MALE) Remotely Piloted Air System (RPAS) and Australia having selected MQ-9B too.

All MQ-9B variants sold anywhere in the world will now be fitted with GKN Aerospace manufactured V-tails with 11 of the UK's 16 aircraft expected to be fitted with GKN manufactured V-tails.

Protector will have to meet stringent NATO and UK safety certification standards meaning it could operate in civilian airspace. Protector would also be available, if requested, to support civilian agencies in the UK, for example in search and rescue and disaster response missions.

The first V-tail from GKN Aerospace received by General Atomics Aeronautical Systems, Inc. (GA-ASI) was installed onto an MQ-9B SkyGuardian Remotely Piloted Aircraft (RPA) and the SkyGuardian is the baseline RPA of the RAF Protector RG Mk1. The first of the advanced composite V-tails had been shipped from the GKN Aerospace facility in Cowes, on the Isle of Wight over to GA-ASI in Poway, California and was then fitted onto an MQ-9B RPA, to ultimately be delivered to the RAF as a Protector RPA.

GA-ASI and GKN Aerospace have partnered for more than a decade, first as part of the MQ-9A programme and now with the MQ-9B. The GKN Aerospace V-tails are now a standard component of MQ-9B SkyGuardian and the maritime variant, SeaGuardian.

"Our companies have worked together for many years and we're thrilled to have GKN Aerospace as a strategic supplier for MQ-9B," said GA-ASI Vice President of International Strategic Development Robert Schoeffling. "V-tails from GKN Aerospace are not only for the RAF's Protector but the global MQ-9B fleet will use these tails manufactured in the UK as well."

GA-ASI and GKN Aerospace announced the V-tail collaboration for MQ-9B earlier this year. GKN Aerospace has been a global supplier to GA-ASI's MQ-9 RPA programme for a decade, with the strategic partnership on GA-ASI's world-leading RPA systems starting in 2010.

Activities began with the design and build of the 'fit and forget' fuel bladder system in Portsmouth, UK, followed by the production of fuel bladders in the United States. Today, GKN Aerospace manufactures a range of products for the Predator suite of aircraft, including fuel bladders, V-tails and the state-of-the-art lightweight landing gear system manufactured in the Netherlands.

GKN Aerospace's VP Defence – Europe, Rupert Dix, said: "Our partnership with GA-ASI on the MQ-9B program is an important development for our Defence business and paves the way for continued growth of advanced aerospace manufacturing in the UK.

"Our team at the Cowes facility has worked very hard to get the V-tail line into full production while working to ensure on-time delivery of our quality products. We look forward to affirming our commitment throughout the lifecycle of this vital platform."