in Aerospace
Flybe enters administration
Regional airline Flybe has this morning gone into administration - having almost done so in January - with the low cost European carrier having experienced a reduction in demand for its services following the coronovirus (COVID-19) outbreak.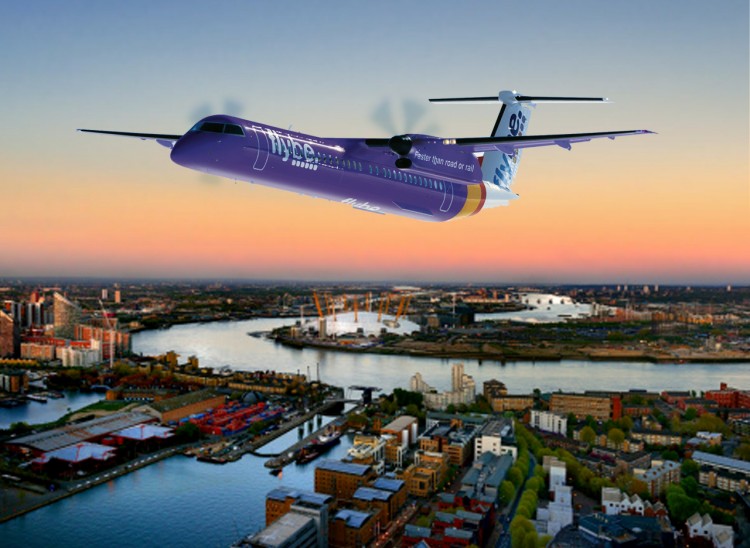 Above: A Flybe Bombardier Q400 at London City Airport..
Courtesy Bombardier

All flights have been grounded and the UK business has ceased trading with immediate effect.

Flybe, which operated regional services from airports across the United Kingdom, has ended operations, with all its flights and those operated by Stobart Air, cancelled. The advice from the airline and the UK Civil Aviation Authority (CAA) to consumers is to not go to the airport as their flights shan't be operating.

Flybe customers are urged to make their own alternative travel arrangements via other airlines, rail or coach operators. The airline had provided vital links to various parts of the UK and on to European destinations, although Flybe franchise partner Blue Islands - which flys from Bristol Airport, East Midlands Airport, Guernsey Airport, Jersey Airport, London City Airport, Cornwall Airport Newquay and Southampton Airport - will continue to operate 'uninterrupted', plus it is adding flights today to Birmingham and Exeter to assist with connectivity for passengers holding a Flybe booking confirmation.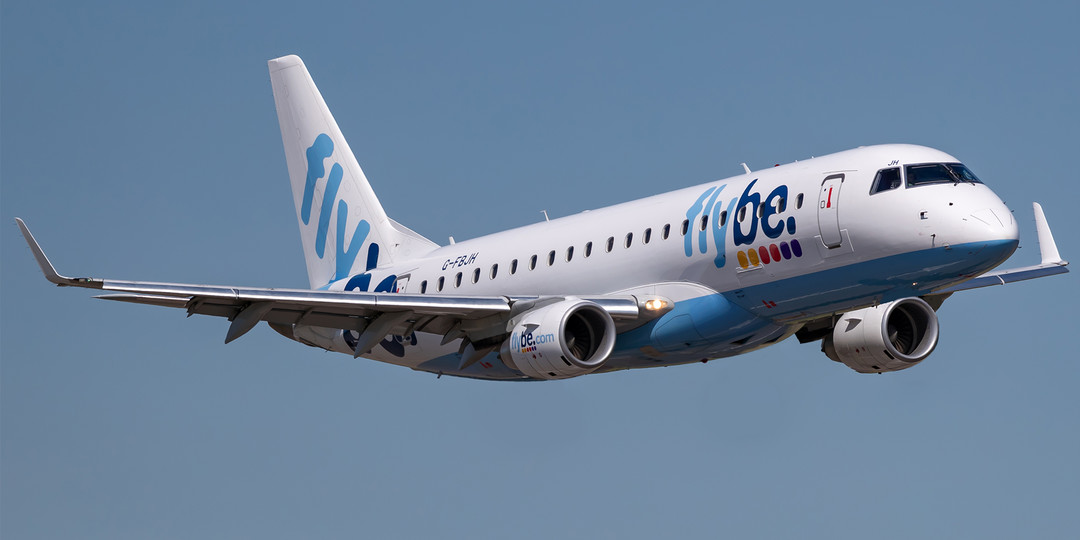 Courtesy Cardiff Airport

Flights from Cardiff Airport to Anglesey, Teeside and Aberdeen will continue to operate as normal with Eastern Airways. Deb Bowen Rees, CEO of Cardiff Airport, said: "We are deeply saddened by today's announcement that Flybe has ceased operations, impacting its operations across the UK. Our thoughts are with our many friends and colleagues at Flybe as well as our customers who have had their travel plans disrupted.

"As one of the UK's largest regional airlines, Flybe is a well-known brand across South Wales and has made a hugely positive impact on Cardiff Airport and confidence in the Airport over recent years.

"We are actively talking to a number of airlines about the opportunity that exists in flying to and from south Wales. Given the Flybe news we will focus on filling the core domestic routes which Flybe serve for the region."

For flights operated by Flybe franchise partners (Eastern Airways and Blue Islands) passengers should make contact with that airline to confirm their travel arrangements.

The UK Civil Aviation Authority (CAA) is providing advice and information to consumers via its website (www.caa.co.uk ) and Twitter feed @UK_CAA.

Richard Moriarty, Chief Executive, CAA, said: "This is a sad day for UK aviation and we know that Flybe's decision to stop trading will be very distressing for all of its employees and customers.

"We urge passengers planning to fly with this airline not to go to the airport as all Flybe flights are cancelled. For the latest advice, Flybe customers should visit the CAA website or the CAA's Twitter feed for more information.

"Flybe also operated a number of codeshare partnerships with international airlines. If you have an international ticket you should make contact with that airline to confirm your travel arrangements."

The CAA believes that very few Flybe passengers are ATOL protected and those people should make arrangements through their travel agent, who are responsible for providing alternative arrangements.

The UK Government has not commissioned the CAA to organise any repatriation flights as there is capacity in the market for people to travel via alternative airlines, rail and coach operations.

Tim Alderslade, Chief Executive of Airlines UK, the industry body representing UK-registered airlines, said: "Flybe's problems were known to many and the sector as a whole is going through an incredibly tough period with the Coronavirus hitting bookings and dampening demand and this is being felt across the board. That said, this is now the fourth UK airline to go out of business in two years.

"The Government is right to say aviation is a commercial proposition and the market should win out – but they are not using the policy levers at their disposal to help the sector. APD is the prime example of a disproportionate and penalising policy that is actively holding us back.

"Leaving the EU presents Ministers with opportunities to intervene - for example getting rid of the double domestic APD anomaly, reforming EC261 or using PSOs in a more imaginative way - and these should be explored asap, with next week's Budget presenting the perfect opportunity."

Karen Dee, Chief Executive of the Airport Operators Association, said: "Flybe played a critical and unique role in the UK aviation system, supporting the development of the regions by providing essential connectivity that no other airline or other mode of transport offered. Its domestic and international network also helped to unlock the tourism potential of those regions.

"There was a crucial role for Government to safeguard vital domestic connectivity. The announcements in January of a review into Air Passenger Duty and Regional Air Connectivity were seen as a sign that the Government understood the vital importance of regional connectivity and the damaging impact of APD. It is extremely disappointing that just a few weeks on, the promised urgent action has not led to a workable solution and that the reviews have made no progress.

"The Government now needs to urgently step up to the plate to help UK regions recover from this major blow. The economic and social value of regional aviation connectivity is impossible to overestimate, with thousands of jobs in every UK region relying directly or indirectly on their local airports and their route networks."

According to analysis from the GMB, up to 2,000 direct jobs hang in the balance after the airline's collapse, whilst a further 1,400 jobs in the supply chain are under threat too.

The union also warned that the airline's collapse could put the future of regional airports at risk.

Nadine Houghton, GMB National Officer said: "The collapse of Flybe is a tragedy for the company's loyal workforce.

"A domino effect now puts 1,400 jobs in the wider supply chain at immediate risk and threatens the future of vital regional airports.

"The last thing regions crying out for investment need is to see infrastructure that maintains good jobs ripped away.

"We need the Government to urgently step in and save jobs wherever possible. The damage to already fragile local economies must be minimised."

In response to today's news regarding flybe, a spokesperson for Birmingham Airport said: "It is with regret to receive the news that flybe has collapsed and therefore ceased trading with immediate effect.

"Our priority now is to support passengers who were scheduled to travel from Birmingham over the coming days by providing onsite customer support and information.

"Those booked with flybe are advised to visit caa.co.uk/news for advice. Passengers due to travel with flybe should not come to the Airport as there will be no more flights with the airline from the UK.

"A number of routes operated by flybe are served by other carriers from Birmingham and we already have arrangements for two airlines to replace five of its routes in the next few weeks. We will continue to engage with other airlines to replace the remaining capacity for our region and customers."

A spokesperson for AGS Airports which owns and manages Aberdeen, Glasgow and Southampton airports, said: "The loss of Flybe is a devasting blow for the airline's employees and the tens of thousands of passengers who relied on its routes.

"It unfortunately brings into stark focus the fragility of the UK's domestic connectivity. Earlier this year the UK Government committed to levelling up all regions of the UK by conducting a review of regional connectivity. It's vital this work is progressed as a matter of urgency and reforming Air Passenger Duty (APD) is part of that review. We are already speaking to other airlines about backfilling the routes operated by Flybe for which there is clear demand."

Brian Ambrose, Chief Executive of Belfast City Airport said: "We are extremely disappointed at this news. Our first thoughts go to the Flybe employees and passengers affected.

"From Belfast City Airport, Flybe had operated a strong and profitable base of 14 routes to key regional destinations across the UK, including international hubs such as Birmingham and Manchester.

"The airline was a significant economic driver for the region, carrying 1.6 million passengers to and from Belfast in 2019.

"I am confident that these well-established routes, coupled with our city centre location and recent £15 million investment in terminal facilities, will prove an attractive option to airlines. Negotiations with a number of carriers are already underway.

Flybe was originally launched over 40 years ago (1st November 1979) as Jersey European Airways.